Zelensky, Servant of the People Experience Major Setback in Ukraine Local Elections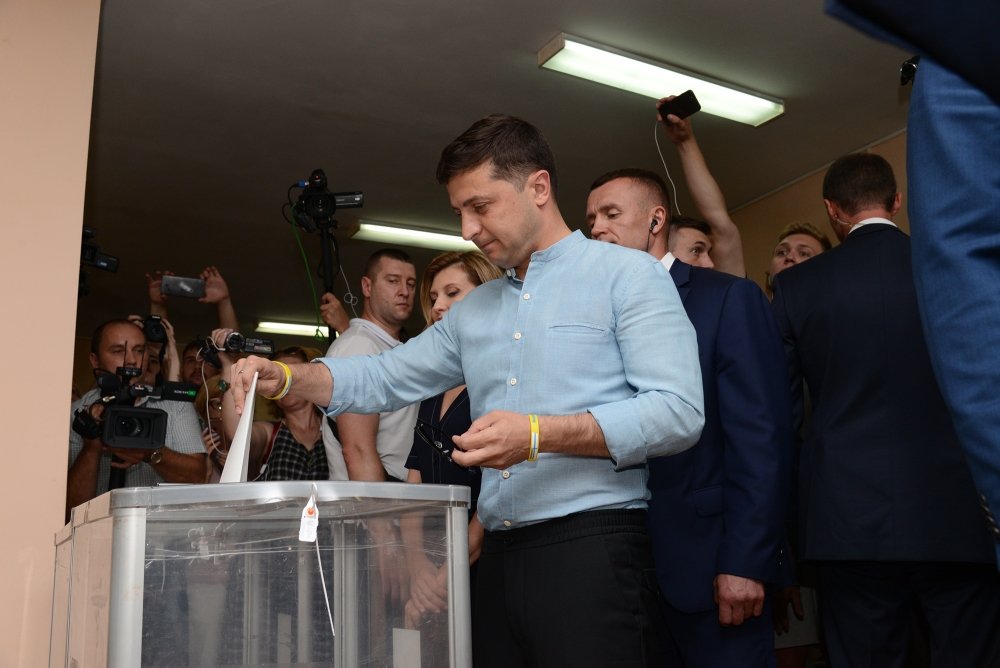 BY MARK TEMNYCKY
In April 2019, political novice Volodymyr Zelensky defeated incumbent Petro Poroshenko in Ukraine's presidential election in historic fashion. Zelensky's success then extended to the July 2019 parliamentary elections, where his Servant of the People party won a majority of seats in the Verkhovna Rada. The results meant that Ukrainians were willing to give the inexperienced men and women of Zelensky's party an opportunity to lead their country. Servant of the People ran on a reformist platform, and the party's victory suggested that its members would pursue anticorruption reform in Ukraine. Zelensky's alleged ties to Ukrainian oligarch Ihor Kolomoisky put some on edge, as skeptics wondered if Zelensky's rise to power had been encouraged by Kolomoisky so that the oligarch could reclaim PrivatBank. Nonetheless, they were willing to give Zelensky a chance.
Servant of the People pushed through several pieces of anticorruption legislation in its first few months in parliament, and the new government revitalized various anticorruption institutes. Ukraine's gross domestic product grew by 3.5 percent. Zelensky negotiated a large prisoner exchange with Russia in December 2019—a decision viewed positively by the West—and also remained firm with Russia during the Normandy Summit.
Things seemed to be going well for Ukraine under Zelensky, but by March 2020 everything changed. Zelensky appointed as his new chief of staff Andriy Yermak, a person rumored to have business connections to Russia. Zelensky sacked his cabinet of ministers, and Denys Shmyhal, a former governor who had ties to oligarch Rinat Akhmetov, became the new prime minister. The Verkhovna Rada also voted to remove prosecutor general Ruslan Ryaboshapka, a decision that concerned the West. In selecting his new cabinet, Zelensky appointed numerous figures who had ties to former Ukrainian President Viktor Yanukovych and pro-Russian Ukrainian politician Viktor Medvedchuk. Zelensky, it seemed, was surrounding himself with Ukraine's old faces.
Beyond the internal government turmoil, there also were problems within Servant of the People. Some reports claim the party is fragmenting. Other reports state that the party lacks a sense of direction. As a result, support for the party has significantly declined. According to a poll conducted by the Sociological Group Rating, support for Servant of the People has waned to 34 percent. Zelensky's personal popularity has also declined. During the presidential election, Zelensky won 73.2 percent of the popular vote. By September 2020, his popularity dropped to 31.8 percent. This sharp decline demonstrates that voters have started to lose faith in their government.
Ukrainians expressed their frustrations with Zelensky and Servant of the People during the recent local elections, and the Ukrainian president and his party experienced their first major political loss since their historic presidential and parliamentary victories in 2019. According to Ukrainian exit polls, Servant of the People did not perform well in any of the prominent mayoral races. The party is also not expected to perform well in any of the runoff elections.
The results of Ukraine's local elections illustrate the drastic decline of Servant of the People. What was once viewed as a potential reform party has now become a group synonymous with Ukraine's corruption crisis. It is no wonder why Zelensky's popularity and the popularity of his party have faded. Zelensky and his team will now regroup as they try to formulate a strategy on how they can maintain their influence despite this significant political loss.
Meanwhile, voter turnout in this year's local elections fell significantly. During the 2015 local elections, Ukraine had a turnout of roughly 47 percent, and some western oblasts had a turnout of greater than 50 percent. The turnout for the 2020 local elections, however, was 37 percent. Some of the low turnout can be attributed to the precautions surrounding the coronavirus pandemic. According to a poll conducted by the Sociological Group Rating, 20 percent of survey participants did not vote in the local elections citing health reasons. Another 10 percent did not vote because of the ongoing coronavirus pandemic. This means that one-third of those surveyed did not vote because of health reasons, which is a serious matter.
The other reasons listed as to why Ukrainians did not vote were even more troubling. Fifteen percent stated they were too busy to vote on election day, 14 percent said they did not know who they should vote for and thus decided not to vote, and 12 percent said they were not interested in the local elections. In other words, 41 percent of eligible voters provided troubling reasons for why they did not vote. These responses demonstrate that the Ukrainian electorate may be losing faith in its government.
Ukrainians may feel hopeless with their country's current political situation. Many of the same issues that have put strains on Ukraine, such as corruption, a struggling economy, and the ongoing Donbas conflict, still remain. This has been a difficult period in Ukrainian history, and many Ukrainian families are feeling the effects of these trying times. Despite these challenges, Ukrainian voters must realize they have the power to decide their future. Traditionally, low voter turnout usually leads to the reelection of career politicians. This also means that Ukraine's political and socioeconomic situations are unlikely to change.
If Ukrainian elections were to have higher turnouts, however, this could help change the political landscape of Ukraine. In this scenario, Ukrainian citizens could vote for better-suited and more qualified candidates, rather than for their career politicians who rely on voter apathy to retain their seats, which is something that has traditionally occurred. Such a scenario could bring about genuine change to Ukraine. Ukrainians will have to be patient before a new electoral opportunity presents itself, but they will know what kind of power they have with their vote. In the meantime, Ukrainians will watch carefully as Zelensky and Servant of the People regroup after their major political loss. Their leadership's response may well help determine the results of the next Ukrainian election.
The opinions expressed in this article are those solely of the author and do not reflect the views of the Kennan Institute.
About the Author
---
Kennan Institute
The Kennan Institute is the premier U.S. center for advanced research on Russia and Eurasia and the oldest and largest regional program at the Woodrow Wilson International Center for Scholars. The Kennan Institute is committed to improving American understanding of Russia, Ukraine, Central Asia, the Caucasus, and the surrounding region though research and exchange. Read more