Birds and Biodiversity in China: A Conservation Bright Spot
Overview
China lies at the heart of the East Asian - Australasian flyway, the largest and most threatened of the world's nine migratory flyways, supporting up to 50 million birds on their migratory journeys from as far away as Australia and Alaska. Due to its size and diversity of habitats, China harbors a rich biodiversity, including over 1,300 species of birds. Appreciation and awareness of birds has skyrocketed in recent years, particularly in urban centers like Beijing, which surprisingly boasts more than 500 species, making it one of the best birding capitals in the world. Coastal wetlands in China provide particularly critical habitats at stopover sites for migratory water birds. However, since the 1950s, land reclamation and development has led to a 60% loss of coastal wetlands, greatly threatening bird habitats. But the tide is now turning with new conservation laws and China's efforts to create national parks and migratory bird sanctuaries, some even being designated as UNESCO World Heritage Sites. 
Speakers at this panel will share stories of bird conservation successes and outline the challenges and opportunities to secure the long-term future of China's birds. Over half of the world's crane species are found in China and they have a special cultural and historical significance in the country. The International Crane Foundation (ICF) has worked in China for 40 years and Spike Millington and Yu Qian will highlight ICF's work with communities, scientists, nature reserves, and local governments to protect cranes and their habitats. They also will highlight how regulations, such as bans on land reclamation in coastal wetlands and new laws to promote ecological protection of the Yangtze River, offer critical protections for migratory bird habitats while still providing challenges in implementation. Terry Townshend will talk about how Birding Beijing, together with domestic and international partners, raises awareness of China's wealth of birds and wildlife, works to save some of China's rarest birds from extinction, and creates citizen science projects that track some of Beijing's iconic migratory birds, inspiring others to make a difference.
Please direct audience questions to @WilsonCEF on Twitter or to Jennifer.Turner@wilsoncenter.org.
Speakers
Spike Millington
Vice President of International Programs and Director of Asia, International Crane Foundation
Yu Qian
China Program Director, International Crane Foundation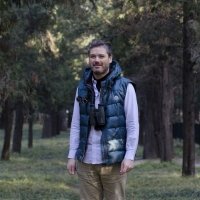 Terry Townshend
Founder, Birding Beijing
---
Hosted By
China Environment Forum
Since 1997, the China Environment Forum's mission has been to forge U.S.-China cooperation on energy, environment, and sustainable development challenges. We play a unique nonpartisan role in creating multi-stakeholder dialogues around these issues. Read more
Environmental Change and Security Program
The Environmental Change and Security Program (ECSP) explores the connections between environmental change, health, and population dynamics and their links to conflict, human insecurity, and foreign policy. Read more