Book Talk | Cooperating for the Climate with Joanna Lewis
Overview
No country in the world releases more greenhouse gases than China. And no country has a greater capacity—and ambition—to mitigate climate change. China's policies and investments that sparked the rapid build-out of renewable energy, electric vehicles and other climate actions have been spurred in great part by decades of international partnerships, particularly with the United States. With President Biden's climate envoy John Kerry's most recent call to action to develop a renewed partnership with China to combat climate change, the stage is set for an unprecedented opportunity for collaboration and collective action.
Drawing on her new book, Cooperating for the Climate: Learning from International Partnerships in China's Clean Energy Sector, Dr. Joanna Lewis (Georgetown University) will discuss her comprehensive analysis of international clean energy partnerships with China, the path forward for China in clean energy development, and its implications for global governance and bilateral relationship with the United States. Erica Thomas (Information Technology Industry Council), will give insights on the book, drawing on her years of experience overseeing US-China science and technological cooperation during her time as the EST Counselor at the US Embassy in Beijing and her current Green Grid research, and Shuang Liu (WRI) will provide further takeaways from the book, making connections to her China work at the Sustainable Finance Center at WRI. 
Speaker Highlights 
Joanna Lewis
 "When there is the absence of a high-level political signal that climate change is important for the US and China to work on, for example, it stalls things at the working level even if there's much less of a political sensitivity at that level." 
"It's important to note that when I started researching these bilateral partnerships, a lot of these were unilateral where you had technology know-how flowing into China, but this has really shifted. This is very important to acknowledge, that you can't design partnerships in the same way you did 20 years ago, because China is leading in many of these technologies now." 
"Economic and security concerns should not be a reason to not engage at all, we just have to engage in a way that reflects the new world we live in and takes into account how to manage these risks."
Erica Thomas
The bilateral agreement on Science and Technology was the first official agreement signed after normalization of relations between the US and China in 1979. Over the following 30 years since that agreement, cooperation branched into hundreds of agreements between 25 technical agencies on the US side and their counterparts on the Chinese side.  
Energy and climate cooperation have long been really compartmentalized. In recent years, strains in the political and economic strains in the relationship can have direct implications for the success of any climate and energy cooperative effort, and now we see climate and energy cooperation can no longer be compartmentalized like it used to be. 
Shuang Liu
Instead of North to South, South to South collaboration in clean energy manufacture capacity is growing ... Chinese renewable energy companies have been building their manufacturing capacity abroad in South East Asia.
China can offer relative cheap and good quality technologies to Global South countries. Increasing requirements for local content in these host countries is a pull factor for Chinese to build clean energy manufacturing.
Some of the legal challenges faced by carbon markets -- like between US and China -- is how to learn from each other and how to have a more sound an legal based carbon market... some of the potential collaborations can be built up on experiences, good beliefs, and practices.
Panelists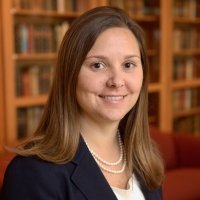 Joanna Lewis
Provost Distinguished Associate Professor and Director, Science, Technology and International Affairs (STIA); Director, STIA Program, Georgetown University
Erica Thomas
Director of Policy, Environment, Sustainability, and Regulatory, Information Technology Industry Council
Shuang Liu
China Finance Director, World Resources Institute
---
Hosted By
China Environment Forum
Since 1997, the China Environment Forum's mission has been to forge U.S.-China cooperation on energy, environment, and sustainable development challenges. We play a unique nonpartisan role in creating multi-stakeholder dialogues around these issues. Read more
Environmental Change and Security Program
The Environmental Change and Security Program (ECSP) explores the connections between environmental change, health, and population dynamics and their links to conflict, human insecurity, and foreign policy. Read more