A Briefing by The Honorable Raila A. Odinga: African Achievements and Challenges: Learning from the Past but Looking Forward
The former Prime Minister of the Republic Kenya, The Honorable Raila A. Odinga, discussed the past 50 years of achievements and challenges on the continent as well as his vision for Africa over the next 50 years, with a particular focus on Africa's future engagements with China and the United States.
Overview
I dream of continent that will long have consigned poverty to history. It will have a youthful, skilled and healthy population, and will serve as a granary, factory floor and supplier to the world. It will be a continent that has made the 21st century its own, and whose key development indicators match global standards. –The Honorable Raila Odinga
Fifty Years of the African Union
In his introductory remarks, Steve McDonald spoke of Kenya's importance on the African continent as well as internationally, saying that the U.S. is "proud of the way Kenya has come through these elections, and it remains a country of priority interest to the United States in economic, security, and strategic areas." To shed some light on these ideas, former Kenyan Prime Minister Raila Odinga began his remarks by introducing himself as an Afro-optimist and a Pan-Africanist who has "fe
lt Africa's birth and growing pains." In this light Odinga discussed the African Union (AU), which had recently celebrated its fiftieth anniversary. He applauded its many achievements, but also noted a "feeling of déjà vu" at the most recent AU conference. As it was at the AU's outset in 1963, Odinga felt that leaders in 2013 were too busy celebrating Africa's perceived "arrival" and ignoring its larger issues. Since its founding in the Cold War era, the AU has achieved two of its three stated goals: independence for Africa and the end of apartheid in South Africa. The third goal, however, providing peace and security for the continent, remains elusive. This, Odinga said, can only be accomplished if the AU develops a "deliberate strategy to develop the continent's productive forces" and ensures inclusive economic growth and fosters an environment where the creative energy and synergy of Africa's peoples are free.
Laying the Foundations for Success
While it may seem obvious that Africa needs a plan for success, it is difficult to pin down the specific contours of such a plan. But, Odinga took pains to outline his vision for Africa. First, he noted the importance of the continent taking ownership of its internal and external relations with regard to politics, economics, and technology. This represents a marked departure from the current trend wherein Africans tend to let other entities define their relationships, Odinga noted. He also said that such initiatives must "embrace all aspects of human rights – political, economic, social, environmental and informational," and he emphasized the role for non-state actors in these efforts. His plan, then, encompasses five key steps on the road to prosperity in Africa:
Quality leadership and citizen involvement, which will promote efficiency and capacity-building;
The expansion of formal democracy, which will promote social inclusivity;
Free, fair, and democratic multi-party elections;
A willingness among nations to "pool sovereignty" on political and economic issues;
Developing the capacity to manage economic power imbalances, which will help avoid unnecessary competition and conflict.
Unlocking Africa's Potential
To underscore the importance of such a plan, Odinga discussed Africa's vast potential for economic growth. According to the African Development Bank, Africa's working population will reach 1.87 billion by 2060. This makes Africa the youngest continent, a factor that Odinga says will be the key to determining its future. Human resource provisions such as healthcare, education, and research, will be required to harness this potential. He pointed to the BRICS countries (Brazil, Russia, India, China, and South Africa) as an example of how to overcome these challenges.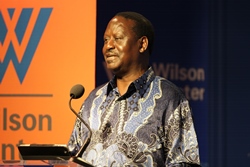 These countries have successfully grasped "the changing structure of global trade, new trends in technology, and the international architecture governing trade, finance, and development assistance." Africa must define its relationship with the BRICS nations now in order to gain the most from it in the future. Similarly, the continent should show some agency with respect to the exploitation of its natural resources wealth, as opposed to letting other countries exploit it. This is a formidable asset for the continent. Therefore, Odinga said, Africa's development must be African-driven "with the international community playing a supporting role in the form of improved performance on trade and investment."
Africa's Next Fifty Years
As the AU turns fifty, there are reasons for both optimism and pessimism in Africa. Despite bringing peace and economic prosperity to some parts of the continent, trouble persists in countries like Mali and Somalia, as well as in the Great Lakes Region. A renewed dedication to unity and problem-solving will be essential to the AU's success over the next fifty years.  Odinga's willingness to step aside in Kenya's contested elections in the name of national interest represents the mindset he says is needed to advance African development in the coming decades. Other African leaders, he says, will need to follow suit by moving away from the "African strong man syndrome" and its associated nepotism, tribalism, and corruption to a "commitment beyond the spoken word, and genuinely [working] towards lifting the majority of Africans from the poverty trap."
---
Hosted By
Africa Program
The Africa Program works to address the most critical issues facing Africa and U.S.-Africa relations, build mutually beneficial U.S.-Africa relations, and enhance knowledge and understanding about Africa in the United States. The Program achieves its mission through in-depth research and analyses, including our Africa Up Close blog, public discussion, working groups, and briefings that bring together policymakers, practitioners, and subject matter experts to analyze and offer practical options for tackling key challenges in Africa and in U.S.-Africa relations.   Read more