Bullets to Books: The Role of Education in Development and What the U.S. Can Do
Panelists discuss the importance of education from early childhood to higher education, its impact on a nation's economy, and current education initiatives being put forth by USAID.
Bullets to Books: The Role of Education in Development and What the U.S. Can Do
Education can play an integral role in development and economic growth internationally.  Many studies have shown that an increase in education can result in higher productivity and earnings, as well as decreased crime and infant mortality.  At a Wilson Center on the Hill event on Friday, June 17 titled "Bullets to Books:  The Role of Education in Development and What the U.S. Can Do," panelists discussed the relationship between education, development and economic growth. The panelists also touched on current USAID education initiatives.  Kent Hughes, Director of the Program on America and the Global Economy at the Wilson Center, moderated and opened the conference with a brief introduction of the panelists.
After introductions from Hughes, Harry Patrinos, Lead Education Economist for the Education Human
Development Network at the World Bank, began by discussing the economic benefits of education.  He noted that education is key to achieving the Millennium Development Goals and that currently over two trillion dollars are spent each year on education around the world.  He also discussed Learning for All, the World Bank's new education strategy, and its three messages:  investing early, investing smartly, and investing for all.  This will also launch their program on benchmarking education systems.  Patrinos analyzed the economic benefits of education from both the microeconomic and macroeconomic perspectives.  He noted that at the individual level, "a year of schooling increases earnings on the order of ten percent a year, on average, and perhaps as high as twenty percent in the poorest countries in the world." 
On the macro-level, he said that "early literacy is seen as a threshold countries must pass in order to grow." He also noted that "studies show a one year average increase in years of schooling in the labor force raises national output by five to fifteen percent."  Furthermore, Patrinos noted that more-educated women tend to experience lower overall fertility, increased age of marriage, and reduced infant mortality.  Patrinos mentioned the following three policy implications of the economic benefits of education: a continued need to invest in primary education, an emphasis on general over vocational skills, and the need for continued expansion of higher education that is more focused on cost recovery at the higher levels (i.e. through selective fees or more financing through student loans).  Later in the session, in response to a question about sustainability, Patrinos asserted that the World Bank promotes sustainability by seeking national ownership of the program, considering affordability in the future, and considering the current demand for the program and how susta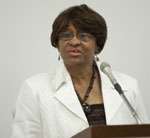 inable that demand will be over time.
Barbara Kamara, consultant for the Early Childhood Development Program at the Open Society Institute, then spoke about her experience working with education in Liberia.  According to Kamara, "a vital and productive society with a prosperous and sustainable future is built on a foundation of healthy child development."  She said that the Liberian government is determined and committed to developing and implementing an early childhood development policy.  Kamara also said that "Liberia has now established an overall goal for its early childhood programs, and that is to ensure that all children achieve their full potential and are ready for school by providing quality… integrated early childhood services and programs for all children from conception to age five."  This collaborative initiative has the following four objectives: increasing access, improving quality, expanding community and family involvement, and achieving greater collaboration and coordination.
Patrick Collins, Acting Office Director of the Office of Education at USAID's Bureau for Economic Growth,
Agriculture and Trade, then spoke about USAID in particular and addressed some broader U.S. government efforts regarding education.  He described the bipartisan discussions on foreign assistance reform that took place and how they were greatly concerned with donor effectiveness.  According to Collins, the end result of the reform efforts was called USAID FORWARD, which included an enormous push for evidence-based decision-making, coupled with a demand for increased focus.  He also spoke about USAID's three goals for education:  "improved reading skills for 100 million children in primary grades by 2015", "improved ability of tertiary and workforce development programs to generate workforce skills relevant to a country's development goals", and "increased equitable access to education in crisis and conflict environments for 15 million learners by 2015."
By:  Erica Pincus
Kent Hughes, Director, Program on America and the Global Economy