China's Rapid Rise as a Green Finance Champion
Overview
The Year of the Dog marks China's fourth year in its "war on pollution" and the central government continues to ramp up laws and regulations to reverse damage to the country's air, water, and soil. To build Xi Jinping's ecological civilization, China will need to invest nearly 3-4 trillion RMB each year to improve pollution enforcement and expand pollution control, clean energy, and energy efficiency industries. Building on the country's already large green development investments, the Chinese government created five Green Finance Pilot Zones in 2017 to help banks develop new tools for green lending, green insurance, and green equities to fund the green economy. Additionally, two years ago, China launched a green bond market that is now the second largest in the world.
At this March 5th meeting, CEF is bringing in three experts to delve into the financial and environmental opportunities and risks as China moves into this new era of green financing. Derek Ip, a Senior Analyst at Trucost, will discuss the findings of a recently published report on the financial and water risks in China's coal-to-chemical sector in western China, and how this risk approach could spur better environmental performance from other pollution- and energy-intense industries in China. Alan Xiangrui Meng, a market analyst in Climate Bonds Initiative's London office will explore the expanding green bond market in China, which is spurring new environmental protection and clean energy industries, as well as some greyer industries. Carolyn Szum, who heads the U.S.-China Clean Energy Research Center Building Energy Efficiency (CERC-BEE) Integrated Team on Systems, Economic Analysis, and Modeling, will explain how CERC-BEE is working with U.S. and Chinese financial institutions to develop and pilot innovative financing mechanisms to scale up energy efficiency in China.
Cover photo courtesy of creativecommons. 
Speakers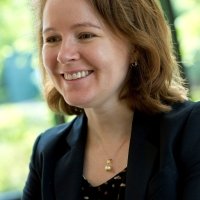 Carolyn Szum
Program Manager with Lawrence Berkeley National Laboratory
Alan Xiangrui Meng
Market Analyst at Climate Bonds Initiative
Derek Ip
Senior Analyst in the Financial Institutions team at Trucost
---
Hosted By
China Environment Forum
Since 1997, the China Environment Forum's mission has been to forge U.S.-China cooperation on energy, environment, and sustainable development challenges. We play a unique nonpartisan role in creating multi-stakeholder dialogues around these issues. Read more