Coal City
Speakers present the coal component of the USAID-supported China Environmental Health Project, which aims to obtain accurate data on coal-fired pollution emissions in Huainan, China.
In China coal is king. China relies on coal for upwards of 70 percent of its energy and it is the biggest consumer and producer of coal in the world. Even with China building a new coal-fired power plant every three days, power demand continues to outstrip supply. While coal fuels China as the world's factory, it also releases many pollutants into the air including sulfur dioxide, nitrogen dioxide, and mercury, resulting in a profound impact on human health and the environment. Domestically, between 400,000 and 750,000 premature deaths are attributed to Chinese air pollution every year. The United States notably relies on coal for nearly 60 percent of its energy, so the opportunity for collaboration between the countries in monitoring and controlling these emissions is great.
At a 22 May 2008 China Environment Forum meeting, speakers Wei-Ping Pan of Western Kentucky University (WKU) and Mingxu Zhang of Anhui University of Science and Technology (AUST) introduced the coal component of the USAID-supported China Environmental Health Project, which aims to obtain accurate data on coal-fired pollution emissions in Huainan. Key to the success of this data collection is the strong collaborative partnership WKU has formed AUST and the provincial and municipal governments. This project also includes health studies conducted in the communities surrounding the three power plants where coal emissions are being monitored. The collection of emission and health data not only helps to promote transparency on pollution emissions in China—supporting new laws on environmental information dissemination—but also potentially raises awareness among policymakers on the health dangers of coal. Derek Vollmer made comments on the project based on his participation in a National Academy of Science study of energy and air pollution in Huainan and Dalian in China and Pittsburgh and Los Angeles in the United States.
Background and Inspiration for the China Environmental Health Project on Coal
Huainan city in Anhui Province was selected as the location for the China Environmental Health Project (CEHP) coal activities because it is the energy base of eastern China—sometimes referred to as the "fuel power three gorges" because of its three, soon to be four, major power plants. Overall, SO2 emissions have been decreasing since scrubbers were installed at all three power plants; however, with the addition of the new power plant and growth of other industries, SO2 and other emissions will undoubtedly increase in the city. Huainan produced 11 million tons of coal in 2004 and is projected to reach 30 million tons of coal production by 2030.
The main purpose of CEHP in Huainan is to build the capacity for coal monitoring in the city and to closely examine the effects of heavy coal use and poor air quality on health. Components of this initiative include improving the monitoring system of SO2, NO2, PM10; training and educating Chinese researchers in the latest techniques; and reducing coal-burning related health problems. Because Chinese standards have not been established for some of the pollutants (such as mercury), the project employs U.S. Environmental Protection Agency standards and sampling equipment to ensure the quality of measurement and examination.
Western Kentucky University (WKU), led by Dr. Pan, has had a long-standing relationship training AUST researchers on various coal monitoring techniques. Under CEHP, WKU has been able to help install high-tech monitoring equipment and increase training activity. AUST researchers are now working with WKU counterparts to train students and collect and analyze data in collaboration with the city's monitoring station. AUST researchers set up data collection stations in 5 locations throughout the city to conduct tests every 30 minutes. They also went to different schools to test pollutants emissions and conducted a health survey of students and residents to analyze the relationship between respiratory diseases and coal emissions. WKU also is working with AUST to conduct experiments to capture CO2 to turn it into useful products such as Ammonia Bicarbonate fertilizer, which keeps 78 percent of its carbon in the soil after application—solving both problems with greenhouse gas emissions and the need for fertilizer.
Details of the Findings
Professor Mingxu Zhang elaborated upon Dr. Pan's introduction of training workshops as an integral component of CEHP. Approximately 10 junior faculty, 56 graduate students, and 2,400 undergraduate students took part in training at various levels of the project including training, workshop classes and on-site sampling, the goal of which was to determine how much sulfur is produced in the solid and gas phases of coal burning. Although sulfur levels in the solid phase have been monitored over the past two years, CEHP provided equipment enables them to carry out research on sulfur in the gas phase. Professor Zhang's presentation focused on the effectiveness of scrubbers in reducing sulfur and other pollutant emissions.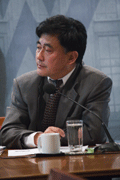 Samples were collected from specific locations: one in the mountains surrounding a new city government area; another by the location of an upcoming power plant (to document the change when the plant begins operation); and a third near the AUST campus and a chemical plant. The content of the samples revealed that in the absence of a flu gas desulphurization (FGD) scrubber, 90 percent of the mercury in coal would be released into the air. These findings are significant considering that Huainan's coal has a very high concentration of mercury compared to coal in other parts of China and the United States. The Chinese government is beginning to require all power plants to install FGD systems, which keeps mercury in the solid phase and absorbed by gypsum, making it easier to utilize and capture.
In terms China's emission standards (a scale of one to five with one being the cleanest), coal pollution in Huainan is below class one for nitrogen dioxide, above class one for sulfur dioxide, but particulate matter measuring 10 micrometers (PM10) is at a the dangerous class three due to unusually high levels of fly ash in Anhui's coal. Particulate matter not only affects air quality—visible in the black snow that falls in Huainan—but also causes asthma, lung cancer, and cardiovascular diseases. Even in rain, the levels of particulate matter in the air never fall below the U.S. standard. The effects of this heavy pollution were monitored in approximately 3,000 elementary and middle school children of an average age of 11 and 15 years old in Taiyuan and Huainan. The project also surveyed residential areas. Huainan fared better than Taiyuan—one of China's most polluted cities—in terms of disease burden, which included chronic bronchitis, asthma, constant colds and respiratory disease. Discussion at the meeting raised the suggestion that Huainan should compare its emissions to several other comparable cities to ascertain the seriousness of the city's pollution.
Comparison with the Findings of the National Academies

Derek Vollmer is an associate program officer for the National Academies, which recently completed a comparative air pollution and environmental health study focused on the United States and China. The National Academies project is unique in that it does not focus on climate change, but rather on criteria air pollutants and how they are managed at a local level. Because China's governance is quite decentralized—with its cities usually left to implement progressive central policies—this study provided important insights into two medium-sized cities—Huainan and Dalian—and compared them to Pittsburgh and Los Angeles. Although Chinese cities and their North American counterparts are at different stages of development, they are very similar. Vollmer's presentation featured photographs of heavy pollution that existed in Pittsburgh in the 1940s, which is not all that different from the pollution in Chinese cities today. Vollmer also discussed how today's traffic problems in the Los Angeles and other major cities are not only an inconvenience, but also the biggest source of air pollution in the United States as well as the biggest source of air quality-related health problems. Although the number of cars in China remains small, this booming industry has also become the main air pollutant in large cities such as Beijing. (See CEHP Research Brief on Cars in China for more information).
The National Academies project looked at the U.S. experience and what was helpful in alleviating pollution problems. It focused on actions at the local level and recognized that there are numerous important interactions that can influence local officials. The EPA, for example, assists local governments with monitoring and regulating pollutants. The project also recognized that citizens can play an important role in this process. U.S. nongovernmental organizations (NGOs), in particular, were armed with an abundance of air quality data and greatly influenced policy developments to clean up air pollution.
Universities also played an important role in Los Angeles and Pittsburgh. Although universities do not have a direct mandate to work on local problems, they cooperated and worked closely with local and state governments to set up monitoring programs in Los Angeles and Pittsburgh. Lastly, there are a lot of complementary initiatives; many cities would like to address pollution and climate change but cannot without connecting with the state and national level.
According to the National Academies project, retrofits are costly but absolutely necessary to reduce air pollution. China has stringent regulations for new power plants but Chinese policymakers must focus on old plants that will be in operation for a long time, for it is not possible to shut down all inefficient plants. The city of Dalian is a good example where the local government has enacted standards above the national regulations and been progressive in retrofitting older plants.
Energy efficiency, especially in buildings, is one initiative that needs to be further encouraged by the Chinese government as it a cost-effective way to reduce demand for coal-powered energy. It is crucial to recognize that vehicles may overcome coal as a major pollutant in China, which demands that local governments must focus on both or they will emulate the U.S. path towards heavy vehicle pollution. Because so many cities are developing rapidly, it is also imperative that Chinese cities "build smart instead of build out"—meaning the key to curbing pollution lies not in managing car fleets, but the roads on which the fleet travels. The general conclusions are that pollution control benefits exceed the costs; however, because the benefits will be unevenly distributed the government must be involved. Pollution control will not only save lives but also impact the local economy by reducing the days of work lost and volume of crops damaged from acid rain, which is especially significant given that much of China's scarce cropland is located at the peripheries of heavily polluted cities.
Drafted by Jing Chen, Linden Ellis, and Kimberly Go.