Czech and Slovak Freedom Lecture: The Role of Czech and International Scientists in the Fight Against the Pandemic
The Wilson Center and the Embassy of the Czech Republic hosted the annual Czech and Slovak Freedom Lecture.
Overview
Dr. Tomáš Cihlář, an internationally-recognized Czech Ph.D. biochemist and a senior scientist with the American company Gilead Sciences Inc. in Foster City, California, was the featured speaker at the annual Freedom Lecture in Washington D.C.  
Sponsored by the American Friends of the Czech Republic and the Czech Embassy, this year's Lecture was virtually broadcast. Dr. Cihlář addressed the topic, "The Role of Czech and International Scientists in the Fight against the Covid-19 Pandemic."
Tomáš Cihlář, Vice President of Virology, Gilead Sciences, Inc.
"We all know the shocking numbers that keep growing everyday and by official counts are now reaching more than 50 million infected people and exceed 1.3 million lives lost around the world. The actual numbers are probably even higher. The lives taken by COVID are the most tragic, but many of us probably don't realize that in comparison, cancer kills 8-10 million people globally every year and cardiovascular disease is twice that. We should not forget these staggering numbers and absolutely not lose them from our sight because of COVID, but there is one difference. These diseases do not spread in families, schools, communities, towns, countries, and continents. They do not threaten economic prosperity, do not take away jobs, family homes, freedom to travel and meet, freedom to give a hug to your grandmother. We all are fighting for our basic freedoms that were taken for granted just a year ago, but this time we are not fighting dictators or totalitarian regimes. We are fighting an invisible enemy that we cannot touch, hear, or feel. An enemy that became omnipresent in the past few months as it keeps spreading everywhere to every single country in the world. This is an enemy we did not know just a year ago and we were not quite ready for it. This is precisely the moment where science needs to step forward and get to the front line in the fight for freedom."
"We still need to keep learning from the virus itself and from each other. We are learning lessons that will be critical for us to be ready for future pandemics if they come. You might be asking what are those lessons? There are few and simple: face masks work, social distancing works, scientific collaboration and partnership running far and wide across borders work, objective and factually correct public communication about the risks of the pandemic works. Fake public messaging, twisting the truth about the risk and potential consequences of the virus spread do not work, and complacency definitely doesn't work."
"I think the gap is not so much between the wealthy and the less wealthy. This is a very basic medical need that should be covered for everyone, not just in the United States. It's more between the nations that are fully developed and nations that are middle and low-income countries, how the access to the vaccine will be there because they don't have the means to develop their own vaccines. From my experience from the antiviral drug world, there are ways how you can create and generate access programs. Gilead has been participating in one of those for many, many years [...]. There are ways you can engage generic companies to produce the vaccines and drugs at lower costs so that they are affordable also for the low-income countries."
"Opening the world meant a lot for the young scientists from Czech Republic to get experience in the world. What is important is to work more inclusively so that you create lasting or sustained opportunities for scientists in Czech Republic. Through supporting the development of the startup biotech companies through capital investments. There are actual opportunities for scientists who get training abroad to come back to Czech Republic and Slovakia and participate in the local business."
Introductions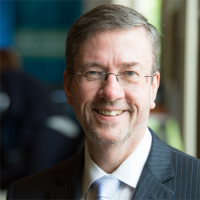 Daniel S. Hamilton
Former Director, Global Europe Program; Austrian Marshall Plan Foundation Distinguished Fellow
H.E. Hynek Kmoníček
Ambassador of the Czech Republic to the United States  
Keynote Speaker
Tomáš Cihlář
Vice President of Virology, Gilead Sciences Inc.
Moderator
Thomas A. Dine
President, American Friends of the Czech Republic; former President Radio Free Europe
---
Hosted By
Global Europe Program
The Global Europe Program addresses vital issues affecting the European continent, U.S.-European relations, and Europe's ties with the rest of the world. We investigate European approaches to critical global issues: digital transformation, climate, migration, global governance. We also examine Europe's relations with Russia and Eurasia, China and the Indo-Pacific, the Middle East and Africa. Our program activities cover a wide range of topics, from the role of NATO, the European Union and the OSCE to European energy security, trade disputes, challenges to democracy, and counter-terrorism. The Global Europe Program's staff, scholars-in-residence, and Global Fellows participate in seminars, policy study groups, and international conferences to provide analytical recommendations to policy makers and the media. Read more