Energy Efficiency Buildings as a Pathway to Carbon Neutrality in the US and China
Overview
Cities are the engines for growth around the world, yet they also generate nearly 40 percent of global greenhouse gas emissions. Chinese cities generate some 70 percent of the country's carbon emissions, one-third of which is from energy to power, cool and heat large buildings. Buildings also have a large (36 percent) carbon footprint in the United States.
The world cannot solve the climate crisis without reducing and greening energy in buildings and successful efforts by China and the United States to accelerate building energy efficiency would be a decarbonization game changer.
Clay Nesler (WRI) will kick off this panel highlighting trends in building energy efficiency that can be pathways to zero carbon buildings in the United States and China. Carolyn Szum (LBNL) will dive deep into the evolution of building energy efficiency benchmarking and analysis tools to speed decarbonization of existing buildings in China and the United States.  Jing Hou (China Association of Building Energy Efficiency) will introduce some work by C40 Cities to carry out energy efficiency pilots in Chinese cities. She will also discuss how energy efficiency buildings fit into China's carbon neutrality goals and what that means for the building sector.
Selected Quotes
Clay Nesler (WRI)
"Why do you rob banks? Because that's where the money is. Why do you focus on cities and buildings? Because that's where the carbon is….By 2060, we are going to have twice the square meters or square feet area of buildings across the world. That sounds like a lot. Imaging the buildings in New York City every month for the next 40 years. What we need to do is not a little bit of energy efficiency, but a lot of energy efficiency."
In buildings, electrification means electrifying heating, space heating, water heating, as well as cooking. There are existing technologies available to do that, which are not widely applied. But there is the opportunity to apply digitalization, which is smart technology that allows buildings to not just consume energy but to generate electricity through renewable energy, to store energy, to be flexible and control the energy in sync with the grid.
"Green construction and retrofit generate between 8 to 21 jobs per million dollars of investment and fossil fuel exploration is like three. So there's huge leverage in both renewable energy and building energy efficiency."
Carolyn Szum (LBNL)
In the United States, less than one percent of buildings are retrofitted annually so we're going to need a substantial increase in the speed and scale of building energy efficiency retrofits if we're going to meet our mid-century climate neutrality goals.
"Some of our leading U.S. cities are really getting aggressive about improving energy efficiency performance. Chicago and New York City have introduced letter grading, stars that need to be posted on the buildings indicating how energy efficient that building is."
"[In the energy efficiency building space] there is a real potential to unleash entrepreneurism in the Chinese economy through voluntary programs and market-based mechanisms... I see how energy efficiency entrepreneurs are coming up with digital technologies, machine learning and artificial intelligence, that could be used to draw down operational emissions in existing Chinese buildings."
Jing Hou (China Association of Building Energy Efficiency)
The biggest challenge for local city governments in China who need to develop a decarbonization plan is the ongoing urbanization process. On one side, they need to consider people's demand for high living standards. But on the other, they need to consider how to peak the sectoral emission and set a roadmap towards carbon neutrality.
"The technology of renewable energy will be adopted increasingly in China in the coming years. In the rural areas, some solutions will be tailored for Chinese rural areas because they have more rooms to use PVs or more flexibility."
"The most efficient way for China to improve new buildings energy efficiency at a  large scale is through the energy building efficiency codes or standards."
Panelists
Clay Nesler
Global Lead, Buildings And Energy at WRI Ross Center For Sustainable Cities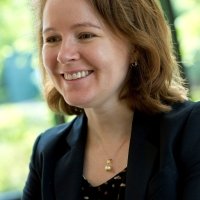 Carolyn Szum
Program Manager with Lawrence Berkeley National Laboratory
Jing Hou
Director of International Cooperation Department & Assistant to the Secretary-General, China Association of Building Energy Efficiency; Associate Researcher, Doctor of Management Science and Engineering
---
Hosted By
China Environment Forum
Since 1997, the China Environment Forum's mission has been to forge U.S.-China cooperation on energy, environment, and sustainable development challenges. We play a unique nonpartisan role in creating multi-stakeholder dialogues around these issues. Read more