Governance and Corruption in Public Health Care Systems
Governance is not typically addressed in the health sector. Maureen Lewis, fellow at the Center for Global Development, draws on examples from her new paper to show that good governance is crucial to effective health care delivery.
Governance and Corruption in Public Health Care Systems
In many developing countries, health care systems are marred by poor governance. Yet, governance is not typically addressed in the health sector, said Maureen Lewis, non-resident fellow at the Center for Global Development, at an event sponsored by the Global Health Initiative on June 14, 2006. She drew on examples from her recently published paper Governance and Corruption in Public Health Care Systems to show that good governance is crucial to effective health care delivery. She also argued that governance's relationship to health care delivery should be taken more seriously by governments and non-governmental organizations alike: "Poor governance and corruption undermine the effectiveness of donor and country efforts to achieve better health status."
Lewis addressed three indicators of poor governance—corruption, mismanagement, and inefficiency—and how they can undermine health care systems. Corruption, she noted, must be distinguished from the umbrella problem of poor governance. Evidence of poor governance can range from poor incentives to overall inefficiency. Absenteeism is the classic result of poor incentives, she said. If a doctor is paid regardless of attendance, he lacks the incentive to show up to work. While governance problems adversely affect health care systems, they are not necessarily the result of corruption. Defined by Lewis as the often illegal "use of public office for private gain," corruption can include the "selling" of official positions, kickbacks, and outright theft. She used "leakage" of funds, informal payments, and absenteeism as signs of problem areas.
"Returns [on] health investment may be very low with corruption and low efficiency," Lewis said. Applying his knowledge of Latin American health care financing and health equity, discussant Rubén Suárez, regional adviser for health economics and financing at the Pan American Health Organization, addressed the difficulty of distinguishing between corruption and governance. While absenteeism and mismanagement are major problems in Latin America, corruption, he said, has become ingrained as a way of getting things done. There is not enough data, he noted, to calculate exactly how much money is lost to corruption and how much is being wasted due to inefficiency.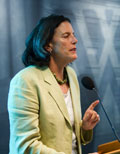 Mending health care systems in developing countries requires a mixed approach, according the speakers. "Good governance is very important for efficiency," Suarez said. "And good governance does not come cheap. It requires good institutions run by good people who are paid adequately." But financing, according to Lewis, is not the panacea: "To improve performance you need more than just more money." She believes the first step in increasing efficiency and tackling corruption is to implement anti-corruption and good governance strategies that improve accountability, oversight, and incentives for health workers to perform well. These strategies might include price lists for drugs and supplies, transparent purchasing, and education programs for citizens to increase expectations and performance, thereby making governments accountable. Suárez also recommended conducting in-depth comparisons of data from different regions within countries, as well as between countries, to gain a more accurate understanding of health system inadequacies.
An audience member asked whether a country's justice system might help reduce corruption. According to Lewis, this approach will not work. Most developing countries have shaky justice systems, she noted, and prosecuting doctors is very difficult. Another audience member questioned whether private health care would fare any better than public. Lewis pointed out that corruption in the private sector is much different than the public sector. The private sector is often kept in check by the laws of supply and demand, as well as by private insurance companies who want to avoid overpaying. The public sector, she noted, is not as transparent, because doctors may rely on informal payments from patients or push public patients into private services.
Lewis warned that many health care systems are jeopardized by more than just corruption and poor governance. Large, well-funded programs—such as the President's Emergency Plan for AIDS Relief—are dumping money into certain health care areas. As the best people leave the public health care systems to tend to individual diseases, Lewis said we are "headed for a train wreck" by not putting money into the system's backbone. "Institutional factors need to be strengthened along with spending to improve performance," she concluded.
---
Hosted By
Maternal Health Initiative
Life and health are the most basic human rights, yet disparities between and within countries continue to grow. No single solution or institution can address the variety of health concerns the world faces. By leveraging, building on, and coordinating the Wilson Center's strong regional and cross-cutting programming, the Maternal Health Initiative (MHI) promotes dialogue and understanding among practitioners, scholars, community leaders, and policymakers. Read more
Environmental Change and Security Program
The Environmental Change and Security Program (ECSP) explores the connections between environmental, health, and population dynamics and their links to conflict, human insecurity, and foreign policy. Read more