Human, Animal, and Ecosystem Health
Human, livestock, wildlife, and environmental health are integrally related, and development practitioners and policymakers should "take advantage of these relationships to achieve conservation and development goals," says the Wildlife Conservation Society's Steve Osofsky.
Overview
Human, livestock, wildlife, and environmental health are integrally related, and development practitioners and policymakers should "take advantage of these relationships to achieve conservation and development goals," asserted Steve Osofsky, a senior policy advisor at the Wildlife Conservation Society, at "Human, Animal, and Ecosystem Health," an event co-sponsored by the Woodrow Wilson Center's Environmental Change and Security Program and Africa Program on May 21, 2008. Osofsky was joined by Gladys Kalema-Zikusoka, founder and CEO of Conservation Through Public Health (CTPH), and Deana Clifford, the coordinator for the Health for Animals and Livelihood Improvement (HALI) project in Tanzania. All three speakers agreed that a holistic approach to improving human, livestock, wildlife, and environmental health can simultaneously improve biodiversity and promote sustainable livelihoods.
Achieving Conservation, Development by Addressing Animal, Human Health
Many sub-Saharan African leaders have concluded that their comparative economic advantage lies in "opportunities related to nature, in terms of tourism, in terms of consumptive uses like trophy hunting," said Osofsky. In fact, these activities constitute a larger share of GDP in the Southern African Development Community (SADC) countries than forestry, fisheries, and agriculture combined, he noted. Some countries are trying to use their natural resources to generate economic growth by creating transboundary conservation zones. Though these zones have great economic and conservation potential, it is essential to proactively address the health ramifications associated with reconnecting previously separated areas.
For instance, the Greater Limpopo Transfrontier Park, which aims to connect national parks in South Africa, Zimbabwe, and Mozambique, faces a number of challenges from zoonotic diseases, which can spread between animals and humans. Bovine Tuberculosis (BTB) was discovered in buffalo living in South Africa's Kruger National Park in 1990. If Kruger National Park is connected to Zimbabwe's Gonarezhou National Park, Zimbabwean people, livestock, and wildlife could be exposed to this disease. The residents of the Sengwe corridor between the two parks have one of the highest HIV/AIDS infection rates in the region, and their suppressed immune systems—along with poor meat and dairy hygiene—make them susceptible to infections like BTB.
Other zoonotic diseases threatening the successful creation of Greater Limpopo Transfrontier Park include nagana (animal sleeping sickness) and rabies. In addition, the spread of a strain of foot and mouth disease (which only affects animals) from Zimbabwe could devastate South Africa's lucrative cattle industry. "We can't let a conservation initiative cause negative consequences for the agriculture and livestock sector and the public health sector," warned Osofsky. "As a conservationist, I want this vision to succeed, but we have to look at these cross-sectoral impacts."
Osofsky cited the Community Markets for Conservation (COMACO) project in Zambia as an example of a successful approach to improving conservation and development, especially food security. COMACO sets up farmers' cooperatives, ensuring better prices for crops and livestock by eliminating the need for middlemen. To join a cooperative, farmers must agree not to poach wildlife, so as their livelihood improves, so does conservation. The program also trains community members in basic veterinary procedures, including vaccinating chickens against Newcastle disease, a devastating virus. Healthier chickens provide more income for the women who raise them, which they often spend on school fees for their children. Healthier chickens can also provide a few extra eggs a week for a family, which can greatly improve children's nutrition and brain development. When livestock can meet families' protein needs, they are less likely to poach wildlife. In the communities where COMACO operates, wildlife stocks have rebounded and local people are now taking advantage of these newly flourishing wildlife populations to promote ecotourism, an additional source of income.
Protecting the Health of Gorillas, People, and Their Environment
"Conservation and public health are interdependent," stressed Kalema-Zikusoka, who founded CTPH in response to a scabies outbreak among the mountain gorillas of Bwindi Impenetrable Forest, which is home to half of the remaining mountain gorillas in the world. This zoonotic disease was traced to poor communities living in close proximity to gorilla habitats. "Some of the poorest people live in and around protected areas, and they have very little health care and information on diseases," explained Kalema-Zikusoka. Far from the nearest hospital, people often live with diseases rather than travel long distances for treatment. "Imagine when someone falls sick and you have to carry them on a stretcher up a steep hill all the way to the health center—you only take them if they have a disease that's about to kill them," said Kalema-Zikusoka.
The gorillas frequently eat the villagers' crops, reducing their agricultural income and decreasing the funds available for school fees. Yet when gorillas are killed in retaliatory poaching—or by zoonotic diseases like scabies or tuberculosis—the surrounding communities' livelihoods, which are partially dependent on gorilla tourism, are also threatened. When Kalema-Zikusoka and her colleagues held participatory rural appraisal workshops with the communities around Bwindi, they found that the residents were receptive to changing their behavior—such as their hygiene practices—because they recognized that gorilla ecotourism provided them with significant income.
Simultaneously providing health care for people and wildlife is "cost-effective in controlling disease," said Kalema-Zikusoka. In addition to treating gorillas, CTPH launched grassroots community education campaigns on good hygiene and its links to gorilla health, ecotourism, and livelihoods, and also strengthened community-based health care programs—"the way to go in rural areas"—in the villages surrounding Bwindi. "If you can get the community to now take ownership over their health, it's more sustainable," said Kalema-Zikusoka. CTPH also heavily promotes educational programs that help children understand the value of animals to ecosystems and to the community.
Water Scarcity and Health in Tanzania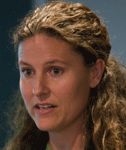 Tanzania's Ruaha ecosystem—which has high biodiversity, is home to significant pastoralist populations, and provides 70 percent of Tanzania's electricity through the Great Ruaha River—is a "landscape in crisis," said Clifford. In 1993, the Great Ruaha River flowed year-round; in 2005, it was dry for 119 days, due to significant water diversions for agriculture and wetlands that have not recovered from damage from cattle grazing.
The dry river has had significant impacts on security, health, and development. "We've seen intense conflicts now between agriculturists and livestock keepers, fighting for what land is left and what water is left," said Clifford. In addition, when people, livestock, and wildlife gather at common, shrinking watering holes, they spread diseases to one another—including tuberculosis, brucellosis, and waterborne bacteria and parasites. When there is no water in wildlife management areas, wildlife leave, ecotourism declines, and local communities lose a critical source of income. Moreover, the drying of the Great Ruaha River threatens the entire national economy; a drought in 2006 led to a months-long power crisis.
Clifford explained that HALI—still a young project—is collecting data on human, livestock, and wildlife disease burdens; local knowledge of disease transmission; water quality; and livelihoods in an attempt to "make solid recommendations for water management and for disease prevention." Her hope is that these recommendations—and the programs that are implemented in response to them—will promote human, animal, and ecosystem health; strengthen sustainable livelihoods; spur national development; and lead to harmony, not strife, between agriculturalists and pastoralists.
Drafted by Liat Racin and Rachel Weisshaar and edited by Meaghan Parker.
---
Hosted By
Environmental Change and Security Program
The Environmental Change and Security Program (ECSP) explores the connections between environmental change, health, and population dynamics and their links to conflict, human insecurity, and foreign policy. Read more
Africa Program
The Africa Program works to address the most critical issues facing Africa and U.S.-Africa relations, build mutually beneficial U.S.-Africa relations, and enhance knowledge and understanding about Africa in the United States. The Program achieves its mission through in-depth research and analyses, including our blog Africa Up Close, public discussion, working groups, and briefings that bring together policymakers, practitioners, and subject matter experts to analyze and offer practical options for tackling key challenges in Africa and in U.S.-Africa relations.   Read more