Integrating HIV/AIDS and Maternal Health Services
Dr. Claudes Kamenga, Senior Director of Technical Support and Research Utilization, Family Health International; Michele Moloney-Kitts, Assistant Coordinator, Office of the U.S. Global AIDS Coordinator; Harriet Birungi, Program Associate, Population Council-Kenya
Overview
Integrating maternal health and HIV/AIDS services "includes organizing and providing services that meet several needs simultaneously…focusing not only on the condition, but also the individual," argued Dr. Claudes Kamenga, Senior Director of Technical Support and Research Utilization at Family Health International, during the first event of the Advancing Policy Dialogue on Maternal Health Series co-convened by the Wilson Center's Global Health Initiative, Maternal Health Task Force (MHTF), United Nations Population Fund (UNFPA), and technical support from U.S. Agency for International Development (USAID). Joined by Michele Moloney-Kitts, assistant coordinator at the Office of the U.S. Global AIDS Coordinator, and Harriet Birungi, a program associate with the Population Council in Kenya, the panelists discussed how integration of HIV/AIDS and maternal health services not only improves health outcomes, but also increases program efficiency, strengthens health systems, and saves money.
Integrating Access to Contraception: Best Kept Secret in HIV Prevention
"We need to integrate [services] because clients seeking HIV services and those seeking reproductive health services share common needs," argued Kamenga, especially those women who have HIV/AIDS and become pregnant. The United Nations' prevention of mother-to-child transmission (PMTCT) programs are currently serving as a framework for integrating maternal and HIV services in many developing countries. However, Kamenga noted that the second approach within this model–preventing unintended pregnancy among HIV-positive women–has the greatest potential for success.
"Contraception is a cost-effective intervention…and the best kept secret in HIV prevention," maintained Kamenga. Demographic health surveys demonstrate that HIV-positive women want immediate access to family planning services to prevent unintended pregnancies, which also decreases transmission and the risk of maternal mortality. While integrating maternal health services is a cost-effective method for preventing HIV, Kamenga noted several opportunities and challenges that must be addressed at the policy and service delivery levels.
The international donor community, including the Global Fund and President's Emergency Plan for AIDs Relief (PEPFAR), is increasingly recognizing the need to integrate maternal health and HIV services. However, additional research and evidence is needed to further support integration. "What gets measured gets done," maintained Kamenga, noting that this is a major challenge as donors support initiatives that demonstrate successful outcomes.
Executing integration of services at the service level has several opportunities and challenges that must also be taken into consideration. For example, at the service delivery level, "human resource capacity, supervision, reporting, referral systems and community involvement" must be integrated through an unbiased manner. Moving forward, Kamenga shared that the real question for integration is not "if" but "how best" to achieve integration, calling upon the maternal health community to utilize growing evidence and momentum in policy change to advance integration of services.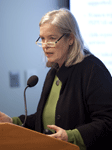 Comprehensive Plan: Integrating Gender & Linking Services
"Women who are HIV-infected have maternal mortality rates that are five times higher than non-infected women…we have to come together around a cohesive approach," maintained Michele Moloney-Kitts, assistant coordinator at the Office of the U.S. Global AIDS Coordinator. Noting the donor and policy roles of PEPFAR and President Obama's $63 billion Global Health Initiative, Moloney-Kitts discussed the need to integrate co-existing services and funding streams, as well as the importance of including men.
"You can't talk about integrating reproductive and sexual health without considering a broader and more robust gender element," argued Moloney-Kitts. In order to reach men who do not regularly visit primary health care facilities, PEPFAR is experimenting with integrating HIV and reproductive health services through local post offices. Building on this example, Moloney-Kitts discussed the need to tailor donor and policy responses to the changing needs of the HIV epidemic, such as the unmet need for contraception and family planning.
Maternal and child health services provide an entry point for integrating other HIV services, shared Moloney-Kitts. Co-locating and linking initiatives should be strengthened to widen the platform of comprehensive services for women and their families. "Many women have expressed a need for contraception and family planning services," and through streamlined funding efforts with AIDS, Population and Health Integrated Assistance (APHIA), PEPFAR found that "when you offer family planning services on site with HIV services you have a huge uptake in family planning use," shared Moloney-Kitts.
"We've made a lot of headway and we are making steps to better and more integrated programs," stated Moloney-Kitts. Looking towards the Millennium Development Goals, she also discussed PEPFAR's commitment to integrate HIV/AIDS with other female-specific global health issues–such as cervical cancer–that will maximize impact on health systems and increase overall data availability which can then be utilized to improve service delivery and future policy decisions.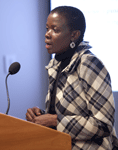 Integrating Reproductive Health Services for HIV-Positive Adolescents
Young people born with HIV/AIDS are maturing into adults, and the available "maternal and HIV health services are not adolescent-friendly… this situation becomes even more complex for adolescents living with HIV," stated Harriet Birungi, program associate with the Population Council in Kenya. Current policies and programs fail to include HIV-positive adolescents because of the stigma associated with the disease and the failure to acknowledge the rights of intimacy among this cohort. However, leaving this cohort out of reproductive health programs has serious health consequences, including high unintended pregnancy and maternal mortality rates, and increased rates of infants born with HIV.
Birungi's research with HIV-positive adolescents in Kenya and Uganda found that only 41% of sexually active adolescent girls in Uganda, and 48% of adolescent girls in Kenya utilize contraception due to issues of self-esteem and a lack of sexual and reproductive health information. Through interviews and surveys Birungi also found that adolescent girls who are HIV-positive are more worried about becoming pregnant than they are about their current HIV-positive status. Birungi argued that counselors must appropriately respond to this need.
"We cannot talk about integration if service providers are not respecting the rights of young people," maintained Birungi. In order to address this challenge, Birungi described several tools that help counselors work with HIV-positive adolescents including the 'fertility and sexuality desire assessment survey' and 'counselor's guidelines' that screen young people for their reproductive health and HIV needs. Screening HIV-positive adolescents for their reproductive health needs has significant potential to identify those who are pregnant and require additional maternal and other health services such as malaria prevention and postpartum family planning, shared Birungi.
Integrating sensitization tools for service providers, coupled with increased linkages between HIV/AIDS centers and maternal health clinics, helps bridge pediatric and adult care for adolescents and prevent further transmission of the disease. "There is a lot of opportunity for integration for this particular group...many of the HIV-positive adolescents are already receiving anti-retroviral therapy (ART) and visit [HIV] clinics regularly," which provides a unique opportunity to strengthen these linkages and integrate services.
Drafted by Calyn Ostrowski
Edited by Gib Clarke, Coordinator, Global Health Initiative, 202-691-4292
Hosted By
Maternal Health Initiative
Life and health are the most basic human rights, yet disparities between and within countries continue to grow. No single solution or institution can address the variety of health concerns the world faces. By leveraging, building on, and coordinating the Wilson Center's strong regional and cross-cutting programming, the Maternal Health Initiative (MHI) promotes dialogue and understanding among practitioners, scholars, community leaders, and policymakers. Read more