Parks for Peace or Peace for Parks? Issues in Practice and Policy
An ECSP conference explores the rhetoric and reality of peace parks. Drawing on future plans and successful projects in southern Africa, Kashmir, and the Korean peninsula, the speakers debated whether peace parks can protect the environment and promote conflict resolution.
Overview
Nelson Mandela said, "I know of no political movement, no philosophy, no ideology, which does not agree with the peace parks concept as we see it going into fruition today. It is a concept that can be embraced by all." Parks for peace—transboundary conservation areas dedicated to the promotion of peace and cooperation—hold great promise and appeal, but have they lived up to this promise? Some say yes, others respectfully disagree with the former South African President's assertion. A recent day-long conference hosted by the Environmental Change and Security Program explored the rhetoric and reality of peace parks, including their goals and the factors that determine their success or failure. Drawing on future plans and successful projects in southern Africa, Kashmir, and the Korean peninsula, the speakers debated whether peace parks can protect the environment and promote conflict resolution.
Parks for Peace: Crossing the Policy Frontier
Saleem Ali, assistant professor of environmental planning at the University of Vermont, began the conference with a presentation titled "Conservation and Conflict Resolution: Crossing the Policy Frontier." Ali examined ways to shift the discussion of peace parks from theory to policy, focusing on the key challenges peace parks face. Looking to the future, Ali offered potential solutions for each set of challenges. For example, he pointed out that "conservation is believed to be a consequence rather than a constituent of peace building." To combat this perception, Ali proposed framing peace parks not as a method of building peace, but rather as a first step at building trust.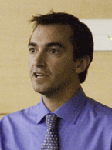 Charles Besançon, conservation planning and assessment consultant for the World Conservation Union (IUCN), continued the discussion with his personal experiences working with International Gorilla Conservation Programme (IGCP), a coalition group that brings together people in the conflict-riven countries of Rwanda, Uganda, and the Democratic Republic of the Congo. Besançon noted that transboundary management is successful in this area in part because everyone works toward a higher, common goal—preservation of the mountain gorilla; and this common goal breaks down barriers of language and historical conflict. A man working in the area told Besançon, "When we come together, we are conservationists. We all care about the mountain gorillas, so it is quite easy for us to get along." Besançon also pointed to institutional factors that may bring success to other transboundary sites, such as operating within a neutral political space. With headquarters in Kenya, IGCP avoids becoming mired in local conflict while also gaining credibility as an international institution. In conclusion, Besançon emphasized the importance of slow and deliberate work on a flexible timeline. He also noted the importance of building strong partnerships and alliances to share knowledge and best practices.
Lessons from Once and Future Peace Parks
Dividing North and South Korea, the demilitarized zone (DMZ) is a veritable no man's land. Protected by barbed wire and the threat of hidden land mines, flora and fauna have flourished without human influence for more than 50 years, turning the DMZ into a sanctuary for biodiversity. In his presentation "Biodiversity and Barbed Wire: Exploring Joint Conservation in the Korea DMZ," Ke Chung Kim, professor of entomology at Pennsylvania State University, discussed how this unlikely area holds great potential for conflict resolution and biodiversity conservation by becoming a peace park. Throughout the region, urbanization and rapid population growth have resulted in erosion and deforestation. While he noted that the DMZ exists for political—not environmental—reasons, Kim believes his plan may not only build peace, but also help engender a culture of environmental preservation. However, he admits that environmental stewardship is a concept most Koreans are reluctant to accept. Kim also wants to see the creation of a national network of parks and nature reserves. To achieve these goals, he outlined a three-pronged strategy: a grassroots approach that would promote environmental issues on the ground level, a horizontal or inter-Korea approach that would bring together government and NGOs, and a top-down approach that would involve high-profile celebrities or spokespeople to garner support and open doors for further discussion.
Carlos F. Ponce, while unable to attend the conference to speak about transboundary conservation in Peru and Ecuador, co-authored "Peace Parks in the Cordillera del Cóndor Mountain Range and Biodiversity Conservation Corridor," a background paper for the conference that will be published by ECSP. The Cordillera del Cóndor, a relatively isolated mountain range straddling the Peru-Ecuador border, hosts the world's most diverse plant communities. According to Ponce, "for decades this mountain range has been the scene of border conflicts between the two countries. But today, peace and integration is replacing strife." His article highlights the biodiversity conservation efforts put in place by the peace agreement ending the conflict between Peru and Ecuador, and the progress achieved since the creation of "ecological protection zones" in the environmentally valuable region.
On the opposite end of the globe, and at an elevation of over 20,000 feet, the conflict over Kashmir continues between Pakistan and Indian. In his second presentation, Saleem Ali addressed the history and territorial dispute surrounding the K-2-Siachen glacier. In 1984 India attempted to capture positions along the glacier, resulting in a standoff over the disputed borderline. To date, the standoff has led to more than 16,000 casualties (largely due to hypothermia and accidents) and costs India $1 million per day and Pakistan $600,000 per day. While the idea of turning the area into a peace park has drawn international interest—Italy, for one, is willing to help because the first person to summit K-2 was Italian—Ali pointed out some key factors that must first be considered, including the importance of remember lives already lost. "We don't want military forces to feel like all this conflict has been in vain," he said. Rather than complete military withdrawal, Ali proposed retraining the troops to play conservation roles. He also noted that if the area is to be a true peace park, traveling there should not require a visa. Ending on a positive note, Ali pointed to recent efforts to resolve this conflict from the highest Indian and Pakistani authorities, including a joint statement by the two governments stating they would work toward a "common understanding" of the Siachen territory by January 2006.
The Good, the Bad, and the Ugly: Global Politics and Peace Parks
Rosaleen Duffy, professor at the Centre for International Politics at Manchester University, argued in her presentation "Peace Parks and Global Politics" that peace parks—and the activities that support them, like tourism—are inherently political interventions rather than neutral ones. Duffy stressed that planners, funders, and participants must create a new understanding of peace parks in order for them to be successful. She pointed to a lack of awareness about the activities already existing within the boundaries of peace parks, including illicit activities such as harvesting or trafficking of high-value goods (ivory, drugs, cars, endangered species, and humans). "Border regions are incredibly complex," she said, "They may not be empty areas around which you can draw a transfrontier boundary…they may already be transnationalized by illicit networks."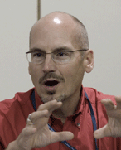 Providing another perspective, Larry Swatuk, associate professor at the Harry Oppenheimer Okavango Research Centre at the University of Maun in Botswana, argued that while southern Africa is a prime candidate for peace parks, planners have traditionally given little thought to the actors and history that may hinder their success. Swatuk noted that conservation groups are currently working to reconnect fragmented protected areas and also to solve environmental problems—deforestation, erosion, biodiversity loss—that currently plague the region. Yet, he believes that creating working peace parks that protect the environment and promote democracy requires additional considerations that are often overlooked. "I think we have to recognize that governments have their own plans and local people have their own dreams." In Swatuk's opinion, the desires of government and local people are often incompatible with the goals of conservationists. This incompatibility, Swatuk noted, can lead to damaging results, like native populations being evicted and relocated. To avoid such negative consequences, he emphasized that "achievements must not be exaggerated by supporters and practitioners."
Next Steps and Lessons for Practitioners
ECSP Director Geoffrey Dabelko began the final session with an open call for comments, questions, and further dialogue on issues surrounding peace parks. Identifying public outreach as an important area, Dr. Kim said, "You have to have comprehensive outreach programs before you actually set up peace parks programs. Particularly if you want to promote democracy worldwide, the public must be educated." Another area of debate involved the definition of "peace park" and related terms, such as "transboundary conservation area." Several attendees commented that the lack of a consistent and agreed-upon typology often leads to confusion and hinders international discussions and legal agreements. In their paper, Besançon and his co-author Trevor Sandwith propose a typology to help resolve this confusion.
While the debate over peace parks and transboundary areas will continue for some time, one conference attendee provided an example of how transboundary conflict management can lead to grand results. Resting on the Virginia and Maryland sides of the Potomac River, Great Falls Park is the historic site where two states built a canal around the region's impassable waterfalls and rapids. This early act of American cooperation is noted on the park's plaque: "The agreement that was developed between Maryland and Virginia to share the river for their common purpose led to further meetings—Annapolis 1786 and Philadelphia 1787 and to drafting of the United States Constitution." Today, while Great Falls Park is no longer building democracy, it stands as a memorial to the power of managing environmental resources for peace.
Drafted by Alison Williams.
---
Hosted By
Environmental Change and Security Program
The Environmental Change and Security Program (ECSP) explores the connections between environmental change, health, and population dynamics and their links to conflict, human insecurity, and foreign policy. Read more