Progress & Retrogression on Electoral Processes and Transitions in West Africa: Peace and Security Concerns and Consequences
The Wilson Center Africa Program and the West Africa Network for Peacebuilding (WANEP) co-hosted a Southern Voices Network for Peacebuilding (SVNP) Regional Policy Workshop on "Progress & Retrogression on Electoral Processes and Transitions in West Africa: Peace and Security Concerns and Consequences."
Progress & Retrogression on Electoral Processes and Transitions in West Africa: Peace and Security Concerns and Consequences
Seven of the Economic Community of West African States' (ECOWAS) 15 member states are scheduled to hold elections in 2020. Unfortunately, democratic processes, including the conduct of elections, are increasingly fraught with challenges and constraints. To address this issue, the Wilson Center Africa Program and the West Africa Network for Peacebuilding (WANEP) co-hosted a Southern Voices Network for Peacebuilding (SVNP) Regional Policy Workshop on "Progress & Retrogression on Electoral Processes and Transitions in West Africa: Peace and Security Concerns and Consequences." The workshop, held in Accra, Ghana from February 6-7, 2020, was co-hosted alongside three other SVNP organizations—the African Center for Economic Transformation, the Initiative for Public Policy Analysis, and the Ghana Center for Democratic Development. The conference report is available at this link.
The discussions focused on the current dynamics of electoral processes in West Africa, the management of complex elections in the region, support to civil society organizations in organizing credible elections, as well as an assessment of institutional strengths and gaps for managing electoral processes. Participants also developed recommendations for improving the electoral environment in West Africa leading into 2020 and beyond. Participants included representatives from the SVNP, high-level representatives from election monitoring bodies in the region, the ECOWAS Electoral Assistance Division, the ECOWAS Network of Election Commissions (ECONEC), political party officials, in addition to policymakers, practitioners, civil society organizations, and the media. 
The SVNP is a continent-wide network of African policy, research and academic organizations that works with the Wilson Center's Africa Program to bring African knowledge and perspectives to U.S., African, and international policy on peacebuilding in Africa. Established in 2011 and supported by the generous financial support of the Carnegie Corporation of New York, the project provides avenues for African researchers and practitioners to engage with, inform, and exchange analyses and perspectives with U.S., African, and international policymakers in order to develop the most appropriate, cohesive, and inclusive policy frameworks and approaches to achieving sustainable peace in Africa.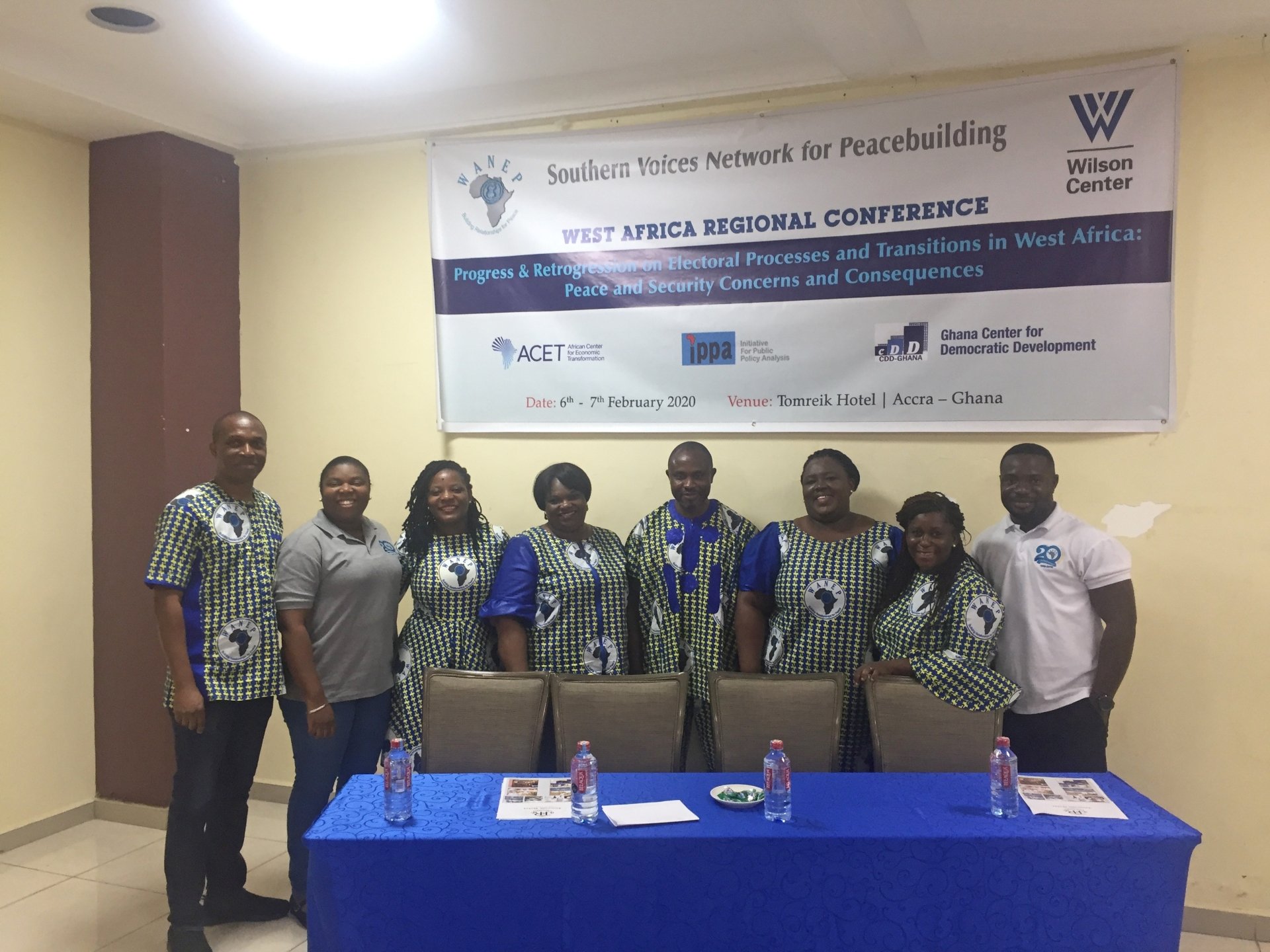 ---
Hosted By
Africa Program
The Africa Program works to address the most critical issues facing Africa and U.S.-Africa relations, build mutually beneficial U.S.–Africa relations, and enhance knowledge and understanding about Africa in the United States. The Program achieves its mission through in-depth research and analyses, including our blog Africa Up Close, public discussion, working groups, and briefings that bring together policymakers, practitioners, and subject matter experts to analyze and offer practical options for tackling key challenges in Africa and in U.S.-Africa relations.   Read more