Prospects for Peace and Nuclear Disarmament in South Asia
The 2022 Asma Jahangir Lecture, featuring Dr. Sandeep Pandey
Overview
This event, an address by Dr. Sandeep Pandey, a scholar and activist from India, marks the 2022 Asma Jahangir Memorial Lecture. It is part of an annual lecture series in honor of the late Asma Jahangir, a leading human rights activist from Pakistan who passed away in 2018. The lecture features an annual address by a distinguished scholar, opinion leader, or activist who addresses issues of democracy and human rights in South Asia. This series is hosted by the Wilson Center's Asia Program and South Asia Democracy Watch (SDW), a nonprofit organization that promotes social justice, human rights, and equality in South Asia through educational programs, conferences, and symposia.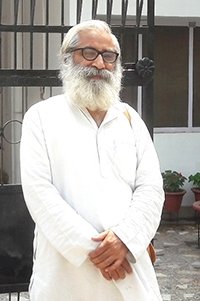 In his lecture, Pandey will discuss prospects for peace and nuclear disarmament in South Asia—a region with nuclear-armed rivals that has experienced multiple wars, and that suffers from a lack of region-wide cooperation and connectivity. He will discuss the challenges at play and what major changes would be needed to produce a more peaceful and stable region. Pandey, who holds a PhD in mechanical engineering from the University of California at Berkeley, advocates on behalf of democracy and regional peace. He has devoted his life to fighting against marginalization of the disadvantaged, social injustice, and exploitation of local resources by the wealthy. He has also taught at universities in India and the United States on social movements and democracy. Pandey's focus on democracy, rights, and regional cooperation resonates with the work of Asma Jahangir.
A moderated panel discussion will follow Pandey's lecture.
This is an online-only event. To pose a question to the speaker, please email it to asia@wilsoncenter.org or tweet it to @asiaprogram.
Speaker
Dr. Sandeep Pandey
Scholar and Activist
Panelists
Qaisar Abbas
Executive Director, South Asia Democracy Watch
Aftab Siddiqui
Board Member, South Asia Democracy Watch
---
Hosted By
Asia Program
The Asia Program promotes policy debate and intellectual discussions on U.S. interests in the Asia-Pacific as well as political, economic, security, and social issues relating to the world's most populous and economically dynamic region.  Read more