U.S. Launch: Lancet Series on Maternal and Child Undernutrition
The health effects of undernutrition are responsible for more than one-third of childhood deaths and 11 percent of the world's disease burden. The findings of The Lancet's new series on maternal and child undernutrition are presented.
U.S. Launch: Lancet Series on Maternal and Child Undernutrition
The health effects of undernutrition are responsible for more than one-third of childhood deaths and 11 percent of the world's disease burden. This was one of the findings presented at the U.S. launch of The Lancet's new series on maternal and child undernutrition, hosted by the Woodrow Wilson Center on January 16, 2008. The landmark series, composed of five research papers, describes the relationship between maternal and child undernutrition and outlines their short- and long-term consequences. Most importantly, the authors offer evidence-based interventions to significantly reduce the high morbidity and mortality rates caused by this global health burden. The series aims to highlight the crucial role early nutrition plays in public health and economic development in order to stimulate improvements in funding, policy, and interventions. "While the facts of the series are certainly alarming, the tools for nations to implement successful nutrition policies do exist and the means for the world community to find a solution are here before us," stated Faith McLellan, North American editor of The Lancet, and event moderator. The event followed the October 2006 launch of The Lancet's Maternal Survival Series, and complemented similar launches in the U.K., Ethiopia, India, Peru, Vietnam, and West Africa.
Nutrition Begins With the Mother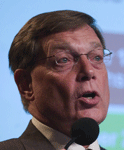 Dr. Robert Black, the series' lead author, initiated the presentations by outlining the findings of the series and the global impact of undernutrition. He began by stating that nutrition begins with the mother: Pregnant women who do not receive proper nutrition pass the associated health risks on to their children, often resulting in poor fetal growth, stunting, severe wasting, micronutrient deficiencies, impaired cognitive development, and poor school performance. Black identified sub-optimal breastfeeding as a nutritional condition and stated that exclusive breastfeeding for all children under six months of age could significantly reduce these risks. He also acknowledged the first 24 months of life as the "critical window" for proper nutrition.
According to Black, "More than 3.5 million mothers and children under five die unnecessarily each year in poor countries due to the underlying cause of undernutrition, and millions more are permanently disabled by the physical and mental effects of poor dietary intake in the earliest months of life." Unfortunately, the consequences of insufficient diets carry into adulthood and can irreversibly impact height, susceptibility to cardiovascular and metabolic disease, intellectual capacity, human capital, and offspring bodyweight. Thus, improving nutrition not only benefits current generations, but also improves the health status of generations to come.
Evidence-Based Interventions
One major finding of the series is that many countries that are highly burdened by undernutrition have yet to implement effective nutrition plans or achieve high coverage. In a Lancet study that reviewed nutrition programs in 20 countries, researchers found that many strategies failed to focus on the most critical populations—mothers and children under 24 months. Black's presentation emphasized the urgent need for national governments to implement stable, evidence-based, and scaled nutrition interventions that focus on and monitor target populations. The series found breastfeeding promotion, appropriate complementary feeding, Vitamin A and zinc supplementation, and proper management of severe acute malnutrition to be among the most promising strategies.
The Impact of Undernutrition Stems Far Beyond Health
Following Black's presentation, panelists discussed undernutrition from their organizational perspectives. Dr. Tadataka Yamada, president of the Global Health Program at the Bill & Melinda Gates Foundation, called attention to nutrition's overall influence on health: Undernutrition increases susceptibility to infectious diseases, increases the risk of preventable mortality, and inhibits national achievement of the Millennium Development Goals. "We couldn't even begin to challenge the biggest problems in attaining the Millennium Development Goals without addressing the issue of nutrition," asserted Yamada. Echoing Black, he expressed the need to make strategic and wise nutrition investments in order to make the most difference.
Joy Phumaphi, vice president for human development at the World Bank, spoke on the relationship between nutrition and prosperity as well as the implications for the development community. "Direct investments in nutrition have the potential to improve nutrition outcomes much faster than economic growth alone can . . . because of this we must ensure that improving nutrition . . . become[s] a pivotal component of our development strategy and development partners," said Phumaphi.
Kent Hill, assistant administrator for USAID's Global Health Bureau, expanded on this by stating that health status is the "single greatest indicator of poverty," and "improved health for the world's poor is not only a moral imperative, but also a pragmatic investment for peace, security, and worldwide economic growth." Hill also emphasized addressing undernutrition at the early stages of life before it reached crisis proportions.
The fourth paper of the series advocates incorporating nutrition priorities into non-health programs and policies such as those addressing poverty, trade, and agriculture. Though these strategies may not directly address health, they have to potential to improve national nutrition. Along the same lines, Jayaseelan Naidoo, board chairman for Global Alliance for Improved Nutrition (GAIN), called for public-private partnerships and market-based innovation to "meet the needs of the poor at the base of the pyramid." He maintained that involvement beyond the nutrition community is needed to raise the profile of global undernutrition and eventually defeat it.
Progress Is Possible, If Nutrition Becomes a Priority
Perhaps the boldest assertion of The Lancet series is that the international nutrition system is poorly coordinated and "dysfunctional." Black stated that current processes "do not deliver consistent, normative guidance that is prioritized and evidence-based." Both he and Phumaphi called for a new global governance structure that included greater funding, leadership on research, improved guidance, capacity strengthening, and increased accountability. Accordingly, the series provides evidence and direction to stimulate reform at national and international levels in an effort to combat this burden that claims the lives of 3.6 million mothers and children each year. The authors of the series believe that if these changes are made and improved nutrition interventions are effectively employed, all child deaths could be reduced by a quarter.
Drafted by Kai Carter.
---
Hosted By
Maternal Health Initiative
Life and health are the most basic human rights, yet disparities between and within countries continue to grow. No single solution or institution can address the variety of health concerns the world faces. By leveraging, building on, and coordinating the Wilson Center's strong regional and cross-cutting programming, the Maternal Health Initiative (MHI) promotes dialogue and understanding among practitioners, scholars, community leaders, and policymakers. Read more
Environmental Change and Security Program
The Environmental Change and Security Program (ECSP) explores the connections between environmental change, health, and population dynamics and their links to conflict, human insecurity, and foreign policy. Read more