Will the Ongoing Nuclear Talks with Iran Yield Better Results than Past Efforts?
Experts who participated in a February 2011 seminar on the Brazilian-Turkish mediation with Iran return to the Wilson Center to assess the ongoing negotiations and possible outcomes.
Overview
A panel of experts discussed the history of international nuclear talks with Iran, providing analysis on why they were unsuccessful and what issues will need to be addressed to achieve a deal.
On September 7, the Middle East Program and the Brazil Institute hosted a meeting, "Will the Ongoing Nuclear Talks with Iran Yield Better Results than Past Efforts?" with Michael Adler, Wilson Center Public Policy Scholar; Mustafa Kibaroglu, Chair, International Relations Department and Director, Center for Eurasian Studies, Okan University, Istanbul; Monica Herz, Director, Institute of International Relations, Catholic University of Rio de Janeiro; and Trita Parsi, President of the National Iranian American Council and former Wilson Center Public Policy Scholar. Paulo Sotero, Director of the Brazil Institute at the Woodrow Wilson Center, moderated the event.
Michael Adler opened the discussion by providing the history of nuclear talks with Iran, presented in several stages, including initial European talks, the "First Dark Ages," the "New Start," and the "Second Dark Ages." In October 2009, negotiators put forth the idea of a "fuel swap," which if implemented would represent a "de facto recognition of Iran's right to enrich," but this was ultimately rejected by Iran. Adler drew attention to the unsuccessful 2010 efforts by Turkey and Brazil to revive the fuel swap plan and 2012 efforts at conferences in Istanbul, Baghdad, and Moscow to use diplomacy. While praising these efforts for being civil, he said their success depends on domestic politics in Iran, the U.S., and Israel.
Providing a Turkish perspective on the negotiations, Mustafa Kibaroglu emphasized that a nuclear Iran would be a "game changer" sure to have a deep impact on regional balances of power. He stated that Iran garners some sympathy from the Turkish public, which is "not on the side of the U.S. or Israel," but still desires a peaceful resolution. Kibaroglu advocated for including Turkey in future talks with Iran, claiming that Turkey is a natural mediator that "can understand both sides better than they can each other." He concluded by stating that "Iran is not in a rush" to achieve what it sees as its rightful nuclear capabilities, and can afford to wait out the cycle of talks and sanctions while it continues its nuclear development.
In a pre-recorded video presentation, Monica Herz discussed Brazil's role in negotiations with Iran and how it represents a new shift in foreign policy. She explained Brazil's views on the nuclear power, stating that while Brazil fundamentally opposes nuclear proliferation, it also opposes the division of the world into "responsible" countries permitted to enrich uranium and those deemed "not responsible;" as such, Brazilian policy supports the right of all countries to peaceful enrichment and its benefits. Herz criticized the "immediate" abandonment of negotiations in 2010 in favor of sanctions and promoted Brazilian participation in future multilateral talks, saying that "only one group and only one track" in negotiations does not lead to success.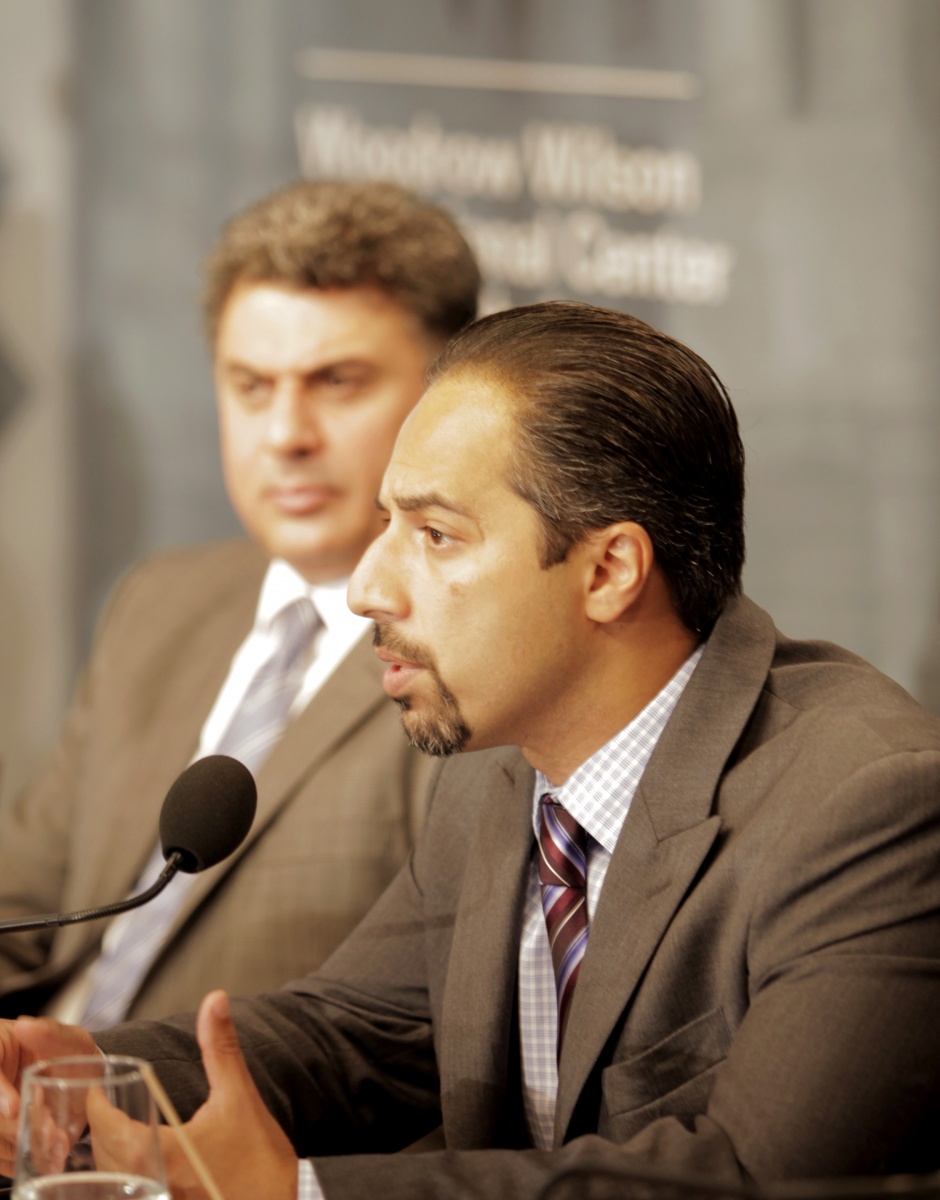 If Iran and the U.S. had accepted the 2010 proposal, Trita Parsi said, both countries "would be in a better position right now." Instead, "both sides are losing" as Iran continues to enrich uranium and the U.S. continues to apply sanctions. Parsi tied the American rejection of the 2010 deal to midterm elections, citing domestic politics in both Iran and the U.S. as the biggest obstacle to negotiations. Parsi concluded by noting the ineffectiveness of present sanctions in putting pressure on the Iranian government, noting that their effect on Iran's medical supply has shifted the "balance of anger" away from the Iranian government onto the U.S. and that not having sanctions relief on the negotiating table reinforces the growing Iranian belief that any possible deal would be "useless" to address its most pressing concerns.
By Laura Rostad, Middle East Program
---
Hosted By
Middle East Program
The Wilson Center's Middle East Program serves as a crucial resource for the policymaking community and beyond, providing analyses and research that helps inform U.S. foreign policymaking, stimulates public debate, and expands knowledge about issues in the wider Middle East and North Africa (MENA) region. Read more
Brazil Institute
The Brazil Institute—the only country-specific policy institution focused on Brazil in Washington—works to foster understanding of Brazil's complex reality and to support more consequential relations between Brazilian and U.S. institutions in all sectors. Read more