Women after the Arab Awakening
The meeting "Women after the Arab Awakening" follows up on the May 14, 2012 meeting and publication on "Is the Arab Awakening Marginalizing Women?"
Overview
Panelists from the young generation of emerging women leaders and activists of the Middle East assembled to discuss the situation on the ground today for women and what strategies can be employed to hold onto and build upon previous gains in women's rights going forward.
On October 2, the Middle East Program and the Global Women's Leadership Initiative of the Woodrow Wilson Center hosted a two-panel discussion on "Women after the Arab Awakening" with Dalia Ziada, Executive Director, Ibn Khaldun Center for Development Studies, Egypt; Omezzine Khélifa, Politician and Advisor, Tunisian Ministry of Tourism, Tunisia; Rihab Elhaj, Co-founder and Executive Director, New Libya Foundation; Fahmia Al Fotih, Communication analyst and youth focal point analyst, United Nations Population Fund, Yemen; Hala Al Dosari, Ph.D. candidate in health services research, Saudi Arabia; Honey Al Sayed, Director, Syria Program, Nonviolence International; Gabool Almutawakel, Co-Founder, Youth Leadership Development Foundation, Yemen; Hanin Ghaddar, Managing Editor, NOW News, Lebanon; and Yassmine ElSayed Hani, Independent Journalist, Foreign Desk, Al Akhbar daily newspaper, Egypt. Haleh Esfandiari, Middle East Program director, moderated the first panel, and Rangita de Silva de Alwis, Global Women's Leadership Initiative director, moderated the second panel.
In her opening remarks, Esfandiari reflected on the nearly two years that have passed since uprisings in Tunisia precipitated what came to be known as the Arab Spring or Awakening. Being the second of a series of three meetings on how women have fared after the Arab Spring, she specifically addressed the "sense of unease" being felt by women in the region as they witness their rights eroding, gains of the past being rolled back, and issues thought to be long dealt with being revisited. Esfandiari likened the Arab Spring to the Iranian revolution whereby the new regime erased the gains women had fought so hard to achieve. With new Islamist regimes dominating the landscape of the transitioning Middle East, a discussion of the marginalization of women is even more crucial than before.
Ziada opened the first panel, discussing the course of women's rights in Egypt. In saying, "we are not Iran," she indicated
it is unlikely Egypt's revolution precedes an Islamist repression of women. Though the rise of the Islamists is a "big issue for women's rights in Egypt," women have always been marginalized, she said, even under the old regime. Pointing to the low numbers of women willing to run for parliament in Egypt today, Ziada argued that more needs to be done to build civil society and interest women in public office by working on the "grassroots mentality" that keeps them separate, further saying, "democratization cannot happen without women." She discussed her own attempt to run for office in Egypt, criticizing the unequal funding and election ticket ranking that disadvantages women in politics. Though acknowledging Egypt faces many challenges, Ziada was optimistic, expressing hope that "this spring will be a flowery one." 
Khélifa, focusing on the role of women in Tunisia's "political ground," noted that Tunisia under the previous regime had a progressive personal status code that made men and women nearly equal. In the transitional period under the National Constituent Assembly, worried activists have made women's issues a priority. Mandated parity in parties' electoral lists brought "ordinary women" into politics, despite a "very misogynist society." Khélifa said that although women in Tunisia have "passed through many constitutional perils," such as calls to legalize polygamy, "we still cannot say they are won," as the final draft of the new constitution has not yet been released. Khélifa also noted the effect of social media on women's rights, claiming it forces all parties to take a stance on issues important to the people and introduces debate that can advance women's rights. She called for more women to involve themselves in decision-making processes so Tunisia can shift from "state feminism to political feminism." Ultimately, Khélifa felt that women's status in Tunisia after the Arab Spring was "not a regression, but not a progression either."
Elhaj outlined the role of women in various spheres of Libyan society, noting that while women are "whetting their appetites" on new activities, they are also becoming increasingly marginalized. This is not part of a "subversive plot to keep women repressed," but, rather, an unconscious return to previous norms. Women have suffered most from Libya's security vacuum, being more likely to be detained and attacked by militias, yet their dangerous situation is "entirely unaddressed" by the General National Congress (GNC). Efforts to introduce debate on women's rights in Libya have been eclipsed in media and politics by "ever increasing security threats." Discussing the issue of gender segregation, Elhaj argued that "this isolation spells doom for any women seeking political leadership," as it deprives them of the public recognition and networking circles necessary to run a successful campaign. Furthermore, women have a "hesitation to self-promote," which is a significant reason for their low representation in government. Elhaj also advocated extending "support or services for working mothers" to encourage more women to find jobs. She concluded by saying that "women themselves must support one another" to move forward.
Al-Fotih, on women's participation in the Yemeni revolution, said they were "there but not there," involved yet less visible. Al-Fotih said that in Yemen it is "not spring for women, and it is not flowery." Women in Yemen have faced threats of kidnapping, defamation, and scathing criticism from both the ex-regime and the revolutionaries. However, there are several women serving in the interim government, and Al-Fotih held "some optimism" for women's long-term rights in Yemen. Dialogue within the country and within the framework of the GCC initiative ensured that women's rights will be one of eight issues debated at the National Dialogue Conference in November 2012. Noting that about 70 percent of Yemeni women are illiterate and most activists are elites who do not necessarily represent Yemen, Al-Fotih concluded the future of Yemeni women is "blurry" and their priorities are usually obtaining food, security, and jobs before combating marginalization.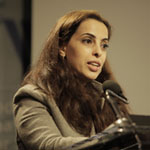 Al-Dosari, noting that "not much is happening in Saudi Arabia" compared to the rest of the Arab world, elaborated on how the Arab Awakening has impacted the ongoing internal campaign for women's rights. She cited the case of one woman asked to leave a mall for wearing lipstick and nail polish, who, through her use of social media, "became a celebrity" and eventually succeeded in getting an apology from mall security for the harassment. Al-Dosari also discussed Saudi women's rights activist Manal al-Sharif and the twenty-two-year-old campaign to allow Saudi women to drive. Although the campaign had been quiet, centered on negotiations with the advisory Shura Council and letters to the King, al-Sharif's involvement and subsequent arrest for driving meant the campaign "had to go public," opening debate too soon. If she had waited to film her drive until the planned date, Al-Dosari felt, "maybe the government would have given up" and acquiesced to women's demand. Stating that in Saudi Arabia it is "rare for women to question and challenge authorities," Al-Dosari praised Saudi women's use of social media to spread opinions and converse with men despite their physical separation in society.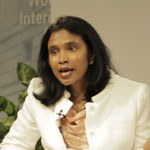 De Alwis opened the second panel by drawing attention to the political transition taking place in the Middle East as a result of the Arab Spring and the unique opportunity it presents to advance women's rights through reform of political institutions and existing laws. She cited Rwanda as an example, where, after the genocide, women took control of civil society and governing institutions and now comprise over 50 percent of Rwanda's parliament. De Alwis emphasized the importance of women in the Middle East organizing during this period of transition and making women's issues priorities in the new governments.
Al Sayed followed with a Syrian perspective on women's rights. She hesitated to compare the Syrian uprising to the revolutions in other countries because of the drawn-out nature of the Syrian conflict. She mentioned the challenges that Syrian women faced before the revolution, highlighting the fact that Syria ranked fifth among all nations in the number of honor killings each year. She listed the challenges that women must overcome if the Syrian rebels were to come to power, including "poor representation inside and outside Syria" for women in governing councils, a generally conservative Syrian culture, and the Syrian opposition to Assad that has not been overly friendly to women's rights issues.
Hani talked about women's roles in the revolution in Egypt. Hani discussed the challenges facing women's rights activists, notably, operating in the polarized political environment after the fall of former President Mubarak and combatting Islamists who took advantage of the post-Mubarak period to counter women's rights. Given these challenges, Hani sees three major reasons for optimism: (1) The new political freedom, allowing women's groups to act collectively; (2) the moderate nature of the Egyptian polity as a force for social justice; (3) and the presence of female opinion makers who are influential and credible in society and who can easily ignite protest against discriminatory laws.
Ghaddar gave a report on the state of women's rights in Lebanon. She cautioned against the belief that Lebanon is more progressive than other Arab states on women's rights because of its perception of having a relaxed dress code. Instead, below the surface, the sectarian system gives male leaders of each religious sect – "little dictators" – a stranglehold on family life, leading to discrimination against women in the private and public spheres. Ghaddar blamed the lack of separation between religion and state for women's unequal status in Lebanon, citing as evidence both Sunni and Shia leaders' opposition to laws criminalizing such acts as marital rape and murder. Therefore, Ghaddar reasoned that the Arab Spring would be meaningless for women's rights until religious institutions were barred from civil society, feeling that religious movements do not seek the reforms necessary to enact substantive change.
Almutawakel summarized women's roles in the revolution in Yemen. She pointed out that women in Yemen demonstrated against the old regime on fundamental issues such as the economy and not women's issues specifically. Almutawakel decried politicians' use of women as tools for political gain during the revolution only to marginalize them when the new governments came to power. To this point, she noted that Yemen's President Hadi had only reserved two spaces for women in his new government. Unlike the other panelists, Almutawakel rejected the idea that women ought to advance the cause of womanhood specifically, as she claimed this would further segregate women in society. Instead, she advocated for greater education of women to assimilate them into the private sector, civil society, and politics, and for taking leadership roles in these areas, thereby proving that women could be strong, competitive, and credible leaders. 
By Laura Rostad and Daniel Boger, Middle East Program
Hosted By
Middle East Program
The Wilson Center's Middle East Program serves as a crucial resource for the policymaking community and beyond, providing analyses and research that helps inform U.S. foreign policymaking, stimulates public debate, and expands knowledge about issues in the wider Middle East and North Africa (MENA) region. Read more
Global Women's Leadership Initiative
The Global Women's Leadership Initiative has hosted the Women in Public Service Project at the Wilson Center since June, 2012. The Women in Public Service Project will accelerate global progress towards women's equal participation in policy and political leadership to create more dynamic and inclusive institutions that leverage the full potential of the world's population to change the way global solutions are forged. Read more