Democracy in Southeast Asia: Between Discontent and Hope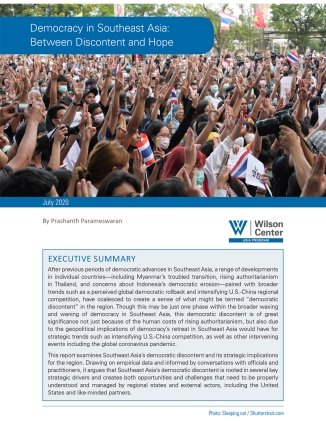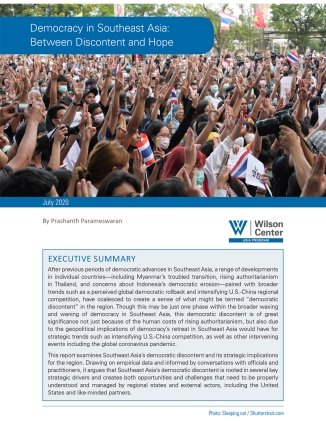 After previous periods of democratic advances in Southeast Asia, a range of developments in individual countries—including Myanmar's troubled transition, rising authoritarianism in Thailand, and concerns about Indonesia's democratic erosion—paired with broader trends such as a perceived global democratic rollback and intensifying U.S.-China regional competition, have coalesced to create a sense of what might be termed "democratic discontent" in the region. Though this may be just one phase within the broader waxing and waning of democracy in Southeast Asia, this democratic discontent is of great significance not just because of the human costs of rising authoritarianism, but also due to the geopolitical implications of democracy's retreat in Southeast Asia would have for strategic trends such as intensifying U.S.-China competition, as well as other intervening events including the global coronavirus pandemic.
This report examines Southeast Asia's democratic discontent and its strategic implications for the region. Drawing on empirical data and informed by conversations with officials and practitioners, it argues that Southeast Asia's democratic discontent is rooted in several key strategic drivers and creates both opportunities and challenges that need to be properly understood and managed by regional states and external actors, including the United States and like-minded partners.
About the Author
Prashanth Parameswaran
Global Fellow;
CEO and Founder, ASEAN Wonk Global, and Senior Columnist, The Diplomat
Read More
---
Asia Program
The Asia Program promotes policy debate and intellectual discussions on U.S. interests in the Asia-Pacific as well as political, economic, security, and social issues relating to the world's most populous and economically dynamic region.  Read more