ECSP Report 10: Reviews of New Publications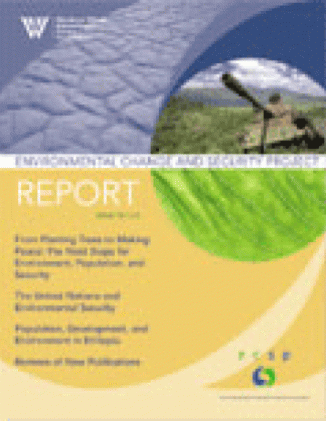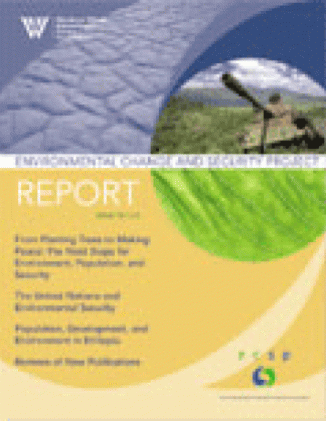 Experts review new publications:
The Security Demographic: Population and Civil Conflict After the Cold War, by Richard P. Cincotta, Robert Engelman, & Daniele Anastasion (2003). Reviewed by Jack Goldstone.
Cities Transformed: Demographic Change and Its Implications in the Developing World, edited by Mark R. Montgomery, Richard Stren, Barney Cohen, & Holly E. Reed (2003). Reviewed by Barbara Seligman.
Ecological Security: An Evolutionary Perspective on Globalization, by Dennis Clark Pirages & Theresa Manley DeGeest (2004). Reviewed by Jon Barnett.
One With Nineveh: Politics, Consumption, and the Human Future, by Paul Ehrlich and Anne Ehrlich (2004). Reviewed by Dennis Pirages.
Red Sky at Morning: America and the Crisis of the Global Environment (A Citizen's Agenda for Action), by James Gustave Speth (2004). Reviewed by Frederick A.B. Meyerson.
Environment, Development and Human Security: Perspectives From South Asia, edited by Adil Najam (2003). Reviewed by Navroz K. Dubash.
Security and Environment in the Mediterranean: Conceptualizing Security and Environmental Conflicts, edited by Hans Günter Brauch, P.H. Liotta, Antonio Marquina, Paul F. Rogers, & Mohammad El-Sayed Selim (2003). Reviewed by Evan Vlachos.
The Global Threat of New and Reemerging Infectious Diseases: Reconciling U.S. National Security and Public Health Policy, by Jennifer Brower & Peter Chalk (2003). Reviewed by Andrew Price-Smith.
Sparing Nature: The Conflict Between Human Population Growth and Earth's Biodiversity, by Jeffrey McKee (2003). Reviewed by Eckhard Kleinau.
Human Security Now: Protecting and Empowering People, by the Commission on Human Security (2003). Reviewed by William Mansfield.
Water Security and Peace: A Synthesis of Studies Prepared Under the PCCP-Water for Peace Process, compiled by William J. Cosgrove (2003). Reviewed by Annika Kramer.
---
Environmental Change and Security Program
The Environmental Change and Security Program (ECSP) explores the connections between environmental change, health, and population dynamics and their links to conflict, human insecurity, and foreign policy. Read more