Event Summary | Back to School in Brazil: Social Distancing Edition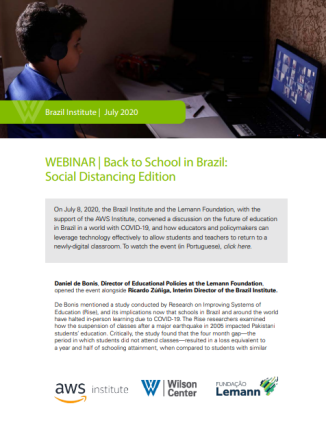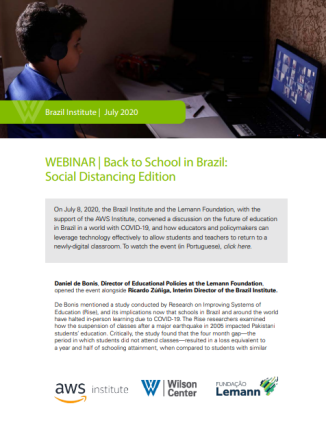 The COVID-19 pandemic has forced governments around the world to shut down physical schools and adapt to remote learning. In Brazil, more than 180,000 elementary schools, middle schools, and high schools are closed because of COVID-19. Some 47 million students - and their parents and teachers - are now discovering how to learn virtually. Although it is a challenging period - with inequalities in terms of access to the internet and computers, and with varied family dynamics - many public and private schools have managed to adapt.
With the second semester knocking on the door, it is increasingly clear that the effects of the COVID-19 pandemic are not temporary and that the return of students to schools will not be a return to "normal."
What will education be like in Brazil in a world with COVID-19? What are the lessons learned in the first semester? What can schools and educators do to not miss the school year? This is the key question as legislators and educators debate how to educate Brazilian students in the second half of the school year, even as the novel coronavirus remains a threat. At the same time, the crisis has opened up space for a broader discussion on creative and innovative solutions to Brazil's long-term educational challenges.
On July 8, 2020, the Brazil Institute and the Lemann Foundation, with the support of the AWS Institute, convened a discussion on the future of education in Brazil in a world with COVID-19, and how educators and policymakers can leverage technology effectively to allow students and teachers to return to a newly-digital classroom.
Related Program
Brazil Institute
The Brazil Institute—the only country-specific policy institution focused on Brazil in Washington—works to foster understanding of Brazil's complex reality and to support more consequential relations between Brazilian and U.S. institutions in all sectors. Read more