Regional and Global Energy Series: Russia, Ukraine, and Energy Security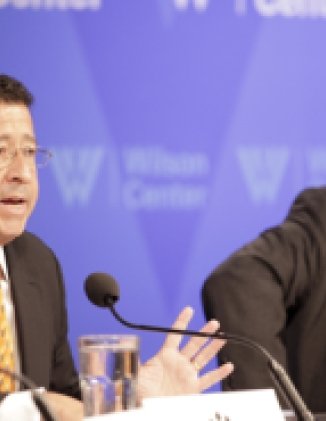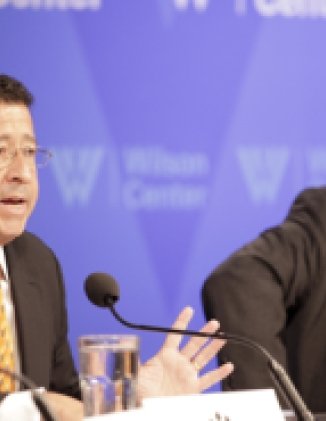 "Energy is a golden word, energy will fill a room in Washington" said Blair Ruble, Vice President of Programs, as he introduced the July 1 inaugural event of the Wilson Center's new bimonthly Regional and Global Energy Series.
Director of the Kennan Institute and event moderator, Matthew Rojansky, said, "When I think of energy in this region, I frankly don't think about oil and gas, power lines, environmental impacts; I think mostly about modernization," explaining that modernization is the "psychological key" for development and political success.
Jan Kalicki, Public Policy Fellow, energy series lead and co-editor of Energy and Security: Strategies for a World in Transition, argued that long-term energy security is a fundamental factor in Ukraine's future. Kalicki brought up three core issues: sovereignty, eastern destabilization, and reliable energy supply. The latter is not only a commodity, but an "economic life preserver and a crucial instrument of influence." Energy may be seen from a market view in the US, but it is "very much seen from a power political view in the eastern prospective."
Kalicki suggested reinforcing "Ukraine as a bridge, rather than an 'orange' wedge," outlining two necessary elements to this strategy: "energy debt rescheduling by Russia, as part of an IMF loan and reform package, and relatedly, replacing the zero-sum pipeline game with a plus-plus alternative." As the political environment permits, this could be accomplished by EU-Ukraine-Russia equity shares not exceeding 33 percent each, with Ukraine also holding a one percent "golden share" in which key control issues would be vested.
David Goldwyn, President of Goldwyn Global Strategies and co-editor of Energy and Security, asserted that the "shale oil and gas revolution" has greatly enhanced the US position in the energy space, creating the opportunity to make the energy world more resilient by propagating advanced technologies overseas. The key question is whether energy will be used collaboratively or in the continuation of conflicts. He asked: "Are we doing all that we can, with all that we have to maximize our new energy advantage?"
Goldwyn suggested the US focus on encouraging Europe to complete its internal market reform and to enforce its anti-trust laws, promote its indigenous energy supply, get internal prices right in Ukraine to encourage energy efficiency and investment – as well as considering more flexibility in oil and gas exports to create, even indirectly, a more competitive market for Europe's oil and gas supply.
Arguing against Cold War comparisons, former Senior NSC Director and US Ambassador to Bulgaria and the Russian Federation, John Beyrle, said that the Ukraine conflict is different in three ways. First, the scale of the economic relationship is much greater now – "the stakes are very, very high at this point," and because of this, economics, including energy, risk being made into a hostage. Second, the very intricate EU and US policy context for energy relations makes consensus on legislation difficult to reach. And third, many Russians believe the West is trying to undermine Russia. In Beyrle's view, "A weak Russia is our worst nightmare. Making Russia more integrated into the world economy is the name of the game."
William Courtney, former Senior NSC Director and US Ambassador to Kazakhstan and Georgia, described the strategic context of what he called the three "energy baby giants" (Azerbaijan, Kazakhstan, and Turkmenistan). China is becoming a major influence, having "broken Russia's monopoly over energy export pipelines from central Asia." A Russia willing to seize Crimea might also "opt to intervene in northern Kazakhstan, where several million ethnic Russian's live," and in energy-rich western Kazakhstan. Russia may even see urgency because growing Chinese presence in the region may at some point preclude such interference. Energy will guarantee a degree of Western support for the independence of the energy baby giants, but this will not be enough. To sustain Western interest in their fates, the three countries must combine energy wealth with increased freedoms, allowing "them to build sustainable prosperity and a loyal citizenry that will resist internal and external threats."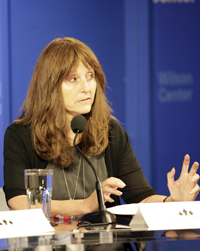 Julia Nanay, Director for Russia and the Caspian at IHS Energy, pointed out that for the Kremlin "oil and gas determine Russian national security," and because of the American "unconventional energy boom," the US is now poised to supplant Russia as the world's largest oil producer. With energy as "a lifeline for its economy," Russia will have to create an environment that attracts greater capital and technology to develop this vital sector. Nanay also noted that Russia is looking to the Arctic in order to remain competitive against increased market pressures.
State Department International Energy Coordinator, former NSC Senior Director and former US Ambassador to Ukraine and Mexico, Carlos Pascual, stressed the importance of the EU's breaking up export and distribution monopolies as well as "destination clauses," which formerly required seller permission to resell purchased gas.  Kyiv's full entry into this gas market is crucial because Ukraine would then have "the strength of a community of 400 million consumers."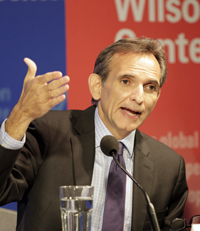 Pascual described steps to minimize Ukrainian dependence on Russian imports, including reflows and inter-connectors from Europe, new technology to re-develop existing wells thought dry; and exploiting the vast potential in shale gas beginning with IOC projects to the west and east. With improvements in outdated technology, Pascual cited US Energy Information Administration (EIA) estimates that Ukraine's annual gas production could increase from 20 billion cubic meters (bcm) to 40-45 bcm; the Slovak-Ukrainian connector, reverse flows into Ukraine, more advanced compression methods, and increased energy efficiency could further increase gas availability by up to 10-15 bcm. "Ukraine, realistically, could be in a position where within a decade, it could make the choice of whether it imports gas from Russia." 
For full video of this event, please visit CSPAN.
About the Author
---
Kennan Institute
The Kennan Institute is the premier U.S. center for advanced research on Russia and Eurasia and the oldest and largest regional program at the Woodrow Wilson International Center for Scholars. The Kennan Institute is committed to improving American understanding of Russia, Ukraine, Central Asia, the Caucasus, and the surrounding region though research and exchange. Read more