What Money Means for Terrorism in Africa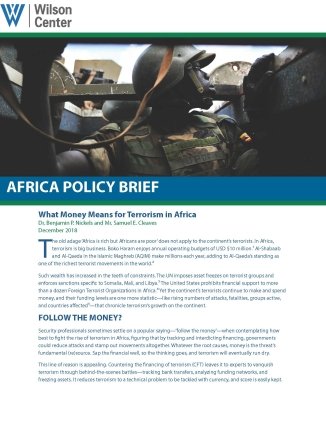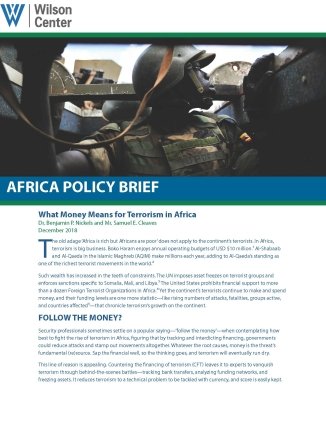 Terrorism is a big business in Africa. Boko Haram has annual operating budgets of USD $10 million. Al-Shabaab and Al-Qaeda in the Islamic Maghreb (AQIM) make millions each year. The international community has implemented measures to counter this, including UN sanctions to Somalia, Mali, and Libya. The United States also prohibits financial support to more than a dozen Foreign Terrorist Organizations in Africa. Yet the continent's terrorists continue to make and spend money. Security professionals sometimes 'follow the money' when contemplating how best to fight the rise of terrorism in Africa, figuring that by tracking financing, governments could reduce attacks. However, in an exchange under the title "Don't Follow the Money," Peter R. Neumann estimated that more than 15 years of CFT measures have hampered global banking but not blocked terrorists' money, leaving them with a wide budget. 
In this co-authored policy brief, Dr. Benjamin P. Nickels and Mr. Samuel E. Cleaves examine the 'meaning of money' and the role it plays in terrorism in Africa. They provide policy recommendations on how countering financial terrorism (CFT) specialists can more effectively target terrorist groups by following the 'meaning of money' through incorporating CFT into comprehensive counterterrorism approaches, in addition to the creating CFT plans that communicate concern for local economies and communities.  
---
Africa Program
The Africa Program works to address the most critical issues facing Africa and U.S.-Africa relations, build mutually beneficial U.S.-Africa relations, and enhance knowledge and understanding about Africa in the United States. The Program achieves its mission through in-depth research and analyses, including our Africa Up Close blog, public discussion, working groups, and briefings that bring together policymakers, practitioners, and subject matter experts to analyze and offer practical options for tackling key challenges in Africa and in U.S.-Africa relations.   Read more