Cierra en Costa Rica conferencia regional sobre políticas de drogas
This article summarizes key points from the V Latin American Conference on Drug Policy and highlights remarks from Juan Carlos Garzón, Latin American Program Global Fellow and advisor to the Colombian Ministry of Justice. This article is in Spanish.
[...]
Representantes de organismos internacionales y especialistas en la materia también evaluaron las políticas antidrogas adoptadas por los distintos gobiernos de este hemisferio y destacaron la necesidad de reforzar esas estrategias en Centroamérica.
Para el asesor internacional del Ministerio de Justicia de Colombia, Juan Carlos Garzón, está área geográfica en particular está ávida de alternativas y esta conferencia pudiera responder a esa necesidad, así como a sentar las pautas para tener mejores políticas contra las drogas.
El investigador del Woodrow Wilson Center declaró que la guerra contra estas sustancias tóxicas buscaba un objetivo inalcanzable, que era un mundo libre de drogas, y que su fracaso ha tenido un costo muy alto para América Latina.
Debemos dejar atrás la meta de un mundo libre de drogas y más bien proponernos reducir los daños que el problema de las drogas ocasiona, afirmó.
Desde el punto de vista de la seguridad ciudadana, sugirió,se deben focalizar los recursos en los eslabones que obtienen más ganancias y que son más perjudiciales, que apelan a la violencia y a la corrupción.
[...]
To read full article click here.
About the Author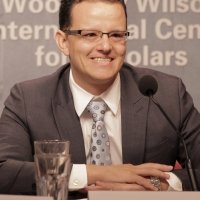 Juan Carlos Garzón
Global Fellow;
Security and Conflict Resolution Expert; Former Consultant, United Nations Development Program and Organization of American States
Read More
---
Latin American Program
The Wilson Center's prestigious Latin American Program provides non-partisan expertise to a broad community of decision makers in the United States and Latin America on critical policy issues facing the Hemisphere. The Program provides insightful and actionable research for policymakers, private sector leaders, journalists, and public intellectuals in the United States and Latin America. To bridge the gap between scholarship and policy action, it fosters new inquiry, sponsors high-level public and private meetings among multiple stakeholders, and explores policy options to improve outcomes for citizens throughout the Americas. Drawing on the Wilson Center's strength as the nation's key non-partisan forum, the Program serves as a trusted source of analysis and a vital point of contact between the worlds of scholarship and action. Read more