On the Horizon 2023 | Latin America
Critical Challenge for the US | A New Political Cycle
In recent years, Latin American voters have elected leftist candidates in Argentina, Bolivia, Brazil, Chile, Colombia, Honduras, Mexico, and Peru. Their victories have given the impression of a nueva marea rosa (new pink tide), similar to the ideological transformation two decades ago, when leaders such as Venezuela's Hugo Chávez, and Bolivia's Evo Morales, radically altered politics in the region.
The state of play at the moment is different in important ways. Firstly, there is little evidence of changing ideological preferences among voters. Many of the region's new leftist leaders, such as Peru's Pedro Castillo, narrowly won their elections. Others, like Chile's Gabriel Boric, have quickly lost popularity. In Brazil's presidential election in October, former President Luiz Inácio Lula da Silva, an icon of the original pink tide, only narrowly defeated his far-right archrival, Jair Bolsonaro, and many Bolsonaro allies won seats in congress. Secondly, unlike in the early 2000s, Latin America's new leftist leaders are entering office at a time of regional economic malaise. Latin America's post-pandemic recovery is petering out, as the region suffers from slowing global growth, high inflation and a COVID-19 debt hangover. That will make it difficult for leaders such as Colombia's Gustavo Petro to fulfil campaign promises to reduce inequality.
In that context, it is not clear how long this political cycle will last. For now, however, it is presenting challenges for the United States. For example, regional support for US pressure on Venezuela's dictatorial regime has frayed, as countries such as Colombia reestablish relations with Nicolás Maduro, despite his voluminously documented human rights abuses.
That said, there are also opportunities for the United States. Many of the region's new leftist presidents, including Boric of Chile, eschew the authoritarian instincts and antiimperialist dogma of formerly influential Latin American leftists like Chávez and Morales. Instead, leaders such as Petro prioritize many issues that are consistent with US objectives, such as combatting climate change.
3 Things to Watch
---
Evolving Economic Policies
Xi Jinping's third presidential term will likely bring a more assertive foreign economic policy, as China uses its enormous economic leverage to exert political influence abroad, including in Latin America. The election of Luiz Inácio Lula da Silva in Brazil will help Beijing increase its economic influence in the region, given Lula's enthusiasm for the BRICS—Brazil, Russia, India, China, and South Africa—and the New Development Bank.
Leaders such as El Salvador's Nayib Bukele have been blunt about the advantages of doing business with Beijing, bragging that Chinese loans arrive "without conditions." China is also happy to cooperate with democratic governments, but its comfort with authoritarianism has costs in Latin America. Chinese investment has kept brutal regimes afloat and Chinese technology has permitted more sophisticated methods of repressing dissent.
That said, tensions between China and the United States could drive apart China and Latin American in some ways, especially in the countries closest to the United States. Nearshoring supply chains for example, could gradually diminish China's influence in Central America and Mexico, as US companies move manufacturing facilities closer to US markets. Meanwhile, the cooling of the Chinese economy might reduce Chinese demand for South America's commodity exports, such as iron and copper. Finally, China's loans and investments in Latin America, which have been shrinking in recent years, will probably not return to pre-pandemic levels.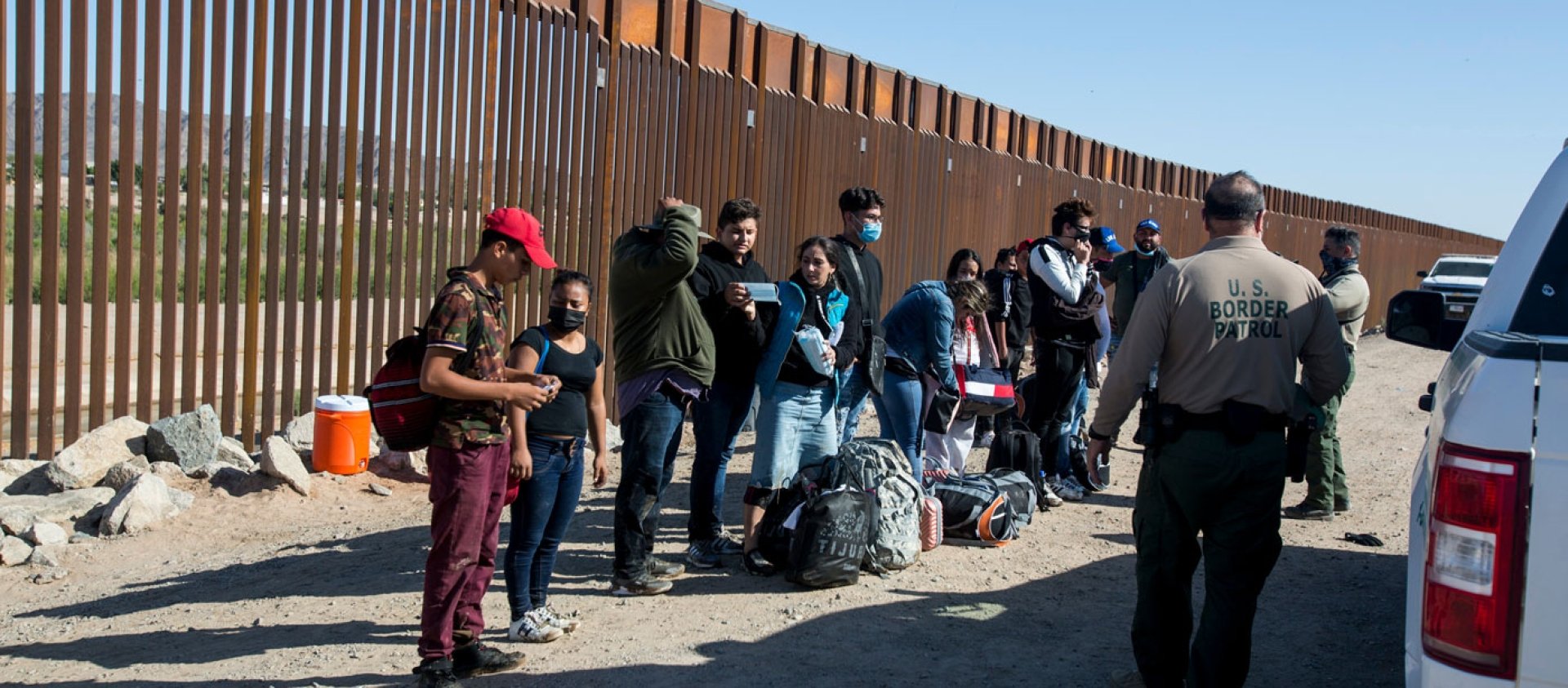 Increasing Numbers of Displaced People
Over 100 million people around the world are forcibly displaced, including an increasing number in Latin America and the Caribbean. For the US government, the region's migration crisis is among the most urgent, and complex, policy concerns. For eight months in a row, the US Customs and Border Patrol has encountered more than 200,000 migrants at the southwest border, chased from their homes by violent crime, poverty, government repression, natural disasters, climate change, and other struggles.
The US border is hardly the only place where this worsening crisis is visible. Panama's Darién Gap is a treacherous jungle along its border with Colombia. It was once considered impassable. This year, more than 200,000 migrants traveled along that route.
Many of the migrants arriving in the United States are from the troubled Northern Triangle countries—El Salvador, Guatemala and Honduras—and southern Mexico. But increasingly, they are also from Haiti, fleeing metastasizing gang violence and prolonged political upheaval that worsened with the assassination of President Jovenel Moise in 2021. Economic struggles in Cuba have produced the highest number of migrants in decades. By the end of 2022, the number of Venezuelan migrants is expected to reach 7 million, with millions settling in Latin American countries with few resources to support them.
Rise in Authoritarianism, Diminished US Influence
In June, leaders from throughout the hemisphere gathered in Los Angeles for the Summit of the Americas. Only not all of them. The United States did not invite the dictators in Cuba, Nicaragua, and Venezuela, prompting a boycott by Mexico and providing diplomatic cover for other no-shows. The embarrassment highlighted two troubling, interrelated trends in Latin America: a rise in authoritarianism and a decline in the willingness of democracies to raise a fuss.
The attendance drama in the run-up to the Summit also revealed another uncomfortable truth: diminished US influence in this hemisphere. Years of escalating sanctions against Daniel Ortega's regime in Managua, and the Nicolás Maduro dictatorship in Caracas have failed to dislodge either strongman, just as decades of economic punishment has not brought down Cuba's repressive leadership. Worse, the US is rapidly losing allies in this fight. Throughout the region, economic struggles and social unrest have distracted leaders who might otherwise invest diplomatic energy in defending human rights. In other cases, ideological considerations have trumped democratic values. Bad blood between the Organization of American States secretary general, and the presidents of countries such as Argentina and Mexico, has not helped.
For the United States, this spreading indifference to dictatorship is particularly troubling because democratic decline is also spreading in the region. Of particular concern are El Salvador and Guatemala. In El Salvador, a heavy-handed response to gang violence has involved a prolonged state of emergency and accusations of arbitrary detentions. The president announced plans to run for reelection despite a clear constitutional prohibition. In Guatemala, the multitudinous migrants leaving for the United States now include numerous prosecutors and judges who fear retribution for their commitment to fighting corruption.
The United States has been willing to go it alone. In Paraguay, for example, the US government publicly accused the current vice president and last president of corruption. But increasingly, countries in the region have other partners that are less demanding when it comes to democratic norms, above all China.
On the Horizon | What to Watch in 2023
Explore the full publication and learn what Wilson experts are watching in 2023.
LEARN MORE
---
Latin American Program
The Wilson Center's prestigious Latin American Program provides non-partisan expertise to a broad community of decision makers in the United States and Latin America on critical policy issues facing the Hemisphere. The Program provides insightful and actionable research for policymakers, private sector leaders, journalists, and public intellectuals in the United States and Latin America. To bridge the gap between scholarship and policy action, it fosters new inquiry, sponsors high-level public and private meetings among multiple stakeholders, and explores policy options to improve outcomes for citizens throughout the Americas. Drawing on the Wilson Center's strength as the nation's key non-partisan policy forum, the Program serves as a trusted source of analysis and a vital point of contact between the worlds of scholarship and action. Read more