IAEA Chief Cites Modest Iran Nuclear Progress; Official Report Due
Public Policy Scholar Michael Adler interviewed IAEA Chief Yukiya Amano and reports in Breaking Defense that Iran's recent slow down on its nuclear program could signal a readiness to create favorable conditions for a deal with the U.S.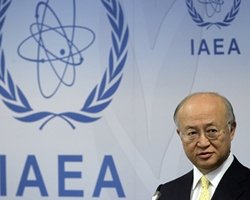 Iran has not significantly accelerated its nuclear program in recent months, UN nuclear chief Yukiya Amano told Breaking Defense. This could be a sign that Iran hopes to create favorable conditions for a deal with the United States, which wants the Islamic Republic to freeze its program at its current level and not add to its nuclear capabilities.
Amano's International Atomic Energy Agency is to release a report later this week on Iran. The last report was filed on August 28, so the two-and-a-half months covered corresponds roughly to the time since Hassan Rouhani took office as Iranian president last August 3.
Rouhani has led a diplomatic offensive to strike a deal with the international community that would guarantee that Iran will not seek nuclear weapons. His bargaining position would be undercut if his country was to be seen expanding nuclear projects while talking peace.
Amano sat down for an interview with Breaking Defense at IAEA headquarters Tuesday after returning from Tehran. The IAEA is to issue a report Thursday or Friday on Iran's nuclear program.
The six major powers failed last week to reach agreement with Iran on a two-phase plan to rein in the Islamic Republic's nuclear program. Iran and the six powers will meet again in Geneva next week to try and finalize the deal. An agreement would first freeze Iran's program at its current level, allowing current work but not expansion of facilities to continue. This would be followed by negotiation on a final deal.
"I don't think there will be a surprise," in the new report, Amano said. The IAEA has already documented that Iran has built up a sizeable plant at Natanz with over 18,000 centrifuges installed. More than 10,000 of those centrifuges actually enrich uranium, allowing Iran to amass a stockpile of enriched uranium, enough if refined further for five atomic bombs. In addition, Iran has installed some 1,000 advanced, more efficient centrifuges, which could increase the speed and yield of enrichment.
These sophisticated centrifuges, called IR-2ms, are still not loaded with nuclear material and so are not yet enriching, diplomats briefed on the report told Breaking Defense.
Enriched uranium can serve as either fuel for civilian nuclear plants or in highly refined form the explosive material for atom bombs.
The IAEA has had inspectors at sites with nuclear material but since 2006 has not been able to visit other sites, such as centrifuge workshops. Due to these limitations imposed by Iran, the IAEA says in its reports that it is not able to guarantee that the Iranian nuclear program is strictly peaceful. Said Amano: "If something extra (beyond declared nuclear material) is taking place on the ground, I cannot find it."
Amano said there was "nothing new" at the Arak plant, a heavy water reactor under construction which could eventually produce plutonium, like uranium a possible atom bomb material.
There are concerns that Iran might try to hide a key development, such as fueling the reactor. France has led Western states in insisting the developments at Arak must be dealt with in a first phase of a peace deal.
The IAEA's technical assessment process is separate from the political process represented by the Geneva talks joining the United States and five other major powers with Iran, Amano insisted. In the past, Iran has made progress with the IAEA conditional on what it achieves with the six powers – Britain, China, France, Germany, Russia and the United States.
In Tehran, Amano signed an agreement with Iran Monday on a first step to resume inspections into still unanswered questions about Tehran's nuclear work. Iran has refused since August 2008 to answer any questions about possible military dimensions of its nuclear program.
Monday's agreement was thus a breakthrough for the IAEA. "This is the first step forward and only the first step and this is by no means the end of the process," Amano said.
Iran is refusing to allow for wider inspections and for release of information under a so-called Additional Protocol and a subsidiary agreement to the safeguards contract governing current inspections. Under safeguards, the IAEA has inspectors present in Iran wherever there is nuclear material.
The Additional Protocol allows for inspections to non-nuclear sites, while the subsidiary agreement requires Iran to give early notice of planned construction of nuclear facilities.
IAEA insistence on applying these two measures has led to stalemate in talks with Iran on technical issues and wider inspections.
Amano said both he and his Iranian counterparts agreed that "we have gone into too much detail, and as time passes the negotiation became more difficult, there was not a prospect for reaching agreement." He said the two sides were now trying 'something new," namely to treat easy issues first and "take a step by step approach."
The IAEA has dropped its insistence that visiting Parchin, a military site where Iran is suspected of having worked on explosives to learn how to make atom bomb triggers, be the first step in renewed inspections. It has also abandoned the so-called structured approach it had spent years trying to negotiate.
Amano said "there were lots of conditions and constraints" and now the idea is to take a first step.
Difficult issues, such as Parchin, will be dealt with in future steps, Amano said, stressing that the agency was not dropping any of its previous demands. "We will address the past and present issues," Amano said, adding that this will include the IAEA's concern about possible military aspects of Iran's nuclear work.
It was agreed that the first steps would be completed in three months, Amano said, adding that the deadline was a guarantee of progress.
The first steps include access to "the Gchine mine," to the heavy water production plant that will supply the Arak reactor, "providing information on all new research reactors … on 16 sites designated for the construction of nuclear power plants" on possible "additional enrichment facilities," and on what Iran is doing with "laser enrichment technology," according to the agreement.
About the Author
Michael Adler
Former Public Policy Scholar,
Former Correspondent in Vienna for Agence France-Presse News Agency
Read More
---
Middle East Program
The Wilson Center's Middle East Program serves as a crucial resource for the policymaking community and beyond, providing analyses and research that helps inform U.S. foreign policymaking, stimulates public debate, and expands knowledge about issues in the wider Middle East and North Africa (MENA) region. Read more