I'm from Taiwan, and I'm Here to Help
#TaiwanCanHelp
As Latin America becomes the global epicenter for COVID-19, countries in the region are leveraging their international relationships to secure vital medical aid. This has provided an opportunity for global powers vying for influence in the region, including the United States and China, which are donating and selling critical supplies. Smaller countries have also deployed "mask diplomacy" to extend their influence in the region.
This includes Taiwan, whose success containing COVID-19 has boosted its global standing, including in Latin America, where it has been losing ground to its powerful neighbor in recent years.
For Taiwan, Latin America has long been an important source of diplomatic support. Its regional allies give Taiwan a voice in international institutions, and offer an excuse for Taiwanese officials to stop by the United States en route to Latin America. For this reason, "it's of strategic importance" that Taiwan's Latin American allies "remain in its bosom," the Wilson Center's Shihoko Goto said on "Two the Point."
Lately, however, lawmakers in several countries that recognize Taiwan are voicing concerns that they are foregoing significant aid from China. This debate recently played out in the legislature of a longtime Taiwanese ally, Paraguay.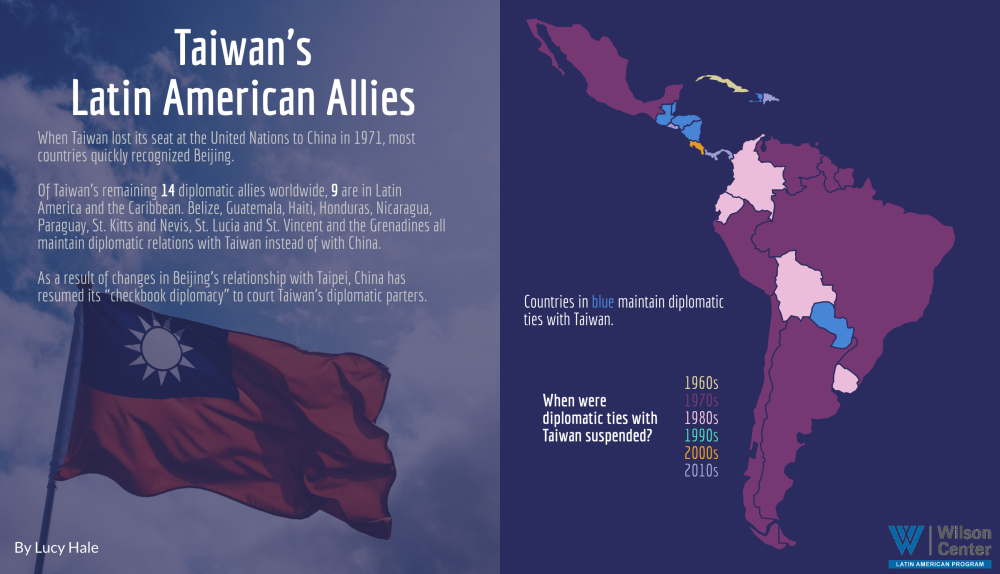 Paraguay and Taiwan
In 1957, Paraguay established ties with Taiwan under Alfredo Stroessner, an anti-communist military dictator who led Paraguay from 1954 to 1989. Although the Cold War ended 30 years ago, and both countries are now democracies, they still maintain close ties.
Paraguay retained its recognition of Taiwan even as most Latin American countries cut ties soon after the United Nations recognized the authorities in Beijing in 1971. It has remained steadfast in recent years, even as other holdouts such as El Salvador, the Dominican Republic, Panama and Costa Rica abandoned Taipei for Beijing. Today, Paraguay is Taiwan's largest Latin American ally, and its lone diplomatic partner in South America.
A Strained Relationship
The Paraguayan opposition, however, has been vocal in its criticism of the government's diplomatic relations with Taiwan. Recently, the senate debated whether to switch recognition to China.
Senators who favor switching sides said China "possesses the adequate resources and personnel to confront the pandemic," and emphasized that the Paraguayan private sector would be better served by close ties to Beijing. By contrast, Taiwan's backers, including the head of the senate's foreign relations committee and a member of the governing Colorado Party, warned that other governments cajoled by China into switching sides "later found themselves tricked" and saw little economic  upside. The resolution failed, as the opposition was split.
Taiwan's Uphill Battle
However, the debate in Paraguay no doubt disconcerted Taiwan, and the fear that others in the region and beyond will follow suit lingers. To counter diplomatic appeals by Beijing to Taiwan's Latin American allies, Taipei is providing medical aid and promoting its efforts on social media under the hashtag #TaiwanCanHelp. Recently, the Taiwanese Embassy in Paraguay posted a video on Twitter of a delivery of medical equipment, and its embassies in Nicaragua, Guatemala, Belize and Honduras have distributed similar videos.
Nevertheless, Taiwan faces an uphill battle to retain the loyalty of these countries.
Despite China's role in the origins of the pandemic, its own "mask diplomacy" is making its mark globally. At the World Health Organization assembly in May, China announced it would provide $2 billion to help countries address the coronavirus, a sum Taiwan could never match. Among some analysts in Taiwan, there is a debate over whether wooing these countries is actually worth the investment, even as the government continues efforts to keep the remaining few on its side.
Still, pressure from the United States could help slow diplomatic defections in Latin America. Though the United States swapped its diplomatic recognition in 1979, it has warned Taiwan's Latin American allies against doing the same. In 2018, the United States recalled its top diplomats in the Dominican Republic, El Salvador and Panama after they cut ties with Taiwan. As tensions between the United States and China intensify, Washington's defense of Taipei in the Western Hemisphere will not diminish anytime soon.
About the Author
---
Latin American Program
The Wilson Center's prestigious Latin American Program provides non-partisan expertise to a broad community of decision makers in the United States and Latin America on critical policy issues facing the Hemisphere. The Program provides insightful and actionable research for policymakers, private sector leaders, journalists, and public intellectuals in the United States and Latin America. To bridge the gap between scholarship and policy action, it fosters new inquiry, sponsors high-level public and private meetings among multiple stakeholders, and explores policy options to improve outcomes for citizens throughout the Americas. Drawing on the Wilson Center's strength as the nation's key non-partisan forum, the Program serves as a trusted source of analysis and a vital point of contact between the worlds of scholarship and action. Read more
Argentina Project
The Argentina Project is the premier institution for policy-relevant research on politics and economics in Argentina.  Read more