Latinoamérica pierde lucha contra drogas por falta de políticas adecuadas
Latin American Program Global Fellow Juan Carlos Garzón is quoted in an article about the shortfalls of drug policy in the region. This article is in Spanish.
[...]
"Se partió de una meta equivocada que era un mundo libre de drogas. Eso en países de Centroamérica o Latinoamérica se mezcla con una coyuntura muy difícil que es la mano dura, y eso ha mostrado ser muy costoso e ineficaz", explicó a  EFE  el analista sobre políticas de drogas del estadounidense Wilson Center, el colombiano Juan Carlos Garzón.
El investigador participó junto con unos 200 expertos en la materia en la "V Conferencia Latinoamericana sobre Políticas de Drogas"  que se desarrolló en Costa Rica durante esta semana, y que tuvo como objetivo evaluar la distribución y consumo de drogas.
Para Garzón las políticas de acción que se han aplicado han sido "desbalanceadas" en donde los Gobiernos han tenido más énfasis en aplicar sanciones fuertes en vez de destinar más recursos a la prevención del consumo.
"Hemos concentrado en seguridad y justicia buena parte de los recursos y el tiempo, para al final, atacar a los eslabones más débiles, que son personas que consumen o que llevan pequeñas cantidades mientras que los peces gordos, que requieren investigaciones complejas han pasado inadvertidos", aseveró Garzón.
[...]
To read full article click here.
About the Author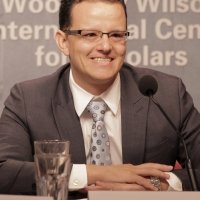 Juan Carlos Garzón
Global Fellow;
Security and Conflict Resolution Expert; Former Consultant, United Nations Development Program and Organization of American States
Read More
---
Latin American Program
The Wilson Center's prestigious Latin American Program provides non-partisan expertise to a broad community of decision makers in the United States and Latin America on critical policy issues facing the Hemisphere. The Program provides insightful and actionable research for policymakers, private sector leaders, journalists, and public intellectuals in the United States and Latin America. To bridge the gap between scholarship and policy action, it fosters new inquiry, sponsors high-level public and private meetings among multiple stakeholders, and explores policy options to improve outcomes for citizens throughout the Americas. Drawing on the Wilson Center's strength as the nation's key non-partisan forum, the Program serves as a trusted source of analysis and a vital point of contact between the worlds of scholarship and action. Read more