Los 'mitos' del Procurador en política de drogas
El Espectador recently published an article by Latin American Program Global Fellow Juan Carlos Garzón, in which he critiques a report on myths about drug legalization. This article is in Spanish.
"La semana pasada la Procuraduría realizó el Foro "Internacional" sobre Política de Drogas, evento que sirvió para presentar el libro 8 mitos de la legalización de las drogas, un texto de más de 250 páginas —hecho con recursos públicos— con el cual se pretende "derribar" los "mitos" en los cuales se basa la reforma a la política de drogas.
Desmentir cada una de las afirmaciones que contiene el libro requeriría un esfuerzo proporcional al cúmulo de falsedades y distorsiones que plantea la publicación, por lo que este artículo se detendrá en cinco "mitos" que el procurador ha señalado de manera más vehemente.
El libro es sobre todo una colección de citas de decenas de estudios sobre la materia, con los cuales pretende respaldar sus afirmaciones. El problema es que esta evidencia ha sido intencionalmente seleccionada para respaldar un prejuicio. El sesgo se nota y no hay indicios de que el autor haga nada por evitarlo.
Para comenzar, el libro basa su título en una falsa premisa: que quienes impulsan la reforma buscan la "legalización" de todas las drogas (primer mito). La mayoría de quienes reclaman un cambio en la política de drogas abogan por la "regulación", es decir, la aplicación de diversos controles que tengan en cuenta el nivel de riesgo de cada droga.
La regulación no busca promover mercados legales libres, con acceso irrestricto y una oferta sin controles, sino mercados regulados; no en las manos de las organizaciones criminales o empresas comerciales, sino del Estado. Bajo este marco, la figura de la cocaína al lado de las chocolatinas en el supermercado no es más que un eufemismo para respaldar los llamados de alerta de quienes se oponen al cambio."
[...]
Click here to read the entire article in Spanish.
About the Author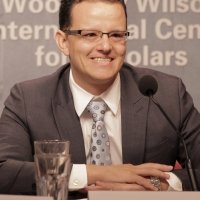 Juan Carlos Garzón
Global Fellow;
Security and Conflict Resolution Expert; Former Consultant, United Nations Development Program and Organization of American States
Read More
---
Latin American Program
The Wilson Center's prestigious Latin American Program provides non-partisan expertise to a broad community of decision makers in the United States and Latin America on critical policy issues facing the Hemisphere. The Program provides insightful and actionable research for policymakers, private sector leaders, journalists, and public intellectuals in the United States and Latin America. To bridge the gap between scholarship and policy action, it fosters new inquiry, sponsors high-level public and private meetings among multiple stakeholders, and explores policy options to improve outcomes for citizens throughout the Americas. Drawing on the Wilson Center's strength as the nation's key non-partisan forum, the Program serves as a trusted source of analysis and a vital point of contact between the worlds of scholarship and action. Read more