Statement on Nabeel Rajab by The Hon. Jane Harman, Director, President and CEO, the Wilson Center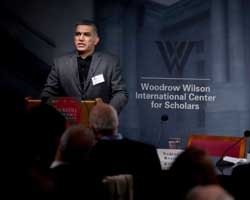 WASHINGTON – For a second time since he received the Ion Ratiu Democracy Award last year at the Wilson Center, human rights activist Nabeel Rajab has been detained by the Government of Bahrain.
"On behalf of the Wilson Center, I urge Mr. Rajab's prompt release," said former Congresswoman Jane Harman, current director, president and CEO.  "The Government of Bahrain would be wiser to tolerate dissent and promote the free expression of views. Events in the region in the past year make clear that local voices will not remain silent and repression will be resisted," she added.
The Ion Ratiu Democracy Award aims to bring international recognition to the ideas and accomplishments of individuals around the world who are working on behalf of democracy. Whether in exile from repressive regimes or operating within emerging democracies, recipients of the Ion Ratiu Democracy Award are democracy advocates with the type of life-changing experience in Washington that Ion Ratiu encountered as a young Romanian democracy activist in the 1970s and 1980s. The Award provides a month-long scholarship at the Wilson Center during which awardees have an opportunity to immerse themselves in the scholarly, policymaking, and NGO communities in Washington, D.C. Recipients also provide the keynote address at an international symposium on major issues confronting their democratic activism.
Nabeel Rajab received the award in a ceremony at the Wilson Center in Washington D.C. in December 2011. When Rajab was badly beaten during a rally in the Bahraini capital of Manama in January 2012, Jane Harman joined the State Department in expressing concern direct to the Bahraini Ambassador to the United States and called for a full investigation into the incident.
Notes to editors:
The Wilson Center provides a strictly nonpartisan space for the worlds of policymaking and scholarship to interact. By conducting relevant and timely research and promoting dialogue from all perspectives, it works to address the critical current and emerging challenges confronting the United States and the world.
Ion Ratiu was a prominent Romanian democracy activist and one of the most outspoken opponents of the Romanian Communist Party that ruled from 1947-1990. He lived in political exile in London from 1940-1990, from where he devoted himself to the pursuit of a free and democratic Romania and helped found the World Union of Free Romanians, to which he was elected as president in 1984. He returned to Romania after the fall of the communist regime in 1990, and was elected to parliament.
Past Ion Ratiu Democracy Award recipients include Sergio Aguayo (Mexico, 2005); Saad El-Din Ibrahim (Egypt, 2006); Anatoli Mikhailov (Belarus, 2007); Eleonora Cercavschi (Moldova, 2008); Adam Michnik (Poland, 2009); andOleg Kozlovsky (Russia, 2010).