Terror Attack on Russian Metro
Kennan Institute Director Matt Rojansky comments on the suspected terrorist attack on the St. Petersburg, Russia metro.
Guest
Matthew Rojansky is Director of the Kennan Institute at the Woodrow Wilson Center in Washington, D.C.  An expert on U.S. relations with the states of the former Soviet Union, especially Russia, Ukraine, Belarus and Moldova, he has advised governments, intergovernmental organizations, and major private actors on conflict resolution and efforts to enhance shared security throughout the Euro-Atlantic and Eurasian region. Previously, Rojansky was Deputy Director of the Russia and Eurasia Program at the Carnegie Endowment for International Peace.  There, he founded Carnegie's Ukraine Program, led a multi-year project to support U.S.-Russia health cooperation, and created a track-two task force to promote resolution of the Moldova-Transnistria conflict.  He also served as an Embassy Policy Specialist at the U.S. Embassy in Kyiv, Ukraine, and as a Visiting Scholar in the Research Division at the NATO Defense College.
Guest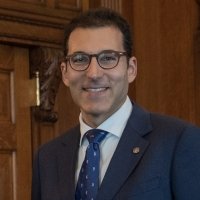 Matthew Rojansky
Director, Kennan Institute
Matthew Rojansky, the Director of the Wilson Center's Kennan Institute, is as much a regular at Congressional briefings and on prime-time news shows as he is on the streets of Moscow, Kyiv, or Berlin. One of the country's leading analysts of US relations with Russia, Ukraine, and the region, he has advised governments and international organizations and leads track two diplomacy on Eurasian conflicts.
Read More
---
Hosted By
Kennan Institute
The Kennan Institute is the premier U.S. center for advanced research on Russia and Eurasia and the oldest and largest regional program at the Woodrow Wilson International Center for Scholars. The Kennan Institute is committed to improving American understanding of Russia, Ukraine, and the region through research and exchange. Read more