The Month in U.S. - China Relations (September 2018) 中美关系月报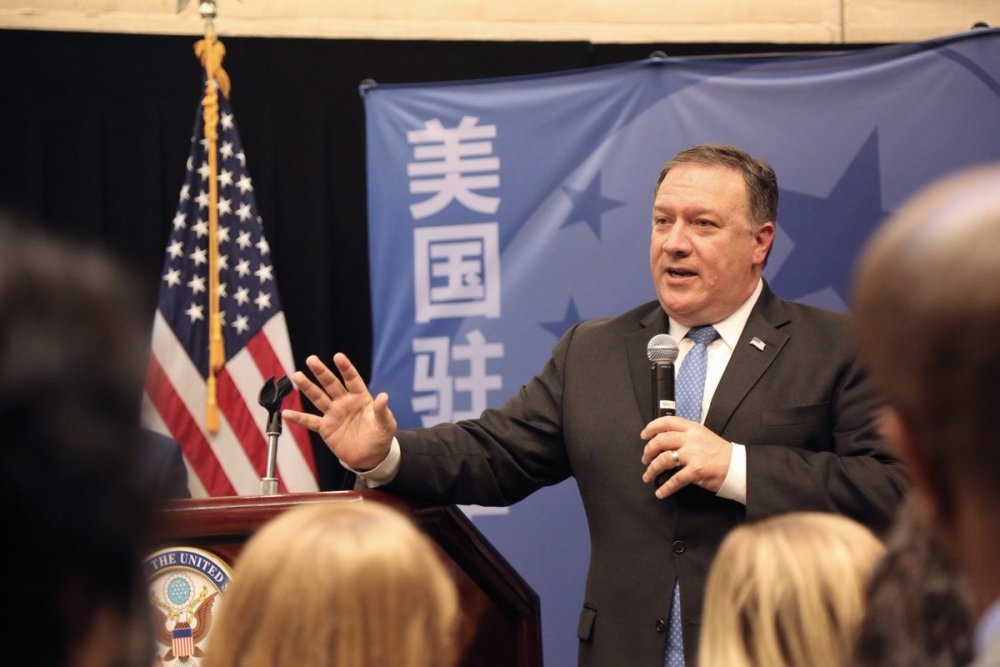 As the United States approaches the one-year anniversary of President Donald Trump's state visit to Beijing, the oft-heralded personal relationship between Trump and Xi has had little apparent impact on Sino-American relations. The ZTE rescue notwithstanding, officials on both sides are maintaining hardline stances on security, technology, and diplomatic issues. In September, trade relations between China and the United States deviated little from the trade war trajectory set in the spring of 2018. Talks have stalled and leaders on both sides characterize relations as increasingly competitive.
KICUS celebrated its tenth anniversary by hosting a panel series on A Decade of U.S.-China Relations: From Engagement to Rivalry, which included Wilson Center fellows, experts, and top China analysts. Our 11th year in this business begins as the bilateral relationship enters an unprecedented and perilous phase.
Rui Zhong
Program Assistant
Kissinger Institute on China and the United States
Major Issue Tracker
China's Global Influence
China pledges $60 billion in aid and loans to Africa, no 'political conditions attached' (September 3): Chinese President Xi Jinping announced $60 billion in aid and loans for Africa while hosting more than 40 of the continent's leaders in Beijing, saying that the money came with no expectation of anything in return… Read More>>
FBI Director Christopher Wray says China is agency's top Counterintelligence Priority (September 13): China is the target of economic espionage investigations in nearly all 56 of the FBI field offices, according to Christopher Wray, as he discusses how China is looking to steal secrets on everything from technology to agriculture... Read More>>
China, Russia cast themselves as Defenders of Internationalism as U.S. backs away (September 28): Days after U.S. President Donald Trump denounced globalism before world leaders at the United Nations, China and Russia positioned themselves as defenders of internationalism that are keeping promises when Washington is backing away from them… Read More>>
China Cancels High-Level Security Talks With the U.S. (September 30): China canceled an important annual security meeting planned for mid-October with Defense Secretary Jim Mattis in Beijing, saying a senior Chinese military officer would not be available to meet him, an American official said… Read More>>
U.S. Asia Policy 
U.S. secretary of state Pompeo arrives in Pakistan to 'reset' relations (September 5): U.S. Secretary of State Mike Pompeo arrived in Pakistan at a time when relations between the two countries have sunk to a new low. Pompeo said he wanted to "reset" strained relations with Pakistan, but the appointment of Khalilzad as the new U.S. special council could complicate his job... Read More>>
U.S., Japan Agree to Negotiations on a Trade Deal (September 26): President Trump and Japanese Prime Minister Shinzo Abe agreed to hold bilateral talks aimed at reaching a trade agreement, Trump's top trade negotiator said Wednesday… Read More >>
'We fell in love:' Trump swoons over letters from North Korea's Kim (September 30): US President Donald Trump took his enthusiasm for his detente with North Korean leader Kim Jong Un to new heights, declaring at a rally with supporters that "we fell in love" after exchanging letters… Read More>>
 
Southeast Asia and the South China Sea  
After pulling out of Pune drill: Nepal Army contingent to go to China for joint exercise (September 17): A contingent of 16 soldiers, under the command of a colonel of the Nepal Army, is being dispatched to China for a bilateral joint military exercise taking place there, barely a week after Nepal pulled out in the last minute from the BIMSTEC joint military exercise in Pune... Read More >>
U.S. Warship Sails near Disputed South China Sea Islands: U.S. official (September 30): A U.S. Navy destroyer sailed near islands claimed by China in the South China Sea, a U.S. official told Reuters, potentially angering Beijing at a time of tense relations between the two countries… Read More>>
Technology, Surveillance, and Espionage
JD.com CEO Richard Liu Willing To Cooperate Further With US Authorities if Needed After Rape Allegation Arrest (September 8): As reported by South China Morning Post, JD.com founder Richard Liu Qiangdong, who was arrested and then released in the U.S. last week after being accused of rape, "is willing to cooperate further if requested", the company said on its website. Related: Why a Chinese CEO Was Studying in the U.S. Before His Arrest
U.S. Weighs Sanctions Against Chinese Officials Over Muslim Detention Camps (September 10): The Trump administration is considering sanctions against Chinese senior officials and companies to punish Beijing's detention of ethnic Uighurs and other Muslim minorities, according to former and current American officials. The economic penalties would be one of the first times the Trump administration has taken action against China because of human rights violations… Read More>>
As Russia launches the biggest war games ever with China, the Pentagon will be watching 'very closely' (September 11): China, with several thousand of its troops, is participating in Russia's annual military training exercise in the Siberian and the Far Eastern region of Russia. Russia's defense ministry claims the exercise's objective is for defense… Read More>>
Trump Accuses China of Interfering in Midterm Elections (September 26): As reported by The New York Times, President Trump accused a foreign power of meddling in an American election: not Russia, but China. The Chinese, Mr. Trump claimed, are trying to damage his political standing before the midterm elections because of his imposition of tariffs on billions of dollars in Chinese goods… Related: Donald Trump admits friendship with China's Xi Jinping could be over
Soft Power, Media, and Censorship
'Crazy Rich Asians' China Release Status In Limbo: What's The Holdup? (September 13): Critical questions of the portrayal of wealth onscreen comes at a pivotal time for the Chinese industry which has been cracking down on star salaries and alleged tax evasion off screen. That brings up a current scandal in China, which may have a ripple effect on CRA…Read More>>
China Ramps up Soft Power Push in Australia with Marketing Campaign for State-owned Broadcaster (September 16): China is spending more than half a million dollars on an advertising campaign to promote its state-owned broadcaster in Australia, as Beijing seeks to soften its image internationally and establish itself as an alternative to US leadership in the region. Read More>>
China Plans to Outlaw Foreign TV Shows in Prime (September 21): According to Bloomberg, China's government plans to outlaw foreign TV shows in prime time and to limit imported content in fast-growing streaming platforms.
China Expunges Unapproved Foreign Content from School Textbooks (September 19):Reuters reports that China's education ministry has launched a "comprehensive" inspection of school textbooks to remove unapproved alterations or foreign content, state media reported late on Wednesday, amid a push to combat Western influence in China's schools. Related: China to weed out foreign content from schoolbooks
Academia and Law
China science breakthrough: 'Sea Dragon' underwater robot reaches record depth of nearly 6km (September 11): China's newest unmanned underwater robot has reached a depth of 5,630 meters in its latest test dive – going deeper below the ocean surface than any Chinese vehicle of its type has gone before… Read More>>
Chinese TV star sues former intern who accused him of sexual harassment (September 27): The 25-year-old former intern who wrote in July about being groped and forcibly kissed by one of the country's most recognizable television starts had been informed Tuesday by a court in Beijing's Haidian district that she was being sued in a civil case for damaging Zhu Jun's reputation and mental wellbeing… Read More>>
HIV/Aids: China reports 14% Surge in New cases (September 29): China has announced a 14% jump in the number of its citizens who are living with HIV and Aids. More than 820,000 people are affected in the country, health officials say. The vast majority of new cases were transmitted through sex, marking a change from the past… Read More>>
Trade and Economic Relations
Trump Hits China With Tariffs on $200 Billion in Goods, Escalating Trade War (September 17): President Trump escalated his trade war with Beijing, claiming that United States would impose tariffs on $200 billion worth of goods and was prepared to tax all imports…Read More>>
China retaliates with tariffs on $60 billion of U.S. goods (September 19th): The Chinese government said it plans to impose new tariffs on $60 billion in U.S. exports, prompting President Trump to reiterate a threat to punch back by hitting Chinese goods worth more than four times that much… Read More>>
US Senate bill would reinstate crushing ban on ZTE if it doesn't comply with terms of Donald Trump's deal (September 19th): A bipartisan group of US senators introduced legislation that would reimpose the crippling ban on Chinese telecommunications equipment giant ZTE if it violates terms of the deal it struck with the Trump administration… Read More>>
Jack Ma said Trump's trade war with China will wreck Alibaba's plans to help create 1 million US jobs (September 19th): Jack Ma, the recently departed chairman of Chinese retail giant Alibaba, said that President Donald Trump's trade war with China will scuttle the company's pledge to bring 1 million jobs to the US… Read More>>
Xi Jinping says trade war pushes China to rely on itself and 'that's not a bad thing' (September 26): Chinese President Xi Jinping says rising "unilateralism and protectionism" is forcing China to rely more on itself for development and "it's not a bad thing", reflecting a determination to fight a protracted trade war with the US if necessary… Read More>>
If You Read/ Watched Nothing Else in September…
The fine writing and film/videography on U.S.-China relations published each month far exceeds the assimilating capacity of any institution.  It would be ridiculous to feature "the best" efforts of the past month, but KICUS would like to highlight the following work nonetheless:
Op-Eds and Commentary
Is the Trade War Hurting Xi Jinping Politically? (September 10, ChinaFile)
Remarks
'The Key Problem of Our Time': A Conversation with Henry Kissinger on Sino-U.S. Relations (September 20, Former U.S. Secretary of State, Henry Kissinger of the Kissinger Institute of the Wilson Center)
Reports
A Preliminary Study of PRC Political Influence and Interference Activities in American Higher Education (September 6, Anastasya Lloyd-Damnjanovic of the Wilson Center)
Eradicating Ideological Viruses: China's Campaign of Repression against Xinjiang's Muslims (September 9, Human Rights Watch)
The Facts and China's Position on China-U.S. Trade Friction (September 24, Xinhua)
Blog Posts
A Blue Wave Won't Rescue China (September 27, Ivo H. Daalder and James M. Lindsay of China US Focus)
Podcast
Paul Haenle on North Korea, Taiwan, U.S.-China relations, and more (September 20, Sinica )
About the Author
---
Kissinger Institute on China and the United States
The Kissinger Institute works to ensure that China policy serves American long-term interests and is founded in understanding of historical and cultural factors in bilateral relations and in accurate assessment of the aspirations of China's government and people. Read more