The US–Japan–ROK Trilateral: Rebuilding Confidence, Deepening Cooperation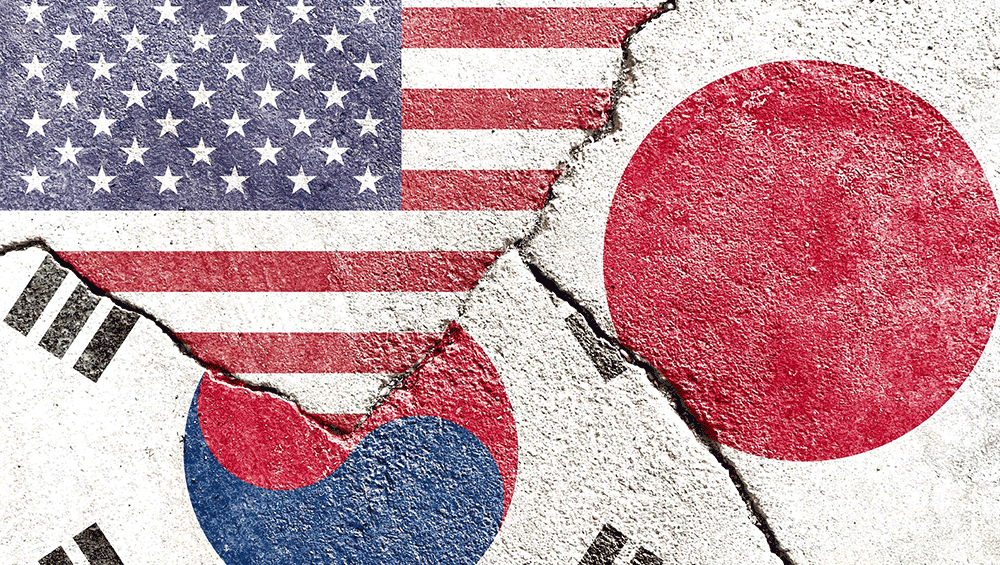 Policy Recommendations
With a new government in Seoul, the US now has an opportunity to encourage further improvement in the Japan–ROK relationship. Four areas of confidence building may facilitate stronger trilateral bonds:
First, the United States' ability to deter aggression against either ally depends on deploying and maintaining forces capable of ensuring success, if North Korea were to attempt to use force. The US–Japan and the ROK should restart regular trilateral exercises for air and ballistic missile defenses and design combined exercises that demonstrate their collective capabilities.
Second, achieving greater economic resilience should be a priority. As the region becomes increasingly sensitive to events and actions that might disrupt supply chains, South Korean participation in the Quad working group is recommended. Similarly, the US, Japan, and South Korea have a shared interest in ensuring that export controls of advanced technology are robust and could play a significant role in designing future multilateral efforts to ensure protections of critical technologies.
Third, popular sentiments in both countries on the legacy of World War II remain highly sensitive and will require a steady and consistent approach by both Japanese and Korean leaders. The US should explore the potential for the third-party mediation of difficult issues.
Finally, the US, Japan, and South Korea should invest in a concerted, trilateral effort to develop people-to-people exchanges to develop stable ties among the three nations.
The US–Japan–ROK trilateral relationship is one of America's most important in the region. Each of our security alliances provides deterrence and assures the defense of Japan and South Korea. Together, they provide the foundation for deterring North Korean aggression on the peninsula and for maintaining peace and stability across Northeast Asia. Yet the relationship between Seoul and Tokyo is often antagonistic, despite their shared security concerns. A territorial dispute and lingering war memory sensitivities can easily evoke strong popular sentiments, and politicians on both sides have at times seen opportunity in inflaming these sentiments to their advantage. Of late, these tensions have spilled over to affect not only political ties but also the economic partnerships that have long been seen as ballast to the periodic eruption of antagonism. This threatens the United States' ability to work closely with both allies to ensure uninterrupted deterrence, and it suggests that these two alliances may function below their capacity if a crisis were to emerge.
Moreover, as Asia's geopolitics have adjusted to China's rising economic and military power, policymakers in Tokyo and Seoul have at times differed in their approach to managing relations with Beijing. The US has deepened its agenda for cooperation with Japan, Australia, and India via the Quad and has developed working groups to address transnational concerns such as supply chain resilience and effective controls over technology transfer. Whether this signals a fundamental difference in how Seoul and Tokyo see China's role in the region remains to be seen. Yet it will be important for Washington, Tokyo, and Seoul to deepen their understanding of China's intentions as well as the options they each bring to managing the growing challenges associated with Chinese influence on the region as well as on the global order.
To address North Korean issues, in early 2021 the Biden administration began a sustained trilateral consultative process with South Korea and Japan. With a new government in Seoul, the US now has an opportunity to encourage further improvement in the Japan–ROK relationship. Repairing confidence between Tokyo and Seoul will require political leadership not only from South Korea's new president but also from Japan's prime minister. While the US should play a supporting role in encouraging bilateral reconciliation steps for outstanding issues of historical reconciliation, in some areas a direct US role may be beneficial. Four areas of confidence building, in particular, may facilitate stronger trilateral bonds.
Improve Deterrence
The United States' ability to deter aggression against either ally depends on deploying and maintaining forces capable of ensuring success if North Korea attempted to use force. With the increase in North Korea's missile capabilities, Japan is as vulnerable to aggression as South Korea. A repeat of 2017 missile launches by the North would demand a demonstrable response by both alliances. But an integrated trilateral response would be even more effective. Resuming air defense and ballistic missile defense (BMD) exercises between Japanese, ROK, and US forces would be an important first step. The three countries can further boost deterrence with trilateral exercises that could demonstrate a further integration of capabilities. Humanitarian and disaster relief exercises could be helpful in building confidence. A training program designed specifically to train the next generation of trilateral military and intelligence professionals would also be beneficial.
Greater Economic Resilience
As the region becomes increasingly sensitive to events and actions instigated by China that might disrupt supply chains, both Japan and South Korea must prepare for greater economic resilience. South Korea has already felt the pressure of economic coercion by China after the deployment of Terminal High-Altitude Area Defense (THAAD). Similar steps to improve deterrence on the peninsula, such as President Yoon's desire to deploy a second THAAD system, will require a concerted response by the US and Japan to help deflect any costs that Beijing may wish to impose. Efforts in the Quad and elsewhere to design resilience for supply chains deeply affects Korean manufacturers, and Yoon's proposal for including South Korea in the upcoming May Quad meeting in Tokyo would be an important first step. Similarly, a trilateral dialogue on tightening export controls on advanced technologies should be initiated. Japan's new economic security legislation offers an important opportunity to consider how to align existing frameworks for export controls as well as US–Japan–ROK ambitions for a multilateral framework that could include Australia and India as well as the European nations.
Dealing with the Legacy of War
Popular sentiments in both South Korea and Japan on war legacy issues require a steady and consistent approach by both Japanese and Korean leaders. While the 1965 Treaty on Basic Relations—with its associated Agreement on the Settlement of Problems Concerning Property and Claims and on Economic Co-operation— provides the initial framing of compensation claims, both nations have acknowledged that it did not fully address all issues. The 2015 comfort women agreement reflected admirable leadership by both Prime Minister Abe and President Park. The Moon government's undermining of this accord led to a serious loss of trust between the two governments. Park Jin, President Yoon's foreign minister, noted that this 2015 agreement represented a promise by the government of South Korea, signaling a serious intent to address the Japanese government's frustration with the on again, off again nature of government-to-government agreements on historical reconciliation. The Korean Supreme Court's ruling on forced labor claims could involve the forcible redistribution of Japanese corporate assets to the plaintiffs, thereby violating the terms of the 1965 Treaty on Basic Relations.
Ultimately, reconciliation is a process, and no one government can declare an end to the process unilaterally; nor can issues as complex as wartime claims be fully addressed without the support of the Japanese and South Korean people. If a government resolution is required, then the 1965 Basic Agreement included provision for third-party mediation in future claims. In the interest of resolving what may be politically too difficult to negotiate bilaterally, a mediation process could be explored as a way of reaching an equitable resolution. A different approach would be to allow nongovernmental actors, including Japanese and South Korean corporations and other organizations, to create a framework for reconciliation.
People-to-People Exchanges
The US, Japan, and South Korea should invest in people-to-people exchange to ensure more stable ties between the three nations. There is a precedent here that might be a useful reference for the trilateral relationship. In 1961, at the suggestion of Ambassador Edwin Reischauer, the United States and Japan initiated a new dialogue among civil society leaders to facilitate deeper ties among the nations' citizens. President John F. Kennedy and Prime Minister Hayatou Ikeda created the Cultural and Educational Interchange Commission (CULCON) to deepen the knowledge of and friendship between the people of Japan and the United States. Today, I have the privilege of chairing the US panel, which includes representatives from Congress, the Department of State, and the Department of Education, as well as prestigious scholars and business and social leaders knowledgeable about the US–Japan relationship. Last year, CULCON celebrated its 60th anniversary. From a meeting that largely brought university and busines leaders together to a network of exchanges in the arts, education, civil society, and local community leaders, this advisory body to the US and Japanese governments has helped to foster a broad network of individuals and organizations across both nations in support of deeper ties and shared problem-solving. This seems a valuable model for considering trilateral engagement efforts that might help repair the people-to-people ties between Japan and the ROK, and perhaps could also be designed to include representatives from the United States.
Conclusion
Now, more than ever, strong ties between the US, Japan, and South Korea are needed to address the myriad challenges confronting the Indo-Pacific region and the global order. While our individual interests may not always align, we share a deep commitment to democracy, to a globalized economy, and to maintaining a free and open regional order.
As our alliances adapt to the shifting balance of power in Asia, so, too, must they adapt to new generations of Americans, Koreans, and Japanese as they take on leadership within our nations. Questions abound about the value of our relationships, about the commitments we have made and should continue to make to our trilateral partnership, and about the opportunities we have to improve it.
The US can and should encourage closer military ties between these two critical alliances so as to ensure and upgrade our regional deterrent. Economic ties must be protected from political fissures, and our collective resilience must be deepened in an increasingly volatile world. Our future rests with ensuring that the citizens of our three nations understand each other and build partnerships with each other in addressing these challenges.
Two Presidents, One Agenda: A Blueprint for South Korea and the United States to Address the Challenges of the 2020s and Beyond
Given all the shifts transforming the international environment, the United States and South Korea cannot afford a "business as usual" approach to their relations. This essay collection will chart a way forward for both administrations.
READ NOW
About the Author
Sheila A. Smith
John E. Merow Senior Fellow for Asia-Pacific Studies, Council on Foreign Relations
---
Hyundai Motor-Korea Foundation Center for Korean History and Public Policy
The Center for Korean History and Public Policy was established in 2015 with the generous support of the Hyundai Motor Company and the Korea Foundation to provide a coherent, long-term platform for improving historical understanding of Korea and informing the public policy debate on the Korean peninsula in the United States and beyond. Read more
Asia Program
The Asia Program promotes policy debate and intellectual discussions on U.S. interests in the Asia-Pacific as well as political, economic, security, and social issues relating to the world's most populous and economically dynamic region.  Read more