"We Must Not Be Silent:" A Conversation with Starovoitova Fellow Olimpiada Usanova about Gender Discrimination in Russia and the United States
Olimpiada Usanova was a Galina Starovoitova Fellow at the Kennan Institute. We spoke to her about her research on gender discrimination in Russia.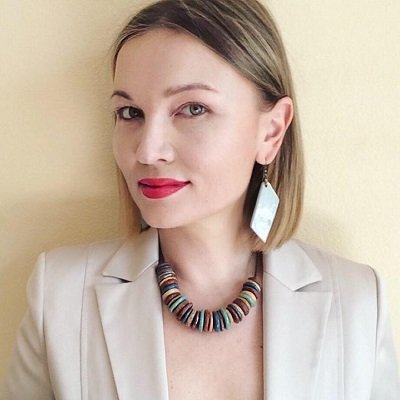 Q: Describe your background and what brought you to the Wilson Center.
I am from Nizhny Novgorod in Russia. I am an independent scholar, practicing lawyer and Russian human right activist. I have PhD in Law and more than 15 years of experience working as an assistant professor in various Russian universities where I specialize in international law and have numerous publications related to human rights issues. In 2017 I finished a Fulbright Visiting Scholar Program at Dickinson Law School at Pennsylvania State University researching issues on protecting children's rights.
 In 2018, I became a certified tutor of Human Rights Education for Legal Professionals Program for the Council of Europe, specializing in Violence against Women and Domestic Violence. The European Program for Human Rights Education for Legal Professionals in the European Union member states (HELP in the EU) supports legal professionals to enhance their capacities to effectively and coherently apply European fundamental rights standards at the national level and through cross-border training.
Since childhood, I have always believed in protecting people who are unable or do not have the resources to protect themselves, and I have carried this belief into my career as a lawyer. Since 2019, I have been a member of the Public Monitoring Commission for Nizhny Novgorod in the Civic Chamber of Russia Federation which protects the rights of prisoners in the jails against violence.
I chose the Kennan Institute as the home for my studies because of the good reputation of the Kennan Institute and its experts and practitioners. There are a lot of experts who explore topics about women's equal participation in policy and leadership and about women's empowerment.  Learning from the Wilson Center will give me the opportunity to disseminate American best practices among Russian NGO communities protecting the rights of women.
Q: What project are you working on at the Center?
The title of my project is "Gender discrimination against women and domestic violence. Is the US experience applicable to Russia?" The international community has long concluded that violence against women is gender discrimination. Unfortunately, Russia has a blind spot in this regard, having no specific legislation aimed at protecting women from violence.  The denial of the existence of gender discrimination in Russia at the state level, as well as pervasive patriarchal attitudes and practices, lead to increasing violence against women and an escalating degree of cruelty.
 In contrast with Russia, the first wave of campaigns for women's equality in the U.S. began in the nineteenth century. Since then, the US has made great progress in combating violence against woman – The Violence against Women Act of 1994 was a turning point in the fight against domestic violence in the US and reduced the level of violence by 67%.
I am convinced that the eradication of violence against women is possible only by eliminating gender discrimination in society. To achieve this, civil society must be feminized.  In other words, women must be raised to the same level as men in the political, financial, and cultural spheres so that they may enjoy the same level of respect.  By the end of the 20th century, we can clearly say that the US gender system has radically changed. The first, most important, achievement is that the ideas of gender equality have become generally accepted in the United States. The main achievement of –second-wave feminism was that it drew the attention of government and society to the issues of domestic violence and marital rape, engendered rape crisis centers and women's shelters, and brought about changes in custody laws and divorce law. Today, for example, gender equality is a part of the overall strategy in the most progressive countries. The 21st century must be the century of women's equality, said UN Secretary-General António Guterres, in a call to transform the world by ensuring equal participation for all: "Just as slavery and colonialism were a stain on previous centuries, women's inequality should shame us all in the 21st.  Because it is not only unacceptable; it is stupid."  Today, public figures cannot make sexist statements without censure from the press. And the reaction of media to President Trump's sexist statements about women confirm this.
The second, most notable achievement of feminism is that women have gained opportunities for promotion in all spheres of professional employment - up to occupying the highest posts in the state in progressive countries. Because feminists were able to convince society of their arguments, politicians have been forced to abandon their conservative and patriarchal beliefs, and when they come to power, to fulfill their election promises.
We need to do the same in Russia and implement the best practice of protecting women against gender discrimination and domestic violence to make our society more feminized. American women also did not immediately achieve the results of the feminization of society. Therefore, I am sure that Russia will also be able to go this way.
Q: How did you become interested in your current research topic?
I personally encountered gender-based violence and managed to overcome it. I came across harassment at the age of 23. I was shocked by this, and shocked that my work colleagues did not protect me and were not outraged by the behavior of the abuser– that this behavior was considered the norm. A few years ago, as an expert of international law, I was invited to an international conference of the Council of Europe on gender-based violence. I first heard there that in Russia about 12,000 -13,000 women die every year from domestic violence (according to a police report in 2012). This shocked me and became the driving force behind my research.
Q: Why do you believe that your research matters to a wider audience?
Our society is becoming more humanistic, and the protection of human rights comes to the fore. According to statistics from the World Health Organization, every 3 women in the world becomes a victim of domestic violence. It turns out that every woman who reads this interview now has at least once encountered violence; if not directly, then one of her friends, colleagues, and acquaintances is definitely facing gender-based violence at this moment in her life. Thus this is a wider topic. We must talk about it. Violence thrives in silence. We must not be silent
So this is a great problem as a global society. In Russia, 80% of cases involve women committing murder by excessive use to force in self-defense, protecting themselves from violence by their close relatives.
Gender-based violence is a global problem for Russia. Today, the domestic violence prevention laws have been adopted in 144 countries, but not in Russia.  In 2016, about 16 million women in Russia faced domestic violence (according to Rosstat) and 8500 women was killed.  In comparison, 13,000 soldiers were killed throughout the whole Afghan campaign run by the USSR. Therefore, we are living in a state of a "hidden war" that annually claims more women's lives than total casualties among soldiers during a military campaign.
Domestic violence legislation is a controversial topic in Russia: there is a huge lobby on the part of the Orthodox Church, a conservative population, against this law. The only way to overcome this problem is to raise the status of women in the economic, social, and cultural spheres.
Q: What is the most challenging aspect of your research?
There are two ways to eliminate gender discrimination. From above, this can be done by pursuing a state policy to equalize the rights of women and men at the legislative level, adopting acts against domestic violence and acts ensuring the realization of gender symmetry of women and men. From below, this can be done by gradually changing the public consciousness of society by informing and expanding NGOs that promote women's rights in all spheres of social and economic life, with the further inclusion of feminist organizations in public life. An analysis of the U.S. experience will contribute to the development of recommendations for Russian NGOs to overcome the existing problem. This would allow me to find out why feminist movements, such as #MeToо, succeed in changing public opinion and punishing violators in the U.S., while such movements in Russia are not so effective. The most challenging aspect is the implementation of foreign models in Russian realities: Russia is only at the beginning of the path to eradicating gender-based violence, but I am sure that we will all overcome.
Q: What do you hope the impact of your research will be?
I hope my research will contribute to a better understanding of why domestic violence is so hard to eradicate in Russia and will find a new approach to solving this urgent issue. My research takes a multidisciplinary approach that combines an in-depth examination of the historical evolution of feminism in Russia and the U.S. with the best practices for overcoming gender discrimination and domestic violence.  I hope that my work will provide us with the tools to reduce the vulnerability of women not just in Russia, but internationally.
The opinions expressed in this article are those solely of the authors and do not reflect the views of the Kennan Institute.
About the Author
Olimpiada Usanova
Former Galina Starovoitova Fellow on Human Rights and Conflict Resolution;
PhD of Law, Independent Scholar and Lawyer
Olimpiada Usanova is a lawyer, an independent scholar, and a human rights activist. She is former Galina Starovoitova Fellow on Human Rights and Conflict Resolution at the Kennan Institute.
Read More
---
Kennan Institute
The Kennan Institute is the premier U.S. center for advanced research on Russia and Eurasia and the oldest and largest regional program at the Woodrow Wilson International Center for Scholars. The Kennan Institute is committed to improving American understanding of Russia, Ukraine, Central Asia, the Caucasus, and the surrounding region though research and exchange. Read more