What's Behind Rising Violence in Colima?: A Brief Look at 2016's Most Violent Mexican State
May 2017 was Mexico's deadliest month on record. 2,200 people were reportedly murdered nationwide that month, bringing the country's death toll to nearly 10,000 since the beginning of the year. While homicides are on the rise throughout much of Mexico, nowhere was the escalation of violence been as dramatic as in the Pacific coast state of Colima between 2015 and 2016.
May 2017 was Mexico's deadliest month on record.[1] 2,200 people were reportedly murdered nationwide that month, bringing the country's death toll to nearly 10,000 since the beginning of the year. If the violence continues at this pace, 2017 will become Mexico's most murderous year since the federal government began releasing homicide data in 1997, surpassing its previous annual homicide record of 23,000 murders in 2011.
Mexico has struggled with elevated violence for over a decade since the government launched an aggressive campaign against the country's drug cartels in 2007. Deploying federal troops to communities particularly affected by drug violence has done little to stem criminal organizations' drug trafficking operations[2] or curb violent crime. In fact, by 2011, Mexico's murder rate had more than doubled, and while homicides declined moderately between 2012 and 2014, violence picked up once more in 2015 and has continued to rise since (see Figure 1).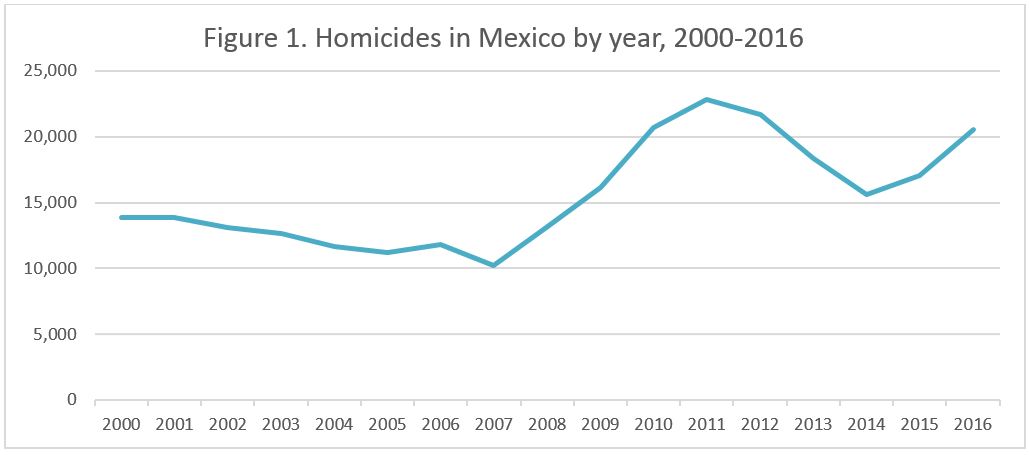 While homicides are on the rise throughout much of Mexico, nowhere was the escalation of violence been as dramatic as in the Pacific coast state of Colima between 2015 and 2016. Once considered one of Mexico's safest and most peaceful areas, Colima suffered a more than three-fold increase in murders—by far the largest jump in homicides experienced by any other state. Home to just over 700,000 people, Colima is Mexico's least populous state but registered the highest murder rate in the country last year with 71 homicides per every 100,000 people (see Figure 2).
Colima's deteriorating security situation is a telling reflection of how violence in Mexico has evolved and intensified since 2015. Mexico's most recent spike in homicides is not only the result of increased violence in areas traditionally vulnerable to cartel in-fighting, but it also reflects violence spreading to previously peaceful areas.
One likely explanation for the renewal and spread of violence is that the United States and Mexican security forces have succeeded in breaking up Mexico's major organized crime groups by killing or arresting their leadership.  In several cases the loss of leadership has led criminal groups to splinter into smaller criminal networks that are now battling for power and territory, destabilizing Mexico's organized crime landscape and shifting trends in the country's violence.
Combatting rising violence in Colima and elsewhere will therefore require a fresh approach, starting with evaluating the specific local and regional dynamics driving up homicide rates in these areas and tailoring crime reduction strategies to each community's unique needs.  "Mexico has never developed a truly local approach to fighting crime and violence," says the Mexico Institute's Eric L. Olson. Each area's security challenges require a specific strategy that begins locally but is supported by state and federal authorities.
In the case of Colima, the state's dramatic increase in violence since 2015 may be attributable to a restructuring of the Pacific coast's organized crime landscape since Joaquín "El Chapo" Guzmán—leader of the so-called Sinaloa Cartel—escaped from prison in the summer of 2015, and the increased appeal of Colima's methamphetamine trafficking routes among criminal groups as demand for synthetic drugs increases in the United States. 
Shifts in the Pacific coast's organized crime landscape
While not all homicides in Mexico are related to drug trafficking and organized crime, the latest University of San Diego-based Justice in Mexico annual report entitled, Drug Violence in Mexico: Analysis through 2016, finds that "the timing and direction of shifts in Mexico's violence appears to be a function of the dynamics between major criminal organizations."  
Security experts generally agree that roughly one-third to one-half of all homicides in Mexico bear signs of organized crime-related violence, such as gun battles, torture, group executions, dismemberment, accompanying "narco messages," and the use of high-powered weaponry. According to the Justice in Mexico report, such murders are on the rise in Mexico, and the state that saw the largest spike in organized crime-style homicides in 2016 was Colima, which experienced a 600 percent increase in such killings.
Understanding rising violence in Colima therefore requires an assessment of the state's organized crime landscape. In an interview with the Mexico Institute, Justice in Mexico's director, David Shirk, explained that increased violence in Colima is likely due to cartel restructuring in nearby Sinaloa that has been underway since Joaquín "El Chapo" Guzmán's escape from prison in July 2015. While violence remained stable following El Chapo's  capture in February 2014, according to Shirk, his escape over a year later is what "shook up Mexico's underworld." As seen in Figure 3, homicides in Colima did not start to pick up until September 2015.  The reason his escape, as opposed to his capture, may have triggered an increase in homicides is unknown, but could reflect the kingpin's ability to maintain control of his people and routes during his imprisonment and his decision to go after perceived traitors once he escaped.
Following the infamous drug lord's recapture in January 2016, homicides began to skyrocket, increasing by 87 percent in Colima within the first three months of his re-imprisonment. Shirk believes El Chapo's recapture created deep rifts within the Sinaloa Cartel's peripheral criminal landscape, possibly because the second time around, his capturers were more determined than ever to keep him isolated from his criminal enterprises and he was no longer able to maintain control of his empire or preserve Sinaloa's dominance over rival organizations. Homicides in Colima then peaked in January 2017 when he was extradited to the United States and transferred to a high-security federal jail in Manhattan, which further isolated him from his organization.  
El Chapo reportedly handed over Sinaloa's operations to one of his closest associates, Dámaso "El Licenciado" López Núñez. But in May 2017, El Licenciado was captured in Mexico City, and the United States has already requested his extradition. Security experts like Alejandro Hope, a former top analyst for Mexico's Center for Research and Security (Centro de Investigación y Seguridad, CISEN), say increased violence in Sinaloa and surrounding areas is likely due in large part to an internal dispute between El Chapo's and El Licenciado's sons as they fight to fill the power vacuum their fathers left behind.  
According to Justice in Mexico, increased violence in the region is also the result of defectors within the Sinaloa organization "transfer[ing] their loyalties to rival organizations, including the Beltran Leyva organization and the CJNG (New Generation Jalisco Cartel in English)," the latter of which is "apparently combatting elements of the Sinaloa Cartel in Colima."
CJNG previously served as an armed wing of the Sinaloa Cartel but became an independent organization over time as it accumulated power and territory. Now the Jalisco-based CJNG is considered one of the largest and most powerful criminal organizations in Mexico. The Drug Enforcement Administration (DEA) has attributed CJNG's "rapid territorial expansion" to its "willingness to engage in violent confrontations with Mexican government security forces and rival cartels." It is possible that CJNG has decided to engage in a violent battle for the Pacific coast's trafficking routes now that its rival in Sinaloa is weakened by internal power struggles.
Increased appeal of Colima's methamphetamine trafficking routes among criminal groups
While Colima had not previously been contested terrain for the Sinaloa and Jalisco cartels, Shirk says recent violence in Colima "shows that whatever arrangements there were are now up for grabs and are being renegotiated." Deeper analysis of what is driving the dispute between these two dominant criminal organizations with operations on the Pacific coast will be essential if efforts to reduce violence in Colima are to be successful.
Nearly a third of Colima's homicides occurred in the port city of Manzanillo last year, which ranked as the third most violent city in the country. According to Shirk, a battle for control of this lucrative port is likely behind the recent violence between the two cartels. Strategically situated on Mexico's Pacific coast, the port of Manzanillo connects Mexico to markets from around the world and moves over 2.5 million cargo containers each year, making this bustling west coast port Mexico's busiest. Such high volume traffic and access to global shipping routes makes Manzanillo an ideal location for traffickers looking to smuggle illicit products hidden within millions of shipping containers.
Last year, the Pacific coast maritime route became the drug trafficking route most frequently used by Mexico's criminal organizations, according to the Mexican Navy's seizure data. Officials carried out more seizures at the port of Manzanillo than at any other location along the route. Perhaps most importantly for traffickers along the Pacific coast, Manzanillo serves as a primary point of entry for precursor chemicals coming from Asia for the manufacture of synthetic drugs. "These chemicals mainly come from China, and the only way to import them is in containers. It's not like cocaine that can be moved on speed boats and dropped at any beach," says Guillermo Valdés, former director of CISEN.
If a battle for control of Manzanillo and the methamphetamine trade is indeed behind the Sinaloa-CJNG dispute, it makes sense that it comes at a time when demand for the drug is increasing in the United States. The DEA's 2016 National Drug Threat Assessment (NDTA) Summary indicates that the percentage of the DEA's National Drug Threat Survey (NDTS) responding agencies across the U.S. reporting "high" methamphetamine availability in their areas has risen each year since 2013. In 2016, 31.8 percent of responding agencies classified methamphetamine as their area's greatest drug threat. In the Southwest region, reaching from Texas and Oklahoma to Southern California, this percentage rose to 71 percent last year.  
The U.S. Department of State's 2015 International Narcotics Control Board (INCB) Report suggests increased demand in the U.S. is driving increased production in Mexico, noting that the number of methamphetamine laboratories detected in Mexico has increased significantly since 2008 and that seizures of the drug at the U.S.-Mexico border have nearly tripled since 2009. According to the 2016 NDTA Summary, "Domestic (U.S.) production continues to occur at much lower levels than in Mexico, and seizures of domestic methamphetamine laboratories have declined, most likely due to the high availability of high-purity, high-potency Mexican methamphetamine."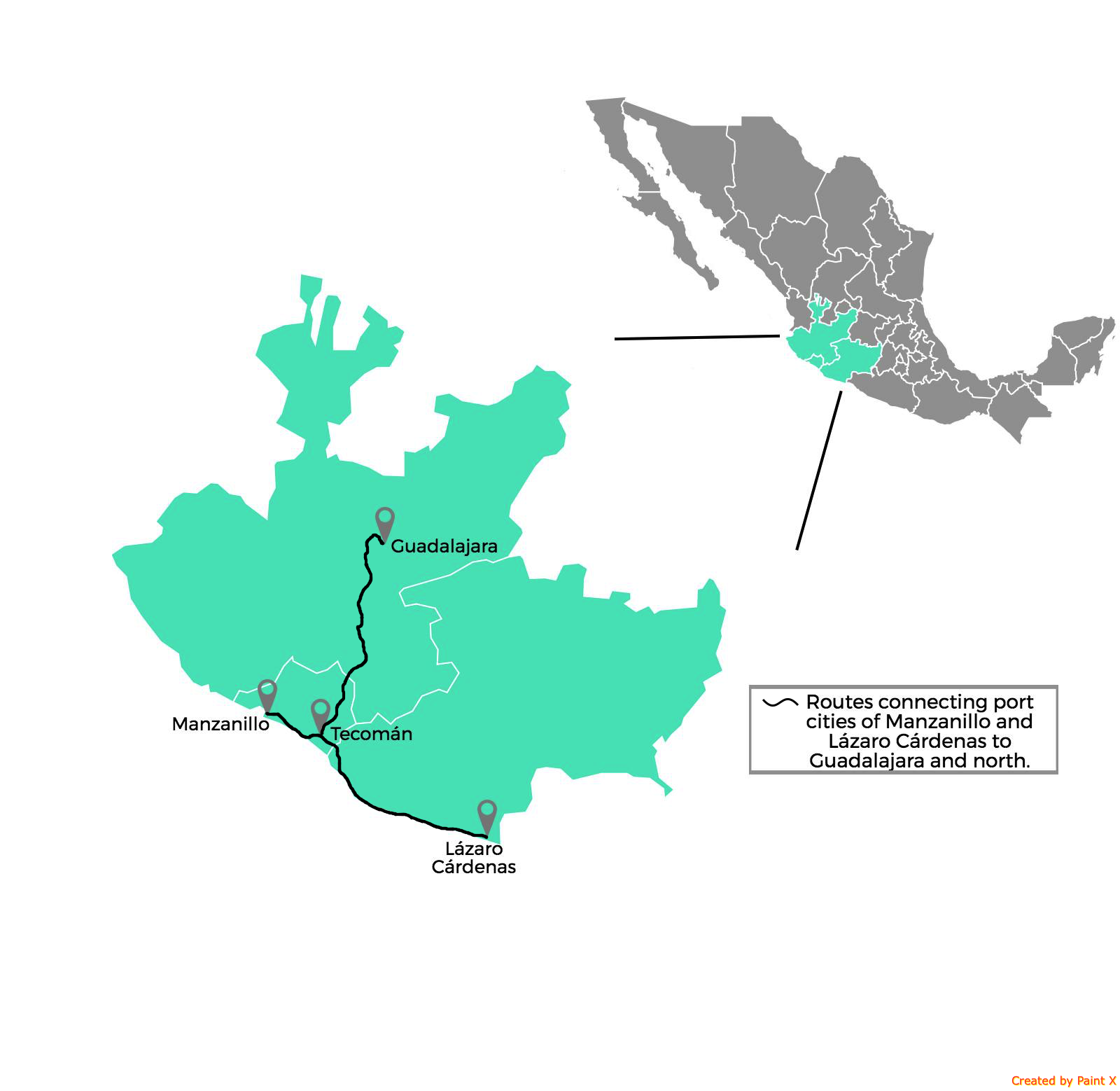 The State Department's Overseas Security Advisory Council (OSAC) has reported that many of the methamphetamine laboratories that have popped up in Mexico in recent years are located within the 300-kilometer stretch between Manzanillo and Guadalajara, Jalisco. This may help explain the dramatic increase in homicides in towns and cities that connect the port of Manzanillo—where precursor chemicals are imported—to these laboratories—where methamphetamines are manufactured. The cities of Tecomán and the state capital of Colima both lie along the highway connecting Manzanillo to Guadalajara, and in 2016, these two cities became the first and seventh most murderous municipalities in all of Mexico.  
Reducing violence in Colima
On June 17, 2017, Mexican security forces sought to regain control of Mexico's 103 seaports, including Manzanillo, in an effort to halt the importation of illegal substances into the country and, ultimately, reduce drug-related violence. It is important to note that while this may weaken criminal control of important port cities, it will not necessarily contribute to a decrease in violence and may not prove to be a long-term solution to drug trafficking activity in and through Mexico. 
Such efforts must be accompanied by more sustainable strategies. First and foremost, more should be done to reduce the seemingly insatiable demand for drugs in the United States. Drug trafficking organizations in Mexico will continue to find ways to meet demand for methamphetamines and heroin north of the border as long as U.S. communities struggle with abuse and addiction. The United States has to look seriously at its own consumption problems. Imprisoning people for consuming drugs has not significantly lowered demand. Access to better mental health benefits, emergency services, counseling, and drug treatment centers are a much better approach.
Second, violence in Mexico will almost certainly persist until corruption is reduced and police and judicial systems are strengthened. Less than one percent of crimes in Mexico result in sentencing. As long as criminal organizations and traffickers enjoy the support and complicity of corrupt officials, and as long as weak institutions allow criminals to murder without fear of consequence, organized crime groups will continue to terrorize communities with impunity.
Reducing violence in Colima and elsewhere will not be easy. It will require a combination of short-term and long-term strategies that are focused on the specific needs of the region, state, or community in question. Bilateral efforts to develop and implement creative strategies that go beyond the eradication, interdiction, and imprisonment strategies of the past are urgently needed to avoid prolonging the suffering of local communities in Mexico and the United States. 
---
[1] The Mexican National Public Security System (Secretariado Ejecutivo del Sistema Nacional de Seguridad Pública, SNSP) has maintained monthly and annual municipal, state, and federal level data on common law offenses handled by law enforcement investigations since 1997. All homicide data cited in this article come from the SNSP's "Common Law Criminal Incidence" (Incidencia Delectiva del Fuero Común) reports. It is important to note that for the sake of consistency, the data cited here reflects the number of homicide investigations (including those that include more than one victim), rather than the number of individual victims, because SNSP has only reported victim-level data since 2014.
[2] According to data from the Department of State's International Narcotics Strategy Report, approximately 95 percent of cocaine entering the United States passed through Central America and Mexico in 2010 and approximately 90 percent in 2016, with percentages dipping and rising in intervening years.
---
Mexico Institute
The Mexico Institute seeks to improve understanding, communication, and cooperation between Mexico and the United States by promoting original research, encouraging public discussion, and proposing policy options for enhancing the bilateral relationship. A binational Advisory Board, chaired by Luis Téllez and Earl Anthony Wayne, oversees the work of the Mexico Institute.  Read more