What's the Plan? U.S. Land Border Restrictions During the COVID-19 Pandemic
Despite changing public health situations in Canada and Mexico, the United States has not adapted the land border restrictions it first implemented in March of 2020. The country's commitment to maintaining a single set of restrictions for its shared borders with Canada and Mexico has inhibited progress towards reopening either and the lack of transparency by U.S. federal officials begs the question of whether they have a plan in place to do so.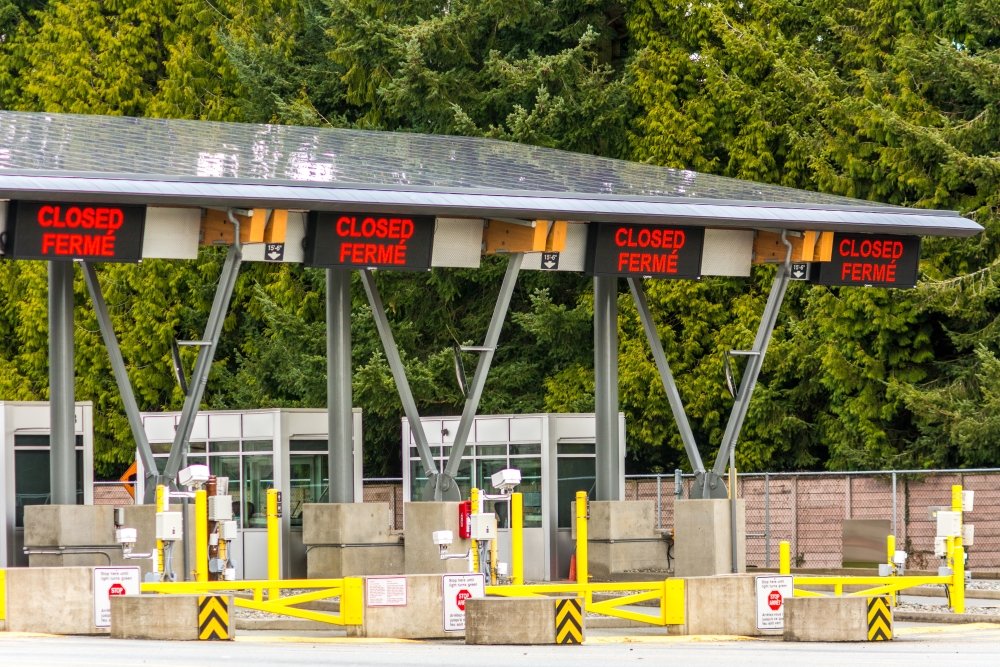 This month, the United States will have restricted its land borders with Canada and Mexico for 18 months to slow the spread of COVID-19. The longest interruption of border crossing in U.S. history has separated communities, families, and reordered patterns of cross border shopping, business and leisure travel. With no end in sight, the cumulative economic and social cost of the border restrictions across North America is incalculable and may be permanent. The border restrictions are subject to review by the U.S. Department of Homeland Security (DHS) on a monthly basis, but these reviews have yet to yield any changes to border policy. Instead of adapting the existing policy regime to reflect the distinct economic, social, and public health situations in Canada and Mexico, the U.S. Government has elected to maintain a rigid set of restrictions that prohibits either border from reopening independently of the other.
The federally-mandated border closure has hurt businesses that rely on foreign travelers for revenue and frustrated policymakers that represent border communities. Over 241 million travelers entered the United States via points of entry along the U.S.-Canada and U.S.-Mexico borders in 2019. With land crossings now reduced to less than half of that volume, the weight of the restrictions is being felt in the border regions and reflected in national trade statistics.
To the North, over two-thirds of Canada's population resides within 100 kilometers (62.13 miles) of the U.S.-Canada border; in pre-pandemic times, these individuals comprised a critical market for border communities. Canadians are the second-largest demographic of tourist travelers to the United States, behind only Mexican travelers. In 2019, Toronto was the fourth largest port of tourist entry into the United States, accounting for 4.7 million nonimmigrant admissions and beating all other points of land entry into the country. DHS restrictions crippled the volume of land travelers entering the United States: between 2019 and 2020, the number of Canadians tourists entering at U.S. land points of entry fell by almost 44 million. 
Canada reopened its land border to vaccinated Americans on August 9th, allowing U.S. citizens to enter the country for nonessential purposes for the first time since restrictions were instated in March 2020. Throughout the pandemic, the Canadian Government has maintained that it is coordinating its border policy with the White House, a claim that led many to believe that the reopening of Canada's border would be reciprocated by the Biden administration. However, shortly after Prime Minister Trudeau revealed his government's plans to ease border restrictions, DHS announced that it would proceed with its monthly policy review as scheduled and declined to commit to a reopening date for the country's northern border. In a July Wilson Center event, Canadian Ambassador Kirsten Hillman downplayed the policy disparity, stating that "coordination doesn't mean [Canada and the United States] are going to do the same thing" and asserting that Canadian and U.S. policymakers have continually made separate decisions informed by their own data, experts, and domestic situations. 
Regardless of how the difference in reopening timelines is framed, Northern residents and their representatives are unsatisfied with the apparent lack of coordination. Rep. Brian Higgins, whose congressional district in New York borders Ontario, argued that "[i]f there is a valid public health concern or reason why the border can't be opened, [the Biden administration need[s] to communicate that in a clear, understandable way," adding that "[t]hey have not done that." In July, Higgins joined 74 other members of Congress in signing a bipartisan letter to President Biden that urged his administration to "follow the science and drop all travel restrictions for travelers between the United States and Canada who are fully vaccinated travelers or provide proof of a negative PCR test."
The Biden administration's decision to extend restrictions comes amid an improving pandemic situation above the northern border. Although COVID-19 cases in Canada peaked in April 2019 after a surge of Gamma variant infection, the country's COVID-19 vaccination rate surpassed the United States' in mid-July and has continued to improve as the second summer of the pandemic draws to a close. Currently, over 65% of all Canadians have been fully vaccinated and almost 83% of eligible Canadians have received at least one dose of the vaccine. Cases have begun to rise again as the highly-contagious Delta variant spreads across the continent, but the nation's general lack of vaccine hesitancy and the impending approval of more vaccines for children aged 12-18 provides some hope that Canada will be able to stave off a fourth wave.
The economic effects of the COVID-19 pandemic have also been distressing for communities along the U.S.-Mexico border. Before the COVID-19 pandemic, nearly 529,000 individuals entered the United States via the U.S.-Mexico border each day. Businesses in cross-border communities such as San Diego and Tijuana rely on these travelers to stay open. During the Mexico Institute's ​Seventh Annual Building a Competitive U.S.- Mexico Border Conference, Mayor Todd Gloria of San Diego stated that these restrictions, "limiting as they are to only essential crossings, [are] having a serious detrimental impact on the San Diego economy." The San Ysidro Border of Commerce estimates that restriction of so-called non-essential cross-border travel has caused around $7.5 million dollars of losses weekly for San Diego's retail sector. 
Border communities in other states such as Texas have also suffered great losses. The Baker Institute estimated that in 2020, Texas border counties lost around $4.9 billion in total GDP. These types of estimates, of course, do not capture the devastation experienced by those employed in the informal sector, who are often unable to seek federal aid to mitigate any loss of income.        
In efforts to reinvigorate both economies, the Government of Mexico has publicly pushed for the reopening of the U.S.-Mexico border. On June 4, following the receipt of over one million Johnson & Johnson vaccines from the U.S, President López Obrador announced a special vaccination strategy to attempt to accelerate the reopening of the border. Farid Hannan, Director of Economic Affairs, of Mexico's Secretariat of Foreign Affairs, stated that these vaccines were not only a symbol of the strong friendship between the two governments, but also "proof that we are part of the same region," showing a regional approach to vaccination. 
With this approach, the government of Mexico has prioritized the vaccination of individuals between the ages of 18 and 39 in the 38 municipalities that border the United States. At the beginning of August, 85% of Mexicans living near the border had been vaccinated. In some communities along the border, Mexican communities have higher vaccination rates than their U.S. counterparts. As of August 30, Mexico has received 97,801,885 COVID-19 vaccines. Over 12 million of those vaccines have been applied to those living in states along the U.S. Mexico border. It is worth noting here that these figures wouldn't include an unknown number of Mexicans who flew to the U.S. to be vaccinated. This campaign however has not been enough to achieve reopening. 
To the dismay of state and local governments who are eager to reopen borders, U.S. federal officials have offered no plan or timeline for lifting border restrictions. White House Press Secretary Jen Psaki has stated that any decisions regarding travel at the border will be guided by U.S. public health and medical experts. However, the lack of transparency in the DHS' decision making process has made it impossible to discern exactly what a conducive public health situation would look like or how close the United States is to reaching those conditions. 
Any federal reopening plan will be contingent on positive public health conditions, such as low active case numbers and high vaccination rates. Although the emergence of new, highly-contagious variants make it unlikely that the border will return to the pre-pandemic normal in the near future, maintaining the existing restrictions without a public plan for easing them has a political cost. With elections on the horizon in two of the three countries, leaders' faults in addressing the economic and social losses resulting from pandemic border policies is a political liability. Risk management is a sound strategy for politicians as well as for border security. As U.S. officials proceed with their review of the country's emergency border policy, a transparent consideration of the distinct economic, social, and public health situations in Canada and Mexico should be of top economic priority. 
About the Authors
---
Canada Institute
The mission of the Wilson Center's Canada Institute is to raise the level of knowledge of Canada in the United States, particularly within the Washington, DC policy community.  Research projects, initiatives, podcasts, and publications cover contemporary Canada, US-Canadian relations, North American political economy, and Canada's global role as it intersects with US national interests. Read more
Mexico Institute
The Mexico Institute seeks to improve understanding, communication, and cooperation between Mexico and the United States by promoting original research, encouraging public discussion, and proposing policy options for enhancing the bilateral relationship. A binational Advisory Board, chaired by Luis Téllez and Earl Anthony Wayne, oversees the work of the Mexico Institute.  Read more