Aleksei Navalny and Russia's Asymmetric Response to U.S. Pressure
BY MAXIM TRUDOLYUBOV
Three major events have dominated Russia-Western relations recently: the new sanctions the United States imposed on Russia last Thursday, Russia's military buildup on Ukraine's eastern border, and Moscow's decision to start a process of designating the oppositionist Aleksei Navalny's organizations as "extremist groups," a move that would effectively outlaw them.
The U.S.-Russia dialogue has turned into an exchange of political and economic restrictive measures. Last week's U.S. sanctions included expelling ten Russian diplomats and barring U.S. banks from buying Russia's sovereign bonds on primary market.
The sanctions were announced in response to Russia's alleged interference in last year's U.S. presidential election, for its "malicious cyber activities," its use of "transnational corruption to influence foreign governments," its targeting of dissidents and journalists, and other activities.
Russia's Foreign Ministry responded by summoning the U.S. ambassador and promising a set of "imminent" retaliatory measures, which included expelling ten U.S. diplomats, restricting short-term trips by U.S. State Department staff to support the functioning of its diplomatic missions, halting the activities of American foundations and NGOs in Russia, and other measures.
Given the softball nature of Russia's response, it makes every sense to think that the real response has not even been publicly declared as such. The new crackdown on Aleksei Navalny's structures does look like a real retaliatory measure against the West. It is important to understand that Moscow's leaders act as if Aleksei Navalny were an agent of a hostile foreign power. Propagandists on Russia's state-run television channels and other media do not treat Navalny other than as a malicious foreign actor.
The day after the U.S. sanctions were announced, Moscow's prosecutor's office filed a lawsuit to declare Navalny's organization, the Anti-Corruption Foundation, and its offshoots "extremist organizations." The move would kill the group as a network of legally operating institutions, essentially putting them on par with terrorists. In Russia, when an organization is declared "extremist," everyone who is helping it, let alone anyone who is part of it, is liable to criminal prosecution.
Navalny is held in a penal colony near Vladimir, a city over 100 miles east of Moscow. The conditions Navalny finds himself in could be described as torture: he has been deprived of sleep by regular checks during the night and denied visits by doctors from outside the penitentiary system. For over a month now, Navalny has been suffering from back pain and leg numbness. The oppositionist went on a hunger strike two weeks ago to force the ward to let in the doctors of Navalny's choice, which, according to Russian law, is a prisoner's right.
On top of all that, Moscow is now threatening to outlaw Navalny's organization, which would mean an unknown number of criminal cases could be brought against the oppositionist's supporters. The message Moscow is sending to its opponents in Washington could be read as follows: If you want to exert more pressure on us, you have to take into account that you are not hurting the Kremlin, you are hurting someone you ostensibly care so much about: the Russian opposition.
President Putin and Russia's top officials have been increasingly irritated by the amount of attention Navalny has attracted from Western leaders and the international press. Last August, when Navalny was taken to Germany for treatment after a poisoning attack in Russia, his case became a front-page international story.
Ever since, Western leaders, including Germany's Angela Merkel and France's Emmanuel Macron, have kept nagging their Russian counterpart to investigate the poisoning of Russia's leading opposition figure. In response, Putin has consistently refused to recognize Navalny as the political opposition and his poisoning as poisoning. Certainly, Putin and other Russian officials have refused to recognize the use of the banned nerve agent Novichok in the unsuccessful effort to kill Navalny, a fact Western specialized laboratories established last September.
While Moscow has stonewalled in the face of all those accusations, it has been increasing its crackdown on all opposition and civic movements that it did not create or approve of. Navalny's organization, the Anti-Corruption Foundation, has long been a thorn in the Kremlin's side and is now bearing the brunt of its rage.
It's important that Western leaders understand that Putin's responses to pressure are rarely symmetric. Moscow does expel matching numbers of diplomats, restrict American officials' travel, but realizes that its international economic or financial power is no match for America's. When Washington threatens to restrict Russia's access to certain kinds of credit or technology, Moscow cannot really respond in kind without hurting itself.
Russia's military buildup on Ukraine's border can also be seen as trying for leverage against the West. Russia has amassed over 100,000 troops on Ukraine's border and in annexed Crimea, EU authorities said recently. Central Intelligence Agency director William Burns recently noted that the Russian deployments might be intended to intimidate the Ukrainian government and send a message to the Biden administration.
As economic countermeasures go, Moscow could theoretically apply some leverage through its oil trade with the United States. Last year, Russia grew to become the third-largest oil supplier to the United States, even ahead of Saudi Arabia, a fact barely discussed in diplomatic circles. In the past, large oil suppliers, mainly from the Near East, have used their power to hurt the West. Given its newfound position as an important player on the American energy market, Russia could have imposed some costs on its U.S. opponents. But that would, of course, have deprived Russian oil companies of some of their revenue and, by extension, would have hit the Russian federal budget.
Russia's favorable position is based on the fact that U.S. oil companies have no access to Venezuelan crude because of Washington's sanctions on the regime of Nicolás Maduro, while the OPEC nations reduced oil shipments to the United States last year after cutting their output to prop up oil prices. Moscow's success is probably temporary as Saudi Arabia is expected to increase its output and will likely displace Russia's barrels later this year. Moscow is aware of this and wants to get as much of a good thing as it can.
This is why the Kremlin chooses to use asymmetric leverage, threatening Ukraine and holding Navalny hostage, while waiting for offers from its Western opponents. Navalny's health is dire, and Moscow seems to signal that further pressure on it would likely cause Navalny more pain or even kill him. There are no good options in a game like this, but Western capitals should at least consider the asymmetric nature of Moscow's gamble.
The opinions expressed in this article are those solely of the authors and do not reflect the views of the Kennan Institute.
About the Author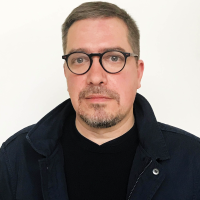 Maxim Trudolyubov
Senior Advisor; Editor-in-Chief, Russia File;
Editor-at-Large, Meduza
Maxim Trudolyubov is a Senior Fellow at the Kennan Institute and the Editor-at-Large of Meduza. Mr. Trudolyubov was the editorial page editor of Vedomosti between 2003 and 2015. He has been a contributing opinion writer for The International New York Times since the fall of 2013. Mr. Trudolyubov writes The Russia File blog for the Kennan Institute and oversees special publications.
Read More
---
Kennan Institute
The Kennan Institute is the premier U.S. center for advanced research on Russia and Eurasia and the oldest and largest regional program at the Woodrow Wilson International Center for Scholars. The Kennan Institute is committed to improving American understanding of Russia, Ukraine, and the region through research and exchange. Read more