Argentina Versus Iran
As tensions escalate in the Strait of Hormuz, the United States is attempting to rally allies to increase pressure on Iran. Having struggled to find support in Europe, the Trump administration turned to Latin America. In July, Secretary of State Mike Pompeo traveled to Buenos Aires to attend a counterterrorism summit focused on Tehran and its proxy, Hezbollah.
Argentina hosted the counterterrorism summit as it marked the 25th anniversary of the 1994 bombing of the AMIA Jewish community center in Buenos Aires, which killed 85 and injured 300. The Iranian attack, carried out by Hezbollah, has been a source of tension between Buenos Aires and Tehran for decades, as Iran has refused to hand over the bombing suspects to stand trial in Argentina.
Before traveling to Buenos Aires in July, the State Department's counterterrorism coordinator, Ambassador Nathan Sales, attended a seminar at the Wilson Center, where he condemned the AMIA massacre, called for justice for the bombing victims and highlighted Iran's continued support for terrorism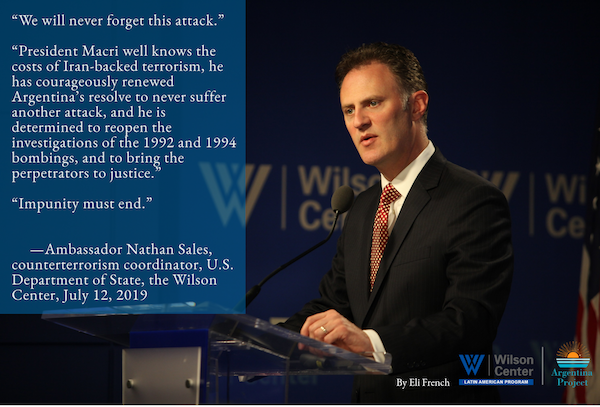 During the counterterrorism summit, Argentina designated Hezbollah as a terrorist organization, a first for Latin America. The United States praised the decision, and pointed to the AMIA bombing as a compelling example of Iranian misconduct and a "grave reminder," as Mr. Pompeo put it, of the cost of terrorism in Latin America.
But despite the greater focus on Hezbollah in South America – including efforts to disrupt terrorism financing in the Tri-Border Area – it is not clear Latin American governments have much leverage in Iran. "Clearly, they are not a good replacement for European allies, because they don't engage Iran significantly, so they cannot put on the same commercial and economic pressure as the Europeans," the Wilson Center's Benjamin N. Gedan told The Financial Times.
Indeed, Iran only exported $50 million in goods to all of Latin America in 2017. Hezbollah, meanwhile, receives the lion's share of its funding directly from Tehran. That said, the Buenos Aires conference, and Argentina's Hezbollah crackdown, offer at least symbolic support for the U.S. administration's Iran policy.
Related Programs
Latin American Program
The Wilson Center's prestigious Latin American Program provides non-partisan expertise to a broad community of decision makers in the United States and Latin America on critical policy issues facing the Hemisphere. The Program provides insightful and actionable research for policymakers, private sector leaders, journalists, and public intellectuals in the United States and Latin America. To bridge the gap between scholarship and policy action, it fosters new inquiry, sponsors high-level public and private meetings among multiple stakeholders, and explores policy options to improve outcomes for citizens throughout the Americas. Drawing on the Wilson Center's strength as the nation's key non-partisan forum, the Program serves as a trusted source of analysis and a vital point of contact between the worlds of scholarship and action. Read more
Argentina Project
The Argentina Project is the premier institution for policy-relevant research on politics and economics in Argentina.  Read more