Ari Roth and Transformational Theater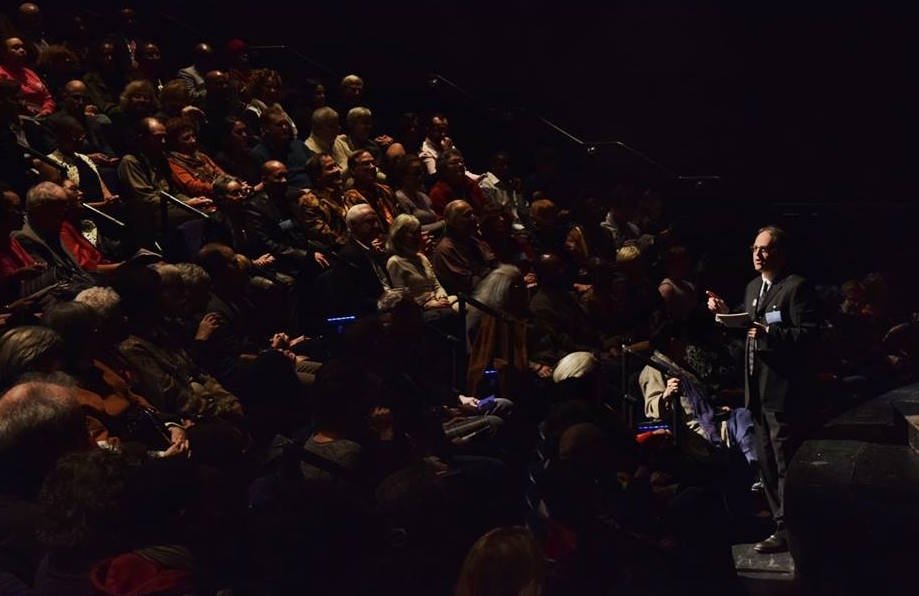 Playwright, producer, director, educator and provocateur, Ari Roth has added fresh verve to an already lively Washington theater scene by heading outside its well-worn flightpaths. In launching his latest project--Mosaic Theater Company of DC--Roth has set the goal of producing theater that is simultaneously entertaining and engaged in issues of social justice. As important, Roth has made expansion of the Mosaic content and audience a primary artistic goal. His emphasis on post-performance programming--including panel discussions, Peace Cafes, race and identity workshops and open microphone artistic response forums--regularly incorporates the diversity of his audiences into what transpires on stage. A show at Roth's theater pulls back a corner of the curtain on what the U.S. Census Bureau already tells us about our country: more than ever, we are and will always be a colorful medley.
The company's fall 2015 inaugural show--the world premiere of Jay O. Sanders' "Unexplored Interior"--captured these foundational qualities. Sanders' play forces the audience and actors to bear witness to Rwanda's genocidal civil war pitting neighbor against neighbor in a violent spiral of death and destruction. Beautifully staged by Derek Goldman and powerfully performed by a stellar fourteen-member cast, Roth's new company told the horrific story of genocide with complexity, depth and texture while weaving together several compelling layered plots into a vividly horrifying appraisal of violence. "Unexplored Interior" proved to be an ambitious yet risky launch for a new company trying to attract new audiences. As DCTheatreScene website reviewer Jessica Pearson recorded at the time, the Mosaic production was "a beautiful and moving piece of theatre and, most of all, it is important because it confronts issues that American theatre audiences would rather ignore and 'Unexplored Interior' cannot be ignored."
Mosaic's second season began with a poignant, moving and humorous production of Terry Teachout's one actor play "Satchmo at the Waldorf" featuring a bravura performance by veteran Washington actor Craig Wallace. Set in the jazz master Louis Armstrong's Waldorf Astoria dressing room at the end of his career, Armstrong's monologue takes the audience through the racism, tawdriness and criminal thuggery that constantly reigned in the career and life of one of the twentieth century's seminal musicians. Reminiscences of towering conflicts between an African-American musician and a Jewish manager define the ever-present limits for an American career of genius constrained by racism, antisemitism, criminality and endless greed.
The second season recently closed with an exploration of social justice through voices directly from the Middle East. Palestinian-American actor-writer Hanna Eady and U.S. writer Edward Mast's two-character play "The Return" takes the audience on a voyage of discovery as an Israeli woman returns from the U.S. to find an Arab-Palestinian auto mechanic who has paid a terrible price for a brief rooftop dalliance with her thirteen years earlier. Powerfully performed, "The Return" confronts audiences for their own assumed sense of privilege which asserts itself in relationships among society's betters and those who serve them. For an audience comprised of Middle Easterners, Americans Jews and Muslims, African American and white Americans, the agonizing interplay on stage simultaneously tells a story of Israelis and Palestinians and of insider and outsider lovers at home.
Roth and Mosaic have found an ideal home for the company's signature commitment to "transformational, socially-relevant art" in the Atlas Performing Arts Center, a renovated former cinema in the increasingly trendy H Street NE Corridor just beyond the shadow of the United States Capitol Building. Once a major shopping street for the city's African Americans, H Street fell on bad times following the civil unrest in response to the 1968 assassination of Dr. Martin Luther King, Jr. Lying fallow for more than three decades, H Street began to revive as a Hipster haven anchored since 2006 by a renovated Atlas movie theater that has come to serve as a pioneering performing arts center. As Roth understands more than most, the recent wave of gentrification has added but a patina of Hipsterdom to the already rich and textured community that predated it.
When moving to the Atlas, Roth purposefully set out to diversify his board by inviting long-time Washingtonians and African Americans to join in. From Mosaic's first season, plays focusing on the Middle East alternated with those about American race relations. Interestingly, before its premier season's end, Roth discerned not only an overall growth in the company's audiences, but its diversification as well. African Americans began appearing for Middle East-oriented productions; while previous supporters of his work as director of the D.C. Jewish Community Center's Theater J started buying tickets to plays about the Black experience. Similarly, he has brought the neighborhood's young vibe into the house with productions of new plays focusing on what it means to come of age in today's America such as "Milk Like Sugar" and the enormously popular "Hooded: or Being Black for Dummies."
Mosaic's success builds on Roth's earlier accomplishments which have long garnered a multitude of admirers within the Washington theater community and beyond. The son of Holocaust refugees, Roth grew up in Chicago before attending the University of Michigan, where he discovered the power of theater. Previously, his theatrical experience had been limited to playing in the band of a high school production of "Godspell."
Subsequently teaching at Michigan, Brandeis and New York Universities as well as at Carnegie Mellon and George Washington University, Roth not only wrote about theater, he wrote theater.  While still at Michigan, he won two Avery Hopwood Awards for Drama given by Arthur Miller.
In 1989, Washington's Arena Stage commissioned Roth to write "Born Guilty," a work based on Peter Sichrovsky's interviews with the children and grandchildren of Nazis "Schuldig Gleboren." The play moved from Washington to Off-Broadway in New York in 1993, earning rave reviews--The New York Times labeled the play "searing drama"--before it continued on to Chicago and beyond. That work's 2002 sequel "The Wolf in Peter" enjoyed critical success while a somewhat autobiographical 2013 prequel--"Andy and The Shadows"--further extended Roth's creative reach.
Ari and his wife, NGO executive Kate Schecter, moved to Washington at the end of the 1990s when Kate landed a job at the World Bank; and Ari secured an appointment as Artistic Director of Theater J. Over 18 seasons at Theater J beginning in 1997, Roth produced 129 productions including 44 world premieres and new productions from the Middle East.
Roth's term at Theater J came to an end in 2014 as some vociferous stakeholders in the Greater Washington Jewish Community (including a group self-identified as Citizens Opposed to Propaganda Masquerading as Art, or COPMA) expressed their concerns over what they saw as an anti-Israeli bent in the company's repertoire. As COPMA exerted pressure on both the boards of trustees of the DCJCC along with the Jewish Federation of Greater Washington, Roth's departure became a public spectacle, capturing the attention of the Washington and national press and theater communities. At one point, over 100 artistic directors of U.S. theater companies published an open letter in Roth's support.
Roth quickly moved on to his new venture, Mosaic, which has established itself as an important fixture on the Washington scene. The company's engagement with various local communities over painful issues swirling around race and class in contemporary America provide an indispensable platform for discussions which must--but too often don't--take place about the nature of Washington as an urban community. Roth and Mosaic, however, present more than a listening post. The company presents high quality dramatic art. 
In reviewing "The Return" for The Washington Post, critic Nelson Pressley began: "It took Mosaic Theater Company no time to forge a social justice identity beyond the Jewish lens of Theater J where Mosaic Artistic Director Ari Roth had worked for nearly two decades until his firing at the end of 2014. But the Voices from a Changing Middle East Festival, begun in 2000 under Roth at Theater J, continues at the impressive young Mosaic as one of the most valuable streams in Washington theater." 
That stream, in turn, contains company members, supporters, audiences and communities who collectively carry Roth's artistic vision to new levels.
Artistic Visionaries and Community Creators
The power of the performing arts to nurture inclusive communities has been praised widely in recent years; so much so that "creative placemaking" is now seen as a powerful tool in community development. The supportive role of community in fostering artistic innovation is less acknowledged. This series highlights the work of visionaries for whom creating communities of students, protégés, audiences, and donors has become a strategic element in transforming their arts.
About the Author
Blair A. Ruble
Distinguished Fellow;
Former Wilson Center Vice President for Programs (2014-2017); Director of the Comparative Urban Studies Program/Urban Sustainability Laboratory (1992-2017); Director of the Kennan Institute for Advanced Russian Studies (1989-2012) and Director of the Program on Global Sustainability and Resilience (2012-2014)
Read More