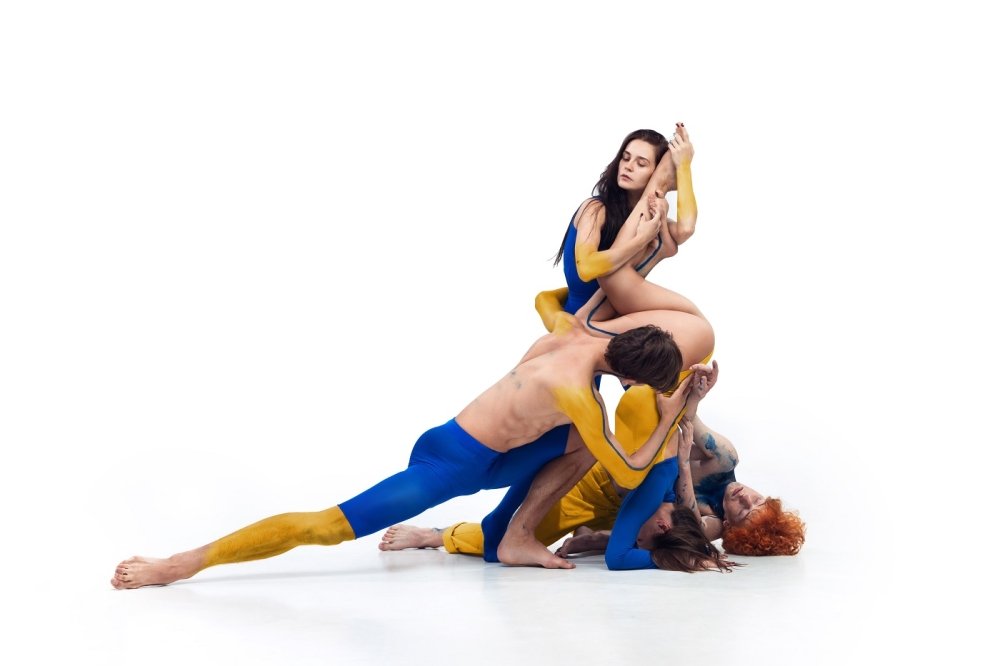 In early 2022, 30-year-old ballet dancer Olesya Vorontniuk was approaching the peak of her career, having performed with the National Ballet of Ukraine for several years. She had danced in Japan and elsewhere, becoming particularly known for her performances in productions of Bolero. Despite her artistic success, however, Vorontniuk's personal life had been difficult. A native of eastern Ukraine, she witnessed war break out over Donetsk in 2014. Five years later, her husband was killed as his unit sought to push back occupation forces. Vorontniuk knew then that she would take up arms, were the Russians to launch a full-fledged invasion.
After February 24, she did indeed take off her pointe shoes and picked up a machine gun. As she told The Economist, "I could shoot. This is my hobby." Vorontniuk joined the military reserve and took up duty at roadblocks. She evacuated civilians, eventually joining in the successful defense of Kyiv during the war's opening months. Her experiences at the front convinced Vorontniuk that ballet and military service had some similarities. "Ballet teaches discipline. It hardens the spirit and develops tolerance for pain. Pointe shoes are tight; it hurts to stand on tiptoe," says the ballerina. "Your feet are covered in blood. But despite this, you learn to dance."
Vorontniuk returned to dancing when active hostilities stopped around the capital, though she remained on call and volunteered to help those in need. Wanting to bring her ballet life and military experiences together in defending Ukraine, she and a handful of other dancers from the National Ballet turned to media to make a statement about the power of dance. In late June, as Ukraine's Constitution Day approached, Vorontniuk organized a brief performance titled "Ukrainian Ballet Says Stop to Russian Bullets." Choreographed by Valery Kovtun and set to the music of Kostiantyn Dankevych's ballet Lileya/Lily, the piece was filmed for YouTube.
The music carries special meaning for the Ukrainian ballet community. Dankevych graduated from the Odesa Conservatory in 1929 and held several positions prior to the WWII, including as the director of Songs and Dance for the Red Army Choir in Tbilisi. He wrote his first symphony in 1937 and, two years later, composed the score for Lileya. He moved to the Kyiv Conservatory at the end of the Second World War where he wrote several historical operas, including Bohdan Khmelnytsky (1951) and Nazar Stodolya (1960). He died in 1984.
Kovtun is well known in Ukrainian dance circles. Valery has danced with the National Ballet of Ukraine over the past several years. He is perhaps best known for his well-received new choreography of Swan Lake, which is now used by the Ukrainian National Ballet. The music and choreography in Vorontniuk's piece thus represent distinctly Ukrainian contributions to dance.
Vorontniuk's "Ukrainian Ballet Says Stop to Russian Bullets" lasts only two minutes on YouTube. For the first minute, four ballerinas dance a scene from Lileya in a field of flowers overlooking a broad river, under a blue sky and the superimposed words, "Ukrainian culture has a very long history." Then, jarringly, the dancers continue the number for the second minute in the charred ruins of the Irpin House of Culture.
The Kyiv suburb of Irpin—just a half-hour drive from downtown—was occupied by Russian troops. The city was in ruins by the time Ukrainian forces returned to the city, and its destroyed House of Culture has become a symbol of Russian viciousness. In posting the video on Facebook, Vorontniuk wrote:
"I want to draw people's attention to ballet and show that although ballet is a silent art, we are also citizens of Ukraine. The title 'Ukrainian Ballet Says Stop to Russian Bullets' came to my mind. I am very grateful to the women from my life and shared dressing rooms, as they have taken such a patriotic position.…The cultural front is also very important because Russia provides a cultural war against us; Russia is also at war with us through ballet. We are all heroes, we are all united for victory, and everyone does what they can and knows how to do."
Ukrainian performing artists, from painters to symphony musicians, from ballerinas to playwrights, have taken up arms to defend their country. Simultaneously, they have turned to their creative skills and imagination to make powerful statements about Ukraine's culture that has—and will—survive. Like Vorontniuk, they never expected to be called upon to fight in a war. Having been asked to do so, they have responded with arms and art.
The opinions expressed in this article are those solely of the author and do not reflect the views of the Kennan Institute.
See our newest content first.
Subscribe to receive the latest analysis from Focus Ukraine.
About the Author
Blair A. Ruble
Distinguished Fellow;
Former Wilson Center Vice President for Programs (2014-2017); Director of the Comparative Urban Studies Program/Urban Sustainability Laboratory (1992-2017); Director of the Kennan Institute for Advanced Russian Studies (1989-2012) and Director of the Program on Global Sustainability and Resilience (2012-2014)
Read More
---
Kennan Institute
The Kennan Institute is the premier U.S. center for advanced research on Russia and Eurasia and the oldest and largest regional program at the Woodrow Wilson International Center for Scholars. The Kennan Institute is committed to improving American understanding of Russia, Ukraine, Central Asia, the Caucasus, and the surrounding region though research and exchange. Read more