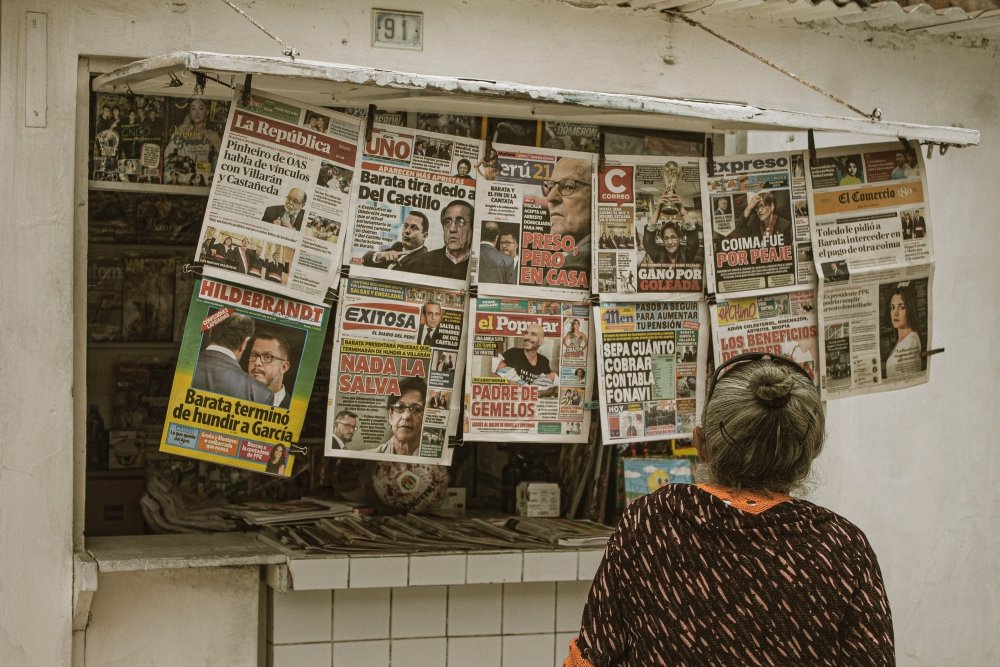 Breaking News
Latin America's health care system was not the only sector critical to pandemic response and unprepared for the pandemic's burdens. The region's news media was also poorly equipped to respond to the most important public health and economic story in decades.
Prior to COVID-19, the rise of digital media led to hemorrhaging market share for traditional news outlets such as newspapers and TV and radio programs. The situation was particularly acute in Latin America. Since 2017, print readership had fallen by 22 percent in Argentina and Chile, and 25 percent in Mexico, according to the latest Reuters Institute Digital News Report. In Brazil, readership is half the level in 2013. Trust in the region's media companies was also vanishing.
COVID-19 accelerated this crisis, resulting in widespread layoffs and salary cuts. Since the start of the pandemic, news media layoffs have been recorded in Chile, Colombia, Ecuador, Guatemala, Honduras, Mexico, Panama, Paraguay, Peru and Uruguay. In Brazil, journalists have seen substantial pay cuts, and news organizations in Argentina have petitioned for a government bailout. In Bolivia, Colombia and Mexico, several newspapers halted their print editions to cut costs.
In response, most governments have not lifted a finger to help. Rather, despite the critical role of the news media in covering the pandemic's public health, economic and political impacts, scrutinizing government emergency measures and sniffing out public corruption, many Latin American governments are taking advantage of the crisis to crack down on the press. El Salvador's president, Nayib Bukele, has earned international opprobrium for his mistreatment of the news media. But in general, the travails of the Latin American press are overshadowed by the deadly virus and its economic curse.
Bad Old Days
In the not-so-distant past, press freedom in Latin America was rare, with authoritarian or populist governments keeping the news media on a short leash. Only since the last wave of democratization, beginning in the early 1980s, did conditions meaningfully improve for journalism in the region. Today, political polarization and the fog of a pandemic are masking a return to crude censorship.
In the region's dictatorships, the pandemic has worsened already perilous conditions for reporters. Nicaraguan journalists have denounced over 300 attacks on press freedom, including threats of violence. Daniel Ortega successfully promoted legislation to require many media outlets to register as "foreign agents," and he seized the assets of a prominent, independent broadcaster. Nicaragua's legislature also approved a controversial cybercrimes law imposing prison time for circulating false or alarming information online. In Venezuela, the government's hostility to independent news organizations is notorious, and censorship has increased in recent years. In 2019, there were 235 incidents involving threats of violence against journalists. Since the start of the pandemic, the security services have detained at least 25 journalists for questioning the regime's disinformation about COVID-19.
But even in countries with strong, independent media, there are threats to journalism.
This is particularly true in Mexico and Brazil, the region's largest democracies. President Andrés Manuel López Obrador of Mexico uses his lengthy, daily press conference, known as "La Mañanera," to berate journalists and media companies. He has accused prominent outlets of overly negative coverage, and suggested political bias. He has done little to protect his country's journalists from violence. Four have been killed this year, and Mexico is among the most dangerous countries for reporters, according to the Committee to Protect Journalists. President Jair Bolsonaro of Brazil has also adopted a combative posture towards the press, at one point threating physical violence against a journalist who asked about corruption investigations involving the president's family.
Old Wounds
In Argentina, violence against journalists is uncommon, but the news media is on edge. Earlier this year, the security ministry announced the creation of a cyber patrol supposedly to monitor misinformation and disinformation related to the pandemic. That earned a warning from the director of Amnesty International's Argentina chapter, Mariela Belski, who said, "we cannot let the COVID-19 pandemic serve as an excuse for massive, indiscriminate surveillance." Recently, the Public Defender's Office launched Nodio, a state-operated "observatory for disinformation and symbolic violence in media and digital platforms." Both the Argentine journalists' union and the Inter-American Press Association criticized the program for threatening freedom of expression.
Critics are waiting for the other shoe to drop.
The vice president, Cristina Fernández de Kirchner, waged a bitter campaign against Clarín, the country's largest media conglomerate, during her presidency. In 2009, she pushed through congress a controversial media law designed to break up Clarín and increase oversight over the news media. Her successor, former President Mauricio Macri, rescinded the law, but the return of Peronism to power rekindled tensions between the government and the press. Recently, President Alberto Fernández signed an executive order to expand state regulation of telecommunications firms, including Clarín. Proposed judicial reforms initially included a worrying clause addressing communications between judges and reporters.
The country's worsening economic crisis makes matters worse. So far, journalists have largely been spared pink slips; their employers are participating in the government's job subsidy program, and they are protected by an executive order prohibiting layoffs. Still, the country's news companies, especially its newspapers, are suffering, as print circulation and advertising earnings fall, and publishers turn to digital subscription models to staunch the bleeding.
Perfect Storm
In coronavirus-plagued Latin America, reporters have never been more important. But their lives, livelihoods and liberties are increasingly imperiled. As Dagmar Thiel, of Fundamedios, explained, "Journalists have become fact checkers of misinformation, fending off insults, physical assaults, online smear campaigns, frivolous lawsuits and, of course, the deadly virus."
About the Author
---
Latin American Program
The Wilson Center's prestigious Latin American Program provides non-partisan expertise to a broad community of decision makers in the United States and Latin America on critical policy issues facing the Hemisphere. The Program provides insightful and actionable research for policymakers, private sector leaders, journalists, and public intellectuals in the United States and Latin America. To bridge the gap between scholarship and policy action, it fosters new inquiry, sponsors high-level public and private meetings among multiple stakeholders, and explores policy options to improve outcomes for citizens throughout the Americas. Drawing on the Wilson Center's strength as the nation's key non-partisan policy forum, the Program serves as a trusted source of analysis and a vital point of contact between the worlds of scholarship and action. Read more
Argentina Project
The Argentina Project is the premier institution for policy-relevant research on politics and economics in Argentina.  Read more