Bulgarian Medical Units in North Korea, 1952-1957
Bulgaria sent medical personnel to North Korea during and after the war, helping to establish hospitals and care for wounded soldiers and civilians. Jordan Baev draws on photographs and textual records to illuminate this chapter of the Korean War.
The Korean War reverberated far beyond the East Asian region from the very beginning, as it became a global military conflict at a time of bitter bi-polar confrontation between the two dominant political systems in the world. Bulgaria's involvement stands out as a prominent example of the war's global reach.
Bulgaria – unlike some other European countries – did not get directly involved in military activity during the war. It did not provide troops or military aid to the Democratic People's Republic of Korea. But the leadership in Sofia (and in other East European capitals) did lend enormous political and humanitarian assistance to its socialist allies fighting on the Korean Peninsula – some of the details of which are sketched out below.
The details of such wartime assistance are now coming to light, thanks to a joint academic project organized between universities in Sofia and Seoul to mine the Bulgarian political, military and diplomatic archives for any documentary evidence on North and South Korea. The project resulted in a trilingual archival reference book, available in Korean, English and Bulgarian, among many other publications that should be a boon to studies of the two Koreas and the Cold War. A selection of the documents were also published in English translation on DigitalArchive.org.
As I have previously written, the newly available Bulgarian archives allow for a reexamination of the policies and attitudes of this small Balkan country toward the first global conflict in the postwar era. Such sources also enable us to trace the war's effect on Bulgarian society. We can now revisit and study Bulgaria's political propaganda during the war, the participation of three Bulgarian military medical teams in establishing six hospitals in North Korea, and Sofia's accommodation of more than 500 orphaned Korean children and 250 Korean students during and after the war.
Here, however, I will focus only on the records surrounding the Bulgarian medical missions and their achievements during the Korean War.
Establishing the Bulgarian Medical Mission
On 22 February 1951, the Bulgarian government announced that it would send free equipment and drugs for a surgery hospital with 250 beds (valued at 80 million BGN) to North Korea. Shortly thereafter, the Bulgarian government also decided that it would send a 50 person medical mission to North Korea, far exceeding the size of other Eastern European medical teams.[i] The Bulgarian medical brigade initially planned to stay in Korea for less than a year, but it ultimately stayed for through April 1954.
Dr. Konstantin Michev, who served as a head of a surgery hospital in the International Brigades during the Spanish Civil War (initially as a head of surgery hospital in Murcia in 1937, and then as a head of division at Asistencia Medica Extranjera in Barcelona until February 1939), was appointed to head the team. Two of the military physicians had previous armed experience during the Greek Civil War (1946-1949), while some others had fought as guerillas against the pro-Nazi Bulgarian government in the Second World War.
In September 1951, the North Korean government asked Sofia to send a medical team to help establish a 2,000 bed hospital. On 1 March 1952, the Bulgarian medical team – composed of 47 persons, of which 27 were military and civilian qualified doctors – departed from Sofia and travelled through Romania, the Soviet Union, and China to reach the DPRK. The Bulgarian brigade arrived on Korean territory on 21 March 1952.
Bulgarian Hospitals
During their stay in Korea, the Bulgarian medical unit was subordinate to the General Medical Administration of the Korean People's Army. They were allocated to three military hospitals with more than 5,000 beds in total.
Hospital No. 51 had 1,000 beds and was located in Pakcheon [Pakchon], while Hospital No. 55, with 2,000 beds, was established in May 1952 in Sukcheon [Sukchon]. Due to intensive air bombardments in June 1952, Hospital No. 55 moved approximately 100 km away to the suburbs of Guseong [Kusong].
The largest medical base, established by the Bulgarian medical brigade in April 1952, was military Hospital No. 53 with 2,500 beds. It included eleven medical divisions, five of them surgery units. Initially Hospital No. 53 was located in Jeongju [Chongju], but in January 1953 it moved in the North at Daegwan [Taegwan]. Hospital No. 51 was moved also in the North to the Chinese-Korean border at the city of Sinuiju.
Due to heavy bombings and the scale destruction caused by the war, the medical brigade often had to work with the North Korean Medical Administration to hastily construct temporary ambuscades and to improvise dugouts for the new medical bases, including for surgical wards.
During the Korean War, more than 25,000 Korean troops and a significant number of civilians received medical treatment from the Bulgarian medics. From January 1953 on, Bulgarian personnel also offered medical care for many wounded Chinese "volunteer" soldiers and, from July 1953, for 3,000 returned North Korean POWs. After the signing of the armistice in July 1953, about 90,000 citizens were hospitalized under the care of the Bulgarian physicians in Sinuiju over the next year.[ii]
The first Bulgarian medical team also organized two research and practical conferences in August 1952 and in August 1953 to share their new experiences with Korean medical professionals. They also convened several professional courses for Korean nurses.
The achievements of the Bulgarian medical mission went hand-in-hand with sacrifices. On 27 March 1953, as a result of the intensive air bombardment at Kusong, the chief of a surgery division at Hospital No. 55, Dr. Zahari Donchev, was killed.
Post-War Medical Assistance
In April 1954, the second Bulgarian medical brigade arrived in North Korea. It was headed by Prof. Dr. Gerasim Mitrov, who was later elected a Corresponding Member of the Bulgarian Academy of Sciences, the director of the Institute of Cancer Research at the Bulgarian Medical Academy, Deputy Minister of Health, and member of the Executive Board of UNICEF.
The second team consisted of 47 personnel, including 27 physicians. They served in military hospitals No. 31 in Sinuiju and No. 32 in Ganggye [Kanggue], which had 2,000 beds. Later on, a civilian therapeutic hospital was established in Sinuiju with support from the Bulgarian medics. The Bulgarian medics also organized courses for Korean pharmacists, nurses, and medical assistants, and offered advice on hospital organization and management.
The Second Bulgarian medical brigade stayed in North Korea until March 1956. From May 1956 till May 1957, a smaller medical surgery mission, led by Dr. Dimitar Marinov, served also at the hospital in Siniju.[iii]
In 1955, a second Bulgarian physician, Dr. Yordan Karmakov, was killed in a car accident in Sinuiju.
Some interesting data about the everyday life of the members of the brigade and their contacts with the local population in North Korea is offered in the reports that they regularly submitted to the International Department of the Central Committee of the Bulgarian Communist Party in Sofia each month.[iv]
Love in the midst of War
The Bulgarian medical mission to North Korea was not without its problems. In fact, the newly available archival documentation shows several instances of internal disputes and personal clashes among the Bulgarian medics.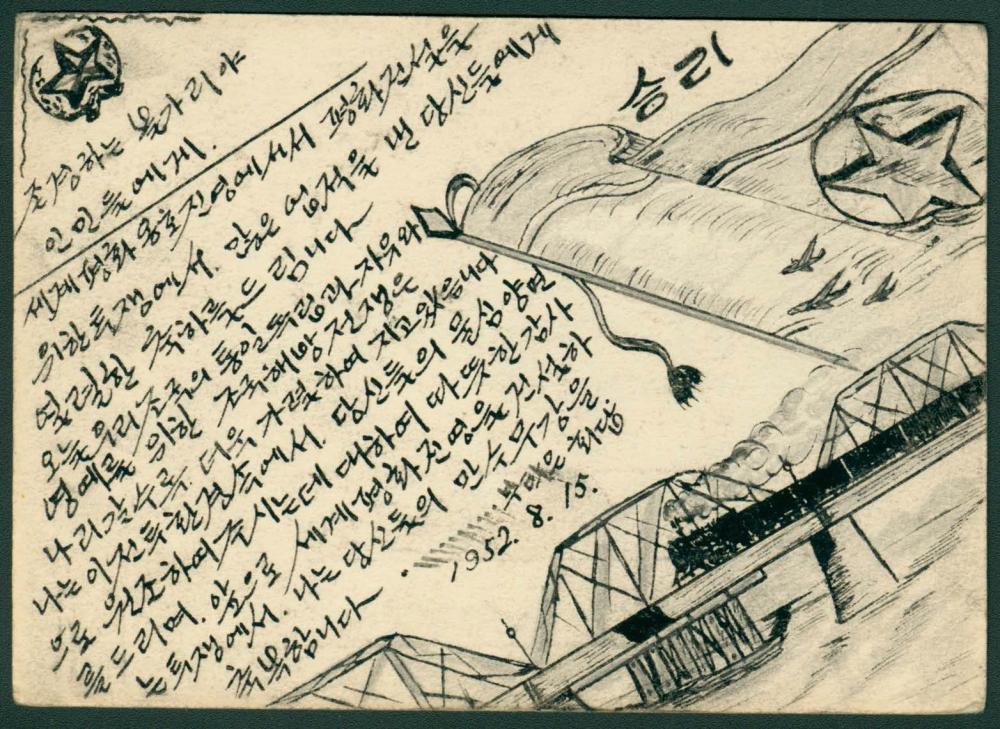 In one case, a physician named Dr. Georgi Balchev, sent a letter to the Communist leadership and the Ministry of National Defense in Sofia to denounce the head of the brigade, Dr. Konstantin Michev and some other leading personnel, for their "liberalism" and lack of management skills. One of the "incriminations" was for "demoralization and depravity," citing the case of an affair between one of the deputy commanders of the brigade, Col. Yordan Kosashki, and a Korean nurse named Lt. Zhi Un Gun.
According to the letter, that particular case had been discussed even by the Politburo of the Central Committee of the Korean Workers' Party. The Prime Minister and Secretary General of Bulgarian Communist Party, Valko Chervenkov, issued a resolution that requested for a careful investigation. After talks with the members of the brigade, the Bulgarian ambassador in Beijing and Pyongyang Yanko Petkov rejected the denunciations, which were further categorically rebutted with many detailed arguments by the head of the brigade, Dr. Konstantin Michev. [v]
In September 1953, the North Korean government gave its approval for Lt. Zhi Un Gun to marry Col. Kosashki and to depart for Bulgaria. Over the next decades, she served as a nurse in a prestigious hospital in Sofia, while her husband became Associate Professor and a chair of department at "Rakovski" National Defense and Staff College.
Regretfully, the authorities in Pyongyang never allowed Zhi Un Gun to visit her relatives in North Korea again. She passed away in 2012.
Wartime Legacies
The wartime experiences of the medical mission were carefully studied – and, to a certain degree, contested – later on in Bulgaria.
In May 1955, a large academic military medical conference was organized in Sofia with 27 papers on different medical cases from the war and new methods of surgery operations, including the protection and treatment following napalm attacks.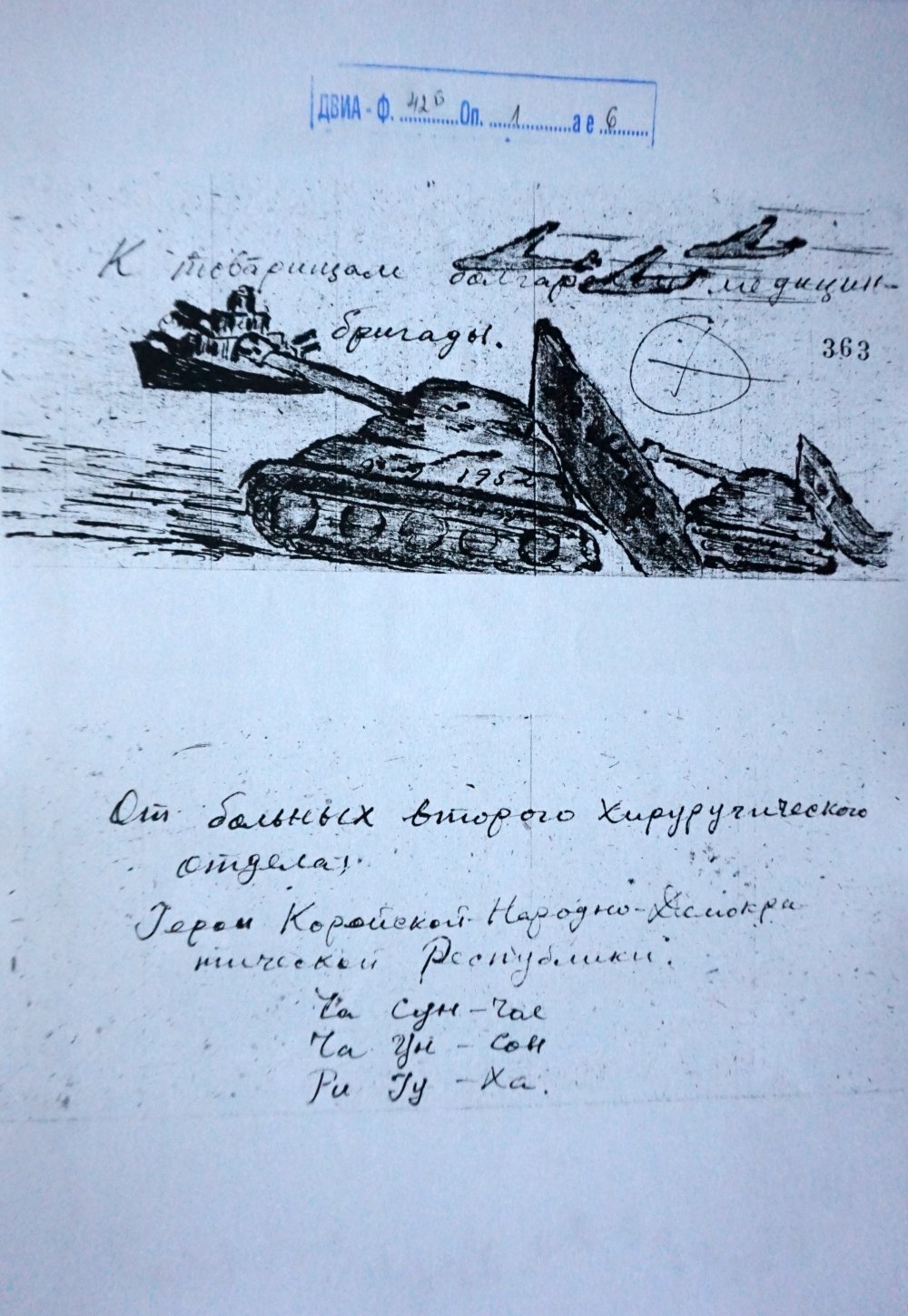 During their stay in North Korea, the Bulgarian physicians and pharmacists studied traditional Korean medicine. In a few reports given at the military medical conference, they described the use of 36 herbal medicines, which they had created with 16 different kinds of local Korean herbs.[vi]
After their mission in Korea, many of the members of the first Bulgarian medical brigade had very successful professional career as respected medics. Fourteen of them became full professors and seven became associate professors, while two of the military medics received the rank of Major-General (Dr. Ivan Kopchev and Dr. Stoyan Filipov) and 12 received the rank of medical colonel.
More than ten of the physicians were elected as deans and heads of medical departments over the next two decades. Two were even appointed as rectors of regional medical universities. Five of them were announced as national consultants in surgery, orthopedics, neurology, and ophthalmology.
Although over the next several decades, Bulgaria did not participate in any United Nations led peacekeeping missions, it did send several more medical missions to various Third World conflict zones. The experiences of the Korean War shaped Bulgaria's approach to these conflicts. In 1956, Dr. Dimitar Arnaudov departed again to Asia along with the first Bulgarian medical brigade dispatched to North Vietnam. The former deputy-commandant in North Korea, Col. Dr. Ivan Kopchev, led the first Bulgarian medical military team in Algeria in 1962-1963.
One of the major sticking points, however, was the question of whether the Bulgarian medical mission was military or humanitarian in nature.
The official documentary evidences clearly indicated that the first medical teams in North Korea were sent under the auspices of the Bulgarian Red Cross and publicly announced as humanitarian mission, despite of the fact that some of the personnel were military physicians, selected through the Ministry of National Defense.
However, 35 years later, when some of the participants of the first brigade requested an official acknowledgement of their service, they insisted that they be officially recognized as war veterans. The participants argued that their medical mission was accomplished under constant air bombardment and close proximity to numerous battles. [vii]
---
[i]TsDA, Fond 1-B, Opis 6, a.e. 1257, 2.
[ii]TsDA, Fond 1-B, Opis 91, a.e. 371, 5.
[iii]TsDA, Fond 1477, Opis 27, a.e. 1689, 12-13, 19.
[iv]TsDA, Fond 1-B, Opis 32, a.e. 412, 413, 414, 483, 484, 582.
[v]TsDA, Fond 1-B, Opis 6, a.e. 1680, 1699; Opis 24, a.e. 134.
[vi]TsDA, Fond 1-B, Opis 91, a.e. 371, 3-36; DVIA), Fond 42-O, Opis 7, a.e. 22, 22-25; Общоармейска научно-медицинска конференция 1955 [Scientific Military Medical Conference 1955], (Sofia: Military Publishing House, 1956).
[vii]TsDA, Fond 1-B, Opis 71, a.e. 3169; DVIA, Fond CP 84, a.e. 294, 302. When the issue raised in 1986-1988, 40 of all 58 participants in the first medical brigade were still alive.
About the Author
Jordan Baev
Professor of Contemporary International History at 'Rakovski' National Defense College in Sofia and Coordinator of Bulgarian Cold War Research Group
Read More
---