Dr. Corruption
Latin America is the epicenter of COVID-19, accounting for more than a quarter of global cases despite being home to less than 10 percent of the world's population. Of the ten countries worldwide with the highest number of COVID-19 cases, five are in Latin America: Brazil, Colombia, Argentina, Peru and Mexico. Peru, Brazil and Ecuador have the highest conoravirus mortality rates in the world.
This public health crisis has exposed the fragility of Latin America's healthcare systems. In particular, health inequality and inadequate healthcare investment are persistent problems whose impacts have been thrown into sharp relief. On average, Latin American governments invest only 3.7 percent of GDP on public health, far below the 6 percent target recommended by the Pan American Health Organization. As a result, prior to COVID-19, Latin American health systems had prominent shortcomings. For example, Latin America had comparatively high rates of ICU mortality – 18 percent greater than in high-income countries – and low nurse-to-patient ratios.
In normal times, these challenges are complicated by high levels of corruption in the region's healthcare sector, as scarce resources leak out of public health institutions. It's far worse now. Health care systems drowning in COVID-19 cases need every dollar available, but experts say leakage is accelerating. "In times of an emergency," expert Daniel Sabet said during a recent Wilson Center seminar, "there is a tension between integrity systems and efficiency," and governments often choose to relax anti-corruption controls.
Corruption isn't only a problem in Latin America. Roughly 35 percent of people in OECD countries say there is corruption in the healthcare sector, and wasteful spending and fraud are commonplace. The European Union, for example, suffers roughly $66 billion in losses due to corruption annually. Globally, Transparency International estimates healthcare corruption alone costs upwards of $500 billion a year. Provisioning for the healthcare sector is a corruption petri dish, as large sums of money are controlled by a small universe of individuals and businesses with privileged access to information and little oversight.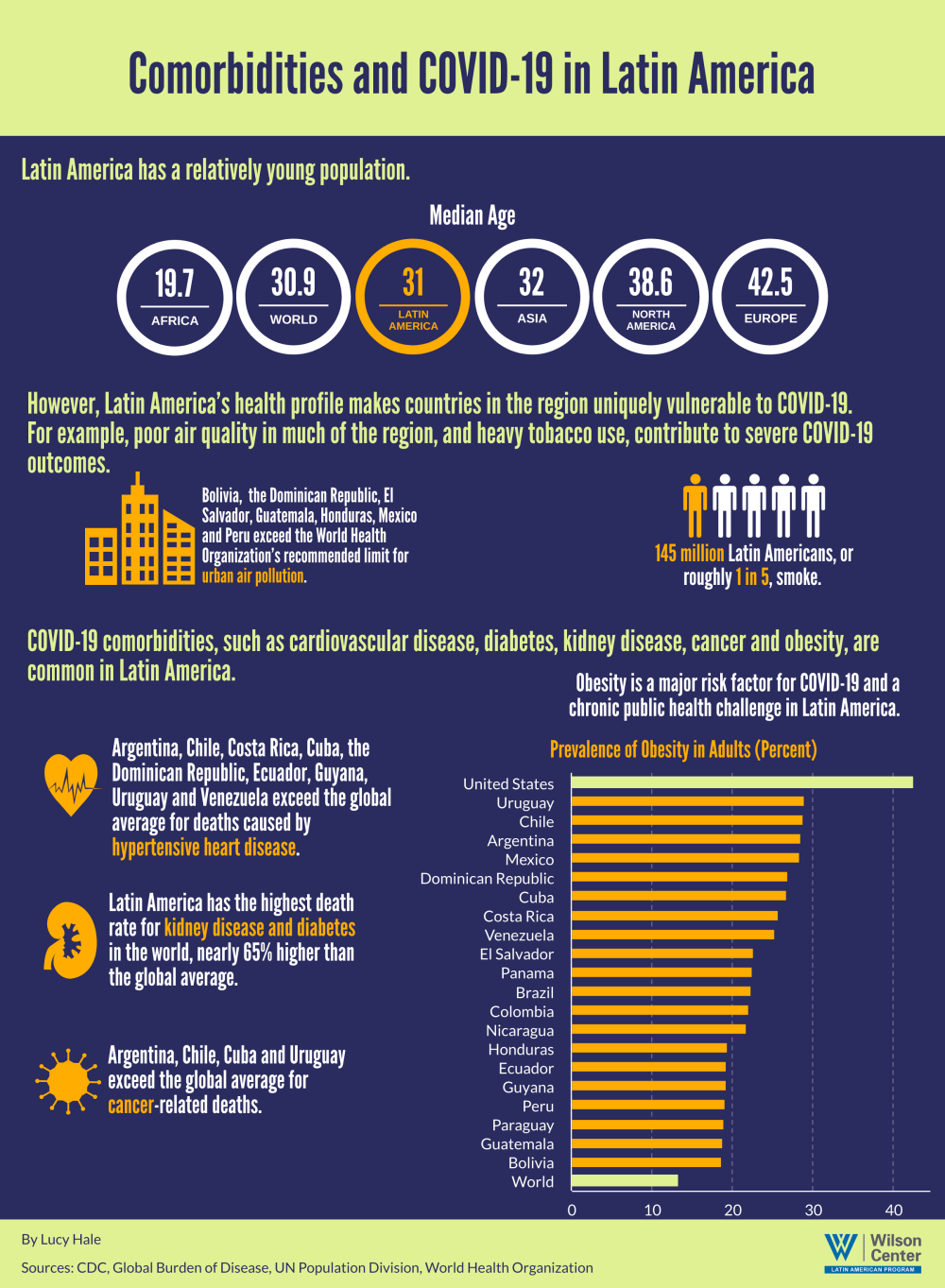 In Latin America, where corruption is rampant, public health institutions are particularly vulnerable. Indeed, before COVID-19 made landfall in the Americas, Latin America was experiencing a downturn in state capacity to combat corruption. Even governments seemingly committed to combating corruption were struggling, while others, such as Guatemala and Honduras, were jettisoning international anti-corruption agencies. In Transparency International's most recent Corruption Perceptions Index, the region failed to improve for the fourth year in a row, dragged down by growing problems in Chile, Mexico and Nicaragua.
Latin America's healthcare agencies experienced a range of pre-pandemic high-profile healthcare scandals. Now, the explosive demands for medical care resulting from COVID-19 have created vast new opportunities for graft. Since the start of the pandemic, over a dozen countries have registered irregularities in pandemic relief contracts.
Allegations across the region tend to center on the overpriced purchase of medical equipment. Peru has opened the most investigations into public contracting (869), followed by Brazil (410) and Colombia (313). Several governors are under investigation for suspicious expenditures in Brazil and Colombia, and two deputy health ministers in Guatemala and the Bolivian health minister are also under investigation. Some of the more egregious examples of corruption include the $2 million, IDB-funded purchase of faulty ventilators by the Bolivian government at twice the market price, and the sale of $15 body bags for $150 apiece in Ecuador.
The consequences of healthcare corruption are deadly serious, depriving Latin Americans of adequate medical equipment and care, compounding the challenges from unequal access to healthcare and undermining efforts to address non-coronavirus health concerns, such as the seasonal flu and dengue. As governments speed up their healthcare spending to address a worsening crisis, the level of corruption appears to be rapidly worsening.
About the Author
---
Argentina Project
The Argentina Project is the premier institution for policy-relevant research on politics and economics in Argentina.  Read more
Latin American Program
The Wilson Center's prestigious Latin American Program provides non-partisan expertise to a broad community of decision makers in the United States and Latin America on critical policy issues facing the Hemisphere. The Program provides insightful and actionable research for policymakers, private sector leaders, journalists, and public intellectuals in the United States and Latin America. To bridge the gap between scholarship and policy action, it fosters new inquiry, sponsors high-level public and private meetings among multiple stakeholders, and explores policy options to improve outcomes for citizens throughout the Americas. Drawing on the Wilson Center's strength as the nation's key non-partisan forum, the Program serves as a trusted source of analysis and a vital point of contact between the worlds of scholarship and action. Read more