Event Summary | Lessons from Europe: Deployment of Artificial Intelligence in the Public Sphere
The application of AI has been largely a private sector phenomenon. The public sector has advanced regulatory questions, especially in Europe, but struggled to find its own role in how to use AI to improve society and well-being of its citizens.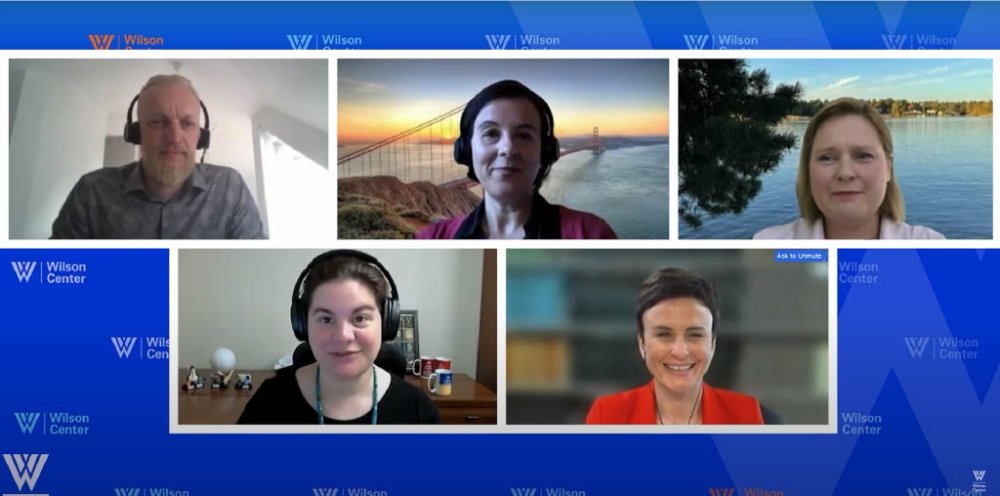 "We should be seeing artificial intelligence as a normalized and natural part of public life," said Charlotta Collén, the Director of the Hanken School of Economics in Finland, during the Wilson Center's recent virtual event on deploying artificial intelligence in the public sector, co-hosted by the Science and Technology Innovation Program, Global Europe Program, History and Public Policy Program, Kennan Institute and Environmental Change and Security Program. As AI is on track to revolutionize many pre-existing societal infrastructures, a panel of European AI experts discussed how governmental trust and AI literacy will play key roles in building future AI programs for the public.
Wide Range of AI Applications in Public Sector
Although AI development has been previously concentrated in the private sectors, researchers and policymakers believe AI has notable potential in public sector applications. "Many public sectors, in most countries, are fighting with inefficiency and red tape. And some of these problems can be alleviated by AI," said Collén. In  Finland, AI has already been integrated into numerous governmental services. For instance, the Finnish annual tax report "is sent to every citizen pre-filled through an AI process of data collection from different authorities," said Collén. This highlights one of the many ways that AI can be used to increase governmental efficiency and bring convenience to the public at the same time.
In addition to pre-filing tax forms, Finland also has several robust examples of how AI can be used to support cross-sector collaboration and address key policy reform. Aleksi Kopponen, Special Advisor of Digitalization at the Ministry of Finance in Finland, discussed the Finnish national AIartificial intelligence program, AuoraAI, that offers citizens personalized services after major life events such as child birth or family death. "In this life event approach, we try to figure out cross-sectoral collaboration where investments goes through these alliances straight to these life events, and different organizations need to collaborate for the benefit of the people," said Kopponen. Given the complexity of the life event model, it will be almost impossible to execute without the power of AI.
Beyond administrative support, however, AI is also being used in Finland to address climate change through simulation. In order to support a sustainable transformation, "we have to address big systemic changes, where of course artificial intelligence can well help" said Laura Ruotsalainen, the Associate Professor of Spatiotemporal Data Analysis for Sustainability Science at the University of Helsinki. Specifically, Ruotsalainen's team is using AI to simulate future traffic situations in hopes of decreasing carbon dioxide emission from transportation. Ruotsalainen is fascinated by AI's ability to "simulate different systemic changes without intervening with humans and the environment," which helps researchers like herself to better understand the effects of different plans and implementations.
Government and AI: Privacy and Trust
"The cornerstones in a society that is employing AI for the good of people is trust and good governance," said Collén. Citizens need to know that the governments are handling and using their data in responsible ways, and Kopponen believes "transparency is the only way." For instance in AuroraAI, Kopponen stressed the importance of having open communication channels and ethical groups to help keep the government and the project accountable.
Almost all public sector AI models will use a substantial amount of sensitive and private information from individuals, and "the main concern for citizens is threat for their privacy and human rights," said Nataliya Shok, a Professor at Privolzhsky Research Medical University. Under the current AI geopolitical landscape, Shok voiced concerns about the global AI rivalry which can decrease public trust in science and technology. "When states compete, they want to win, not to be trusted," said Shok. She believes states "need to align national security needs to public policy needs in terms of maintaining sustainable trust development to new emerging technologies."
And the alignment of national security and public policy needs is not just a pipedream. Both Ruotsalainen and Kopponen's projects were made possible through collaborations with the Finnish government and access to their data. And both projects were able to leave a positive social impact while helping Finland develop advanced AI systems. Moreover, such projects also help cultivate better data stewardship for the state since they give the government a larger "incentive to take care of data," said Kopponen.
What's Next? AI Education and Literacy
Looking into the future, all four panelists agreed that citizens need to better understand AI and become more involved in the design process of public sector AI. "There is an urgent need to think of democratic processes and the ways in which we can engage citizens and people into these AI processes so that we all feel safe in this space," said Collén.
"Without clearly determined societal or citizen agency, and increased thoughtful citizen involvement, AI trust will be highly unlikely," said Shok. Individuals need to better understand what private information is given to the government, how it is being used, and what it is being used for in order to trust and not be afraid of AI.
At the University of Helsinki, Ruotsalainen and her colleagues have already launched AI related courses to address the AI literacy issue that is generally seen as a roadblock to AI development. Additionally, Ruotsalainen pointed out that misleading public communication can also contribute to fear and distrust of AI. "In the Finnish media, you very often see news about how AI is doing something," said Ruotsalainen. She believes it's crucial to communicate to the public that AI is not an independent entity, and people have full control of what it does and how it does it.
Coming from very different experiences, the panelists all shared a very hopeful sentiment for AI development in the public sphere best summarized by Collén: "I urge countries around the world to think of technology as a force for good, as a force for a better society that is more equitable, and we're seeing this as worth harnessing."
---
Science and Technology Innovation Program
The Science and Technology Innovation Program (STIP) brings foresight to the frontier. Our experts explore emerging technologies through vital conversations, making science policy accessible to everyone. Read more