Gang Rule, Gang Killings in Haiti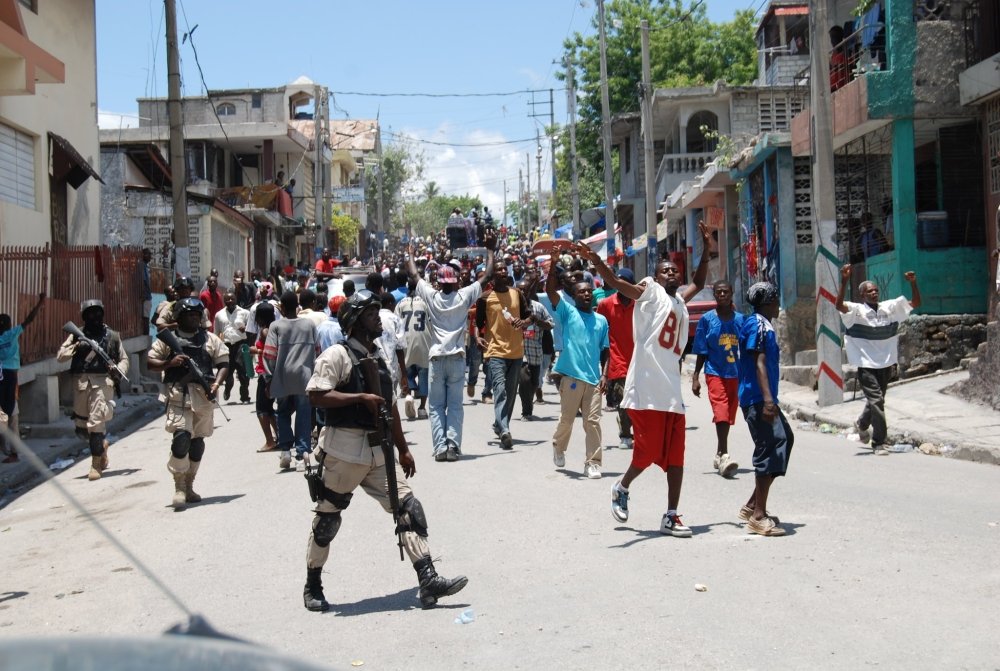 More than 530 Haitians were killed in gang-led violence in the first quarter of this year.
Haiti's capital, Port-au-Prince, is only 700 miles from Miami, Florida; shore to shore, Florida to Haiti, it's even closer. It is bordered by a middle-income country, the Dominican Republic. And yet it's not only the poorest country in the Americas, it's the most violent.
Gang violence in Haiti isn't new. When I visited the country as USAID Administrator, I was struck by how every movement in Port-au-Prince was shaped by concerns about insecurity. In 2018, for example, when I visited a school and orphanage not far from the capital, I traveled there not by car, but by helicopter.
But since the assassination of former President Jovenel Moïse in 2021, things have gotten much, much worse.  This year, according to United Nations statistics, more than 530 people have been killed, 300 injured, and 277 kidnapped in gang-related incidents in Haiti—just through the end of March. What's more, 90 percent of metropolitan Port-au-Prince is estimated to be under gang control.
According to UN spokeswoman Marta Hurtado, "Clashes between gangs are becoming more violent and more frequent, as they try to expand their territorial control throughout the capital and other regions by targeting people living in areas controlled by rivals." According to Ulrika Richardson, the UN Resident Coordinator for Haiti, "What we also observe with the gangs, and which we're paying particular attention to, is the use of children as part of their operations. The use of children as well as the use of tactics like gang rape…."
It's hard for Americans to fully grasp the pain and suffering in streets of Haiti beyond the actual crimes. Pervasive gang-led violence inflicts a sense of gloom and hopelessness upon families that is felt in few places outside of active war zones. Children can't go to school, workers can't get to jobs, parents can't get to market for food, the sick can't get to the care they need…the list goes on and on. Since last October, gang violence has caused 1 in 4 schools in Haiti to close down.
The violence both interrupts the ability to secure everyday food, and hinders the delivery of food relief and assistance. In October 2022, the World Food Program (WFP) raised Haiti's hunger alert to the highest category, often reserved for wartime famine. According to WFP, 1.8 million Haitians "face emergency levels of hunger" and 4.9 million are in "acute hunger." The recently released 2023 Humanitarian Response Plan has reported that 60 percent of the Haitian population are in "urgent need" of assistance. 
The effects are also felt in the country's health sector. While in February 2022 Haiti was declared cholera free, less than one year later the waterborne illness has re-emerged as a serious threat. As of January 2023, there are reports of more than 20,000 cases of cholera, with nearly 80 percent of those patients requiring hospitalization. As cholera was re-emerging on the island, an armed gang overtook the country's main Varreux fuel terminal, which forced hospitals to close, and limited the availability of clean water.
All of this is made worse by the acute political and governance crisis haunting the country. Who speaks for Haiti? Who speaks for Haitians? To say it's complicated is an understatement.
Haiti has had no elected head of state since then Haitian President Jovenel Moise's murder in July 2021. The de facto ruler, Prime Minister Ariel Henry, was never officially sworn in because he never received parliamentary approval to act as head of government. Instead, for the last two years, he has been ruling by decree. Haiti has not had a single elected official in power since January in either House of Parliament.
Haiti's constitution requires elections to be held within 120 days of presidential vacancy, which ended in 2021. Prime Minister Henry has pledged to hold elections since taking power in 2021 but has yet to act.
The question of whether the international community should intervene to help Haitian leaders take the streets and neighborhoods back from the gangs has been hotly debated in many circles. After all, Haiti has a long history of being on the receiving end of intervention from outside forces—from colonial days to the present. Many countries are leery of involvement beyond financial and humanitarian assistance. When President Biden was recently asked about military assistance, he replied that it was "not off the table, but that is not in play at the moment."
During Biden's recent trip to Canada, it is believed that the situation in Haiti was discussed by the Biden and Trudeau teams. The US has been encouraging Canada to take the lead on providing support and to lead a multinational armed force in Haiti, but reports suggest that Canada has no intention of playing such a role. Canada's Armed Forces Chief of the Defense Staff, General Wayne Eyre, said that he doubted Canada could pull off such a mission with its commitments in Europe. On the other hand, Canada has announced that it's providing an additional $100 million to support the Haitian National Police, which includes providing armored vehicles. It has also imposed heavy sanctions against Haitian gang leaders, their backers, and elites engaged in fraud. 
Meanwhile, gang violence persists in Haiti, and families continue to suffer. In a country in the middle of the Caribbean, bordering a middle-income neighborhood, and not so far from America's Sunshine State.
This blog was compiled with the assistance of Carlotta Murrin and Caroline Moody.