'A huge Market to Conquer': Q&A with Peter Yu of Flybondi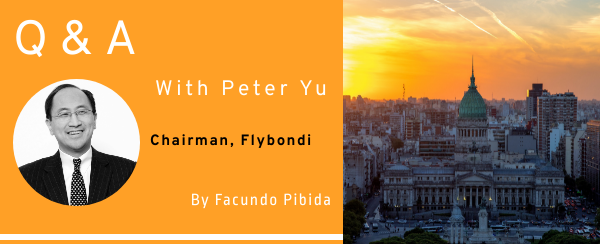 Q: In August 2021, the Argentine government announced the second season of Previaje, a government program to promote domestic tourism by reimbursing 50 percent of travel expenses. The third instalment begins next month. The 2022 summer vacation season broke records, and Flybondi increased the number of passengers it carried by 10 percent compared to the pre-pandemic summer vacation season level. Would that recovery have been possible without Previaje?
A: We are supportive of, and grateful for, all such government initiatives. COVID-19 and the attendant policy responses have strained social relations and mental health globally. With strong vaccination and public health policies in place, we all need to reconnect with friends, visit family, meet with business partners and explore new destinations. This restoration is as essential for the people as it is for the economy of Argentina. And yet, the sector continues to need greater development and support from the state to generate policies of promotion, deregulation and support for private investment.

Q: Flybondi's successful summer was a bright spot in an industry that has suffered over the last few years, beginning before the pandemic upended domestic travel and international tourism in 2020. Under Argentina's previous government, the country's airline sector experienced a renaissance; between 2015 and 2019, the number of passengers carried increased by 38 percent, more than 500,000 people travelled by airplane for the first time and the number of domestic routes expanded from 71 to 104 after virtually no growth over the previous 12 years. Those successes followed the elimination of minimum price caps for tickets, which had favored incumbents, such as the unprofitable state-owned airline Aerolíneas Argentinas. However, Argentina's new president, inaugurated in late 2019, reversed course, taking steps to protect Aerolíneas Argentinas as well as long-distance bus companies that complained that the liberalization of domestic air travel had threatened to put them out of business and leave Argentines with few options to reach cities not serviced by airlines. Is there any way to expand domestic travel options while addressing those concerns?
A: Flybondi's mission is to increase consumer choice: we offer our customers the freedom to fly with low fares and quality service. Today, in Argentina, Flybondi plays an important role in the country's connectivity: it is the second-largest airline, providing services to 17 destinations with affordable fares. The change achieved in the market is structural; Flybondi brought connection to provinces that had only one airline option for more than 18 years. Thanks to this level of acceptance of the low-cost option, Flybondi was able to continue growing and re-energizing the sector, even in unfavorable conditions.
Moreover, Flybondi is the only low-cost airline that connects Argentina and Brazil, two closely related and complementary markets. We believe that more options mean more travel, more development in cities, towns and provinces, more direct and indirect employment generation, and a stronger economy for all Argentines.
Q: The pandemic and the current government's policy reversals – such as the return of minimum fares for domestic flights and the closure of the Palomar Airport in Buenos Aires, a hub for low-cost carriers such as Flybondi – left deep scars in the once-promising low-cost airline sector. Avianca Argentina ceased operations in June 2019, and Norwegian sold its Argentina operations in November 2019. What would it take to regain the confidence of foreign-owned low-cost carriers?
A: We believe that confidence in the business model is backed by results and customer feedback. Flybondi has just reached major milestones: 5 million passengers who chose to fly low cost and a team of more than 1,000 employees. This shows us that consumers win, and businesses thrive, in transparent, consistent and fair policy environments. We still have a lot of room to grow, and we seek to make these conditions happen.
Q: Former President Mauricio Macri called for Aerolíneas Argentinas to be privatized, citing the company's losses of hundreds of millions of dollars every year. His successor, Alberto Fernández, is a champion of the state-owned airline, which saw its reputation improve when it shuttled home Argentines stranded abroad in 2020 by pandemic lockdowns and border closures. What is the future of Aerolíneas Argentinas?
A: This is a complex issue and one where it is very difficult to give a serious opinion without deeply analyzing the case from a commercial, political, practical and financial point of view. But one thing is clear: the Argentine people are not benefitted by either large-scale subsidies of Aerolineas or the large-scale failure of Aerolineas.
Q: Amid persistent uncertainty about the direction of Argentina's low-cost sector, Flybondi announced last December plans to double its fleet, adding five Boeing 737-800s. What explains the company's optimism in a country that has recently frightened away several competing carriers? 
A: We love our guests, and they love us back. Together, we believe in Argentina and that there is still a huge market to conquer. There is great growth potential in tourism generally and in the airline industry specifically, and we want to play a role in that growth. Argentina continues to need greater connectivity throughout its vast territory, where citizens travel much less compared to their Latin American neighbors. Flybondi's main objective is to enable more and more people to fly and enjoy all of Argentina's beauty and wonders.
About the Author
---
Latin American Program
The Wilson Center's prestigious Latin American Program provides non-partisan expertise to a broad community of decision makers in the United States and Latin America on critical policy issues facing the Hemisphere. The Program provides insightful and actionable research for policymakers, private sector leaders, journalists, and public intellectuals in the United States and Latin America. To bridge the gap between scholarship and policy action, it fosters new inquiry, sponsors high-level public and private meetings among multiple stakeholders, and explores policy options to improve outcomes for citizens throughout the Americas. Drawing on the Wilson Center's strength as the nation's key non-partisan forum, the Program serves as a trusted source of analysis and a vital point of contact between the worlds of scholarship and action. Read more