Israel and Russia: An Interview with Maj. Gen. (Res.) Amos Gilead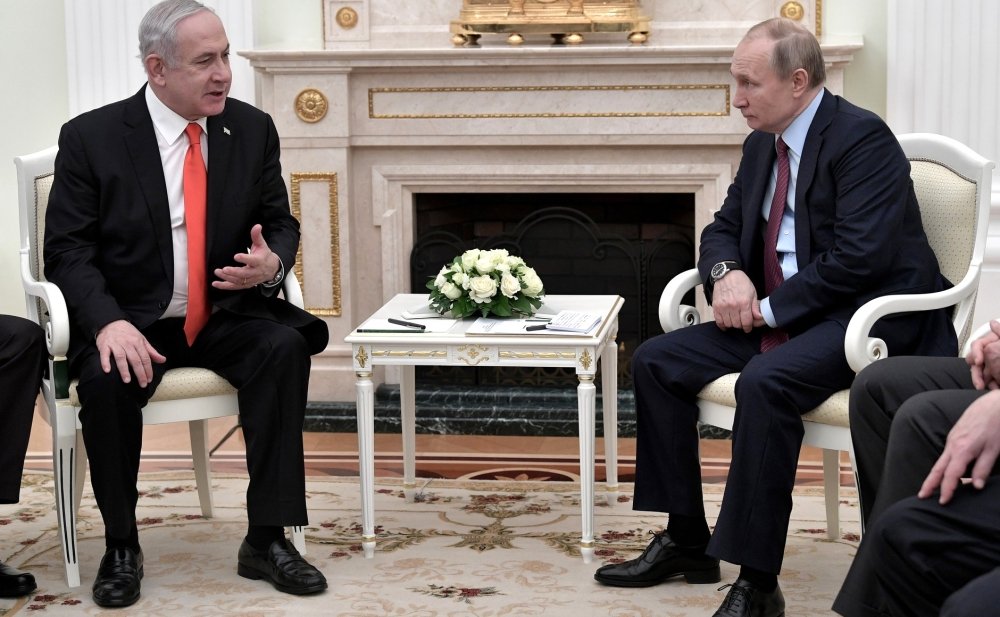 INTERVIEWED BY IZABELLA TABAROVSKY
Major General (Res.) Amos Gilead is a well-known figure in Washington, DC.  Throughout his distinguished career in military intelligence and strategic planning, he served as director of political-military affairs under five defense ministers and represented Israel in some of the most sensitive negotiations with Arab countries, the Palestinian Authority, and, indirectly, Hamas—including in efforts that led to the release of Gilad Shalit, an IDF soldier captured and held by Hamas for five years. His career frequently brought him in touch with Russia. He currently serves as executive director of the Institute for Policy and Strategy (IPS) at Interdisciplinary Center (IDC) in Herzliya and as chair of IPS's Annual Herzliya Conference Series.
On the day the following interview took place, the White House released its long-awaited peace plan for Israel and Palestine, and Israeli media were peppering Gilead with requests for comments. But that was not why he had come to Washington. He was here to discuss Israeli perspectives on Russia's role in the Middle East, publicly and in a track II working group that the Kennan Institute and IPS have run for some time.
So, while the rest of Washington was trying to make sense of the "deal of the century," we focused on a different set of issues: why Israel's seemingly blossoming relationship with Russia cannot compare to its relationship with the United States; whether Russian-speaking Israelis are a target of a charm offensive by Russian president Vladimir Putin; and how Israelis viewed the seizure and release of Naama Issachar, the young Israeli woman who was sentenced to seven and a half years in a Russian prison after Russian security services found 9.5 grams of cannabis in her checked-in luggage at the Sheremetyevo airport.
We also touched on Putin's recent high-profile appearance at a Yad Vashem forum in Jerusalem dedicated to the 75th anniversary of the liberation of Auschwitz, which raised some eyebrows in Washington. Just yesterday Yad Vashem issued an apology for having appeared to legitimize Russia's version of World War II history. But in the interview last week Gilead expressed a perspective that is common in Israel: "My mother, a Holocaust survivor—who was the first human being she saw after years of suffering during the Holocaust? Red Army soldiers who shared food with her," he told me. "In Israel we have Jewish veterans of World War II who served in the Red Army. They are real heroes, and we needed to recognize them."
This interview has been edited for length and clarity.
Israel's relationship with Russia
Izabella Tabarovsky: Prime Minister Netanyahu's maneuvering between President Trump and President Putin presents quite a balancing act. In the United States, everything related to Russia is highly politicized. Can you help us understand Israel's relationship with Russia?
Amos Gilead: Israel has one real ally—the United States of America. We cooperate in so many areas with the United States. Our cooperation with the United States, and the United States' support of Israel, is a major pillar in our national security. No country, state, republic, or monarchy can compare with that. We have a unique cooperation that is very, very valuable to Israel and, in some areas, I think, is also very, very valuable to the United States. Nothing will ever replace this cooperation, friendship, and, I hope, the bipartisan support that Israel enjoys.
Now to Russia: Russia is not a strategic ally of Israel and it will never be. Russia considers itself a strategic ally of Iran and Syria. They have their own ambitions in the Middle East. But they have made a dramatic decision that is highly relevant to Israel—and that is to deploy forces in Syria.
Israel, for its part, has made a decision, even if it's not an official one, to prevent Iran from building up its capabilities directly and indirectly through proxies—Lebanon, Syria, Iraq—in order to be able to hit and attack Israel in very significant ways. Iran is determined to continue the buildup in line with its ideology to annihilate Israel, and Israel is determined to prevent it. So we are on a collision course.
The Russians play a key role in all of it. They can block alleged Israeli operations in Syria and anywhere else they want. I think that the Russians—and it's not their official policy, but that's how I understand it—want to keep Syria to themselves. They are not interested in Iran being too powerful in Syria. And that is one of several reasons why they are tolerating alleged Israeli operations against Iran. So in a way, we have this common interest with the Russians.
Deconfliction, not cooperation
What we have with Russia today is a deconfliction agreement. Deconfliction is an American military security term that the Pentagon uses to describe specific military interactions to help facilitate things in the midst of conflict. It is not cooperation. It is not friendship. It's not technological or intelligence cooperation. It's not policy or strategy. It simply means that we coordinate what we need to coordinate militarily.
We cannot cooperate with the Russians on intelligence or technology because they will use it and even share it with our enemies, including against the United States.
And we are mindful of the national security interests of the United States. For example, we do have the excellent UAV [unmanned aerial vehicle] technology. The United States leads in this area. We do not and will not share this technology with the Russians because it may endanger American national security.
We have maintained deconfliction with Russia on two levels: military and political. The political level is needed because Mr. Putin is the all-powerful president of Russia. And the military level—that's the practical side, because leaders cannot deal with details all the times, and details are very important here.
IT: From our discussions, it seems that cooperation between Israel and the United States is very robust and happens on multiple levels. What about Russia?
AG: You can't compare. Cooperation between Israel and the United States is so wide, deep, and of such high quality. It covers so many areas, not only intelligence. Some of them are well known, others are top secret. We are also beneficial to the United States' national security in some areas. It's a unique cooperation that is based on a unique friendship and deep trust. It's not just about the U.S. president and our prime minister; it is also based on the unique bipartisan support of the U.S. Congress. And that is strategic.
With Russia, we have two things: deconfliction and high-level talks. The talks are guarantees. For example, the Russians blamed us for shooting down that intelligence plane that was, in fact, shot down by the Syrians with a Russian weapon. This could have turned into a very serious crisis. But because of the unique relationship between our leaders of Russia and Israel, at the end of the day it was solved. So this dialogue is important for those reasons.
Russian-speaking Israelis
IT: How do Russian-speaking Israelis view Israel's relationship with Russia and Putin?
When Putin looks at Israel, he sees a country in the Middle East—the only one—that has 1.2 million Russian speakers. For him, this makes Israel a potential area of influence: culturally, religiously, and strategically. We in Israel consider Russian-speaking Jews an organic part of Israel. Today they are full Israelis. You can see it from the fact that they don't vote for sectarian parties anymore. Liberman now gets no more than five Knesset seats from them. [Avigdor Liberman's Israel Our Home party used to be considered the party of the Russian-speaking Israelis.—IT] Today they are full Israelis, and I repeat again and again that I cannot imagine Israel without them. They understand the democracy in Israel and the quality of life here, despite all the problems that we have. They are involved in all areas of life in Israel, and they are very important for our country.
The release of Naama Issachar
IT: What is your understanding of what happened with Naama Issachar? In Israel many believed that she was being held as a hostage.
AG: Naama Issachar had a few grams of hashish in her luggage and she got seven and a half years in jail. In Russia, some jails are very difficult, especially if you are convicted for several years. She could have died. The Israeli public felt that she needed to be released, say, after ten months—right around now. There was the consensus. Whoever you asked, everyone felt deep sympathy with her. And my impression is that Putin understood it very well: he called it a humanitarian issue. She is a young woman. Seven and a half years in jail would have meant that her life is destroyed. So there was broad consensus about the need to pardon and release her.
IT: During Putin's visit to Jerusalem, Israel handed some Russian Orthodox Church properties to Russia. There was talk that this was an indirect trade to release her.
AG: Maybe. The Church is important for Russia, and so they want some concessions here, some concessions there. But for most Israelis, it was not an issue at all. If Russia asked for something that did not affect Israel's national security, I don't care if we had to give them something in return for Naama.
Some say: So then any time they take a hostage, we will have to give them something. Okay. But my experience shows that whenever you are dealing with a humanitarian issue, you need to focus on the humanitarian issue. We needed to have her released. If we had discussed it as a strategic issue and had been worried about losing in the long term, she would have been in jail forever. So it may have looked like weakness, but I think it's power—that the whole public and Prime Minister Netanyahu were concerned and taking care of this young woman.
Putin at the commemoration of the liberation of Auschwitz in Jerusalem
IT: Putin's appearance in Jerusalem, and the royal treatment he received, got a lot of criticism and raised some eyebrows here. What do you think of it?
AG: Look, I know all the criticism, but at the end of the day, I don't know how the war could have ended in victory without the Soviet Union. Who liberated Auschwitz in the end? The Red Army. My mother, a Holocaust survivor—who was the first human being she saw after years of suffering during the Holocaust? Red Army soldiers, who shared food with her. History can be judged by many historians in different ways. But one fact we cannot change—that the Red Army liberated Auschwitz.
In Israel we have Jewish veterans of the Red Army. They played a dramatic role in the war, and they are recognized as heroes, and they got medals from the Soviet Union. I respect them so much.
They are real heroes. It was a historical event, and we needed to recognize them. I'm not even talking about the fact that the Soviet Union supported the establishment of Israel. We did have many problems with the Soviets. They used to support our enemies, they provoked us in 1967. We know the history. But this was the 75th anniversary of the liberation of Auschwitz, and they deserved to be recognized.
About the Author
---
Kennan Institute
The Kennan Institute is the premier U.S. center for advanced research on Russia and Eurasia and the oldest and largest regional program at the Woodrow Wilson International Center for Scholars. The Kennan Institute is committed to improving American understanding of Russia, Ukraine, and the region though research and exchange. Read more