Latin America, a 'Vaccine Diplomacy' Recipient, Is Now a Vaccine Donor, Too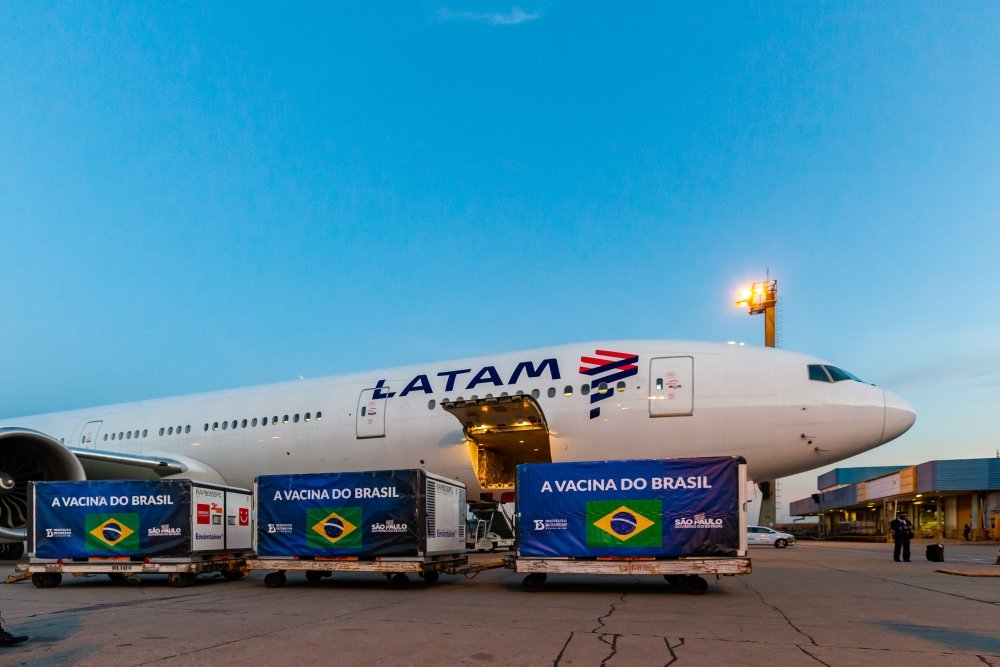 For a year, Latin America has been on the receiving end of COVID-19 "vaccine diplomacy," the region's leaders and foreign ministers repeatedly shuttled to the airport to welcome deliveries from China, Russia and the United States, and tweeted their appreciation to foreign leaders for sharing doses.
That remains the case in much of the region. Though the vaccination rate exceeds 75 percent in countries such as Argentina, Chile, Ecuador and Uruguay, 14 countries in Latin America have yet to vaccinate even 40 percent of their population, according to the Pan-American Health Organization. In Haiti, amid the Omicron wave of infections, not even 1 percent of the population is inoculated against the coronavirus.
But in recent months, several Latin American countries have swapped roles, and are now donating vaccines abroad. In all, 11 Latin American countries have cumulatively donated at least 7.7 million vaccine doses, according to calculations by the Wilson Center's Latin American Program.
Latin America's first foray into "vaccine diplomacy" was actually a year ago. In March 2021, Chile donated 20,000 doses of the Chinese Sinovac vaccine apiece to Ecuador and Paraguay. At the time, Chile was far ahead of most of South America in vaccinating its population, having delivered shots to 21 percent of Chileans, whereas less than 1 percent of Ecuadorians and Paraguayans had been vaccinated.
More recently, Argentina has become a regional leader in "vaccine diplomacy." That is a major change for a country that long struggled to obtain sufficient doses. Argentina had relied heavily on Russia's Sputnik vaccine, and delivery delays significantly disrupted its national vaccine campaign in 2021. Earlier in February, President Alberto Fernández visited Moscow and lavished praise on Vladimir Putin, despite the Russian military buildup on Ukraine's borders: "Argentina is indebted to Russia because it was the first country to help Argentina access vaccines, and we'll always be grateful," he said.
Today, 78 percent of Argentines are fully vaccinated, Argentina is producing the Sputnik and AstraZeneca vaccines, and since late 2021, it has been donating vaccines as well. In all, Argentina has donated 4.2 million vaccine doses both in Latin America and outside the region, including to the Caribbean, Vietnam and Mozambique. It has directed almost half of its donations to countries in Africa, where vaccination rates remain low. "That these vaccine crates say 'Made in Argentina' and include our flag makes us proud," Foreign Minister Santiago Cafiero said. "Behind this is our science, technology, public universities and our national development."
For its part, Mexico, also a vaccine producer, has donated over 1.8 million COVID-19 vaccine doses. Unlike Argentina, which began donating vaccines once it had made significant progress in its domestic vaccination campaign, Mexico started donating vaccines in June 2021, shipping doses to Belize, Bolivia, El Salvador, Guatemala, Honduras and Paraguay though Mexico had delivered jabs to only 12 percent of its population.
The donations by Argentina and Mexico are primarily doses of AstraZeneca, which the two countries produce jointly and requires less onerous transportation and storage logistics than the U.S.-produced mRNA vaccines. But mRNA vaccines are the most effective, and demand for foreign-made doses, especially using the Pfizer and Moderna technology, remains high in Latin America. So far, the United States has donated more than 53 million doses to Latin America, including 6 million to Colombia, 5.8 million to Mexico, 4.5 million to Argentina and 3 million apiece to Brazil and Honduras.
About the Author
---
Latin American Program
The Wilson Center's prestigious Latin American Program provides non-partisan expertise to a broad community of decision makers in the United States and Latin America on critical policy issues facing the Hemisphere. The Program provides insightful and actionable research for policymakers, private sector leaders, journalists, and public intellectuals in the United States and Latin America. To bridge the gap between scholarship and policy action, it fosters new inquiry, sponsors high-level public and private meetings among multiple stakeholders, and explores policy options to improve outcomes for citizens throughout the Americas. Drawing on the Wilson Center's strength as the nation's key non-partisan forum, the Program serves as a trusted source of analysis and a vital point of contact between the worlds of scholarship and action. Read more