Lawrence Edelson and Opera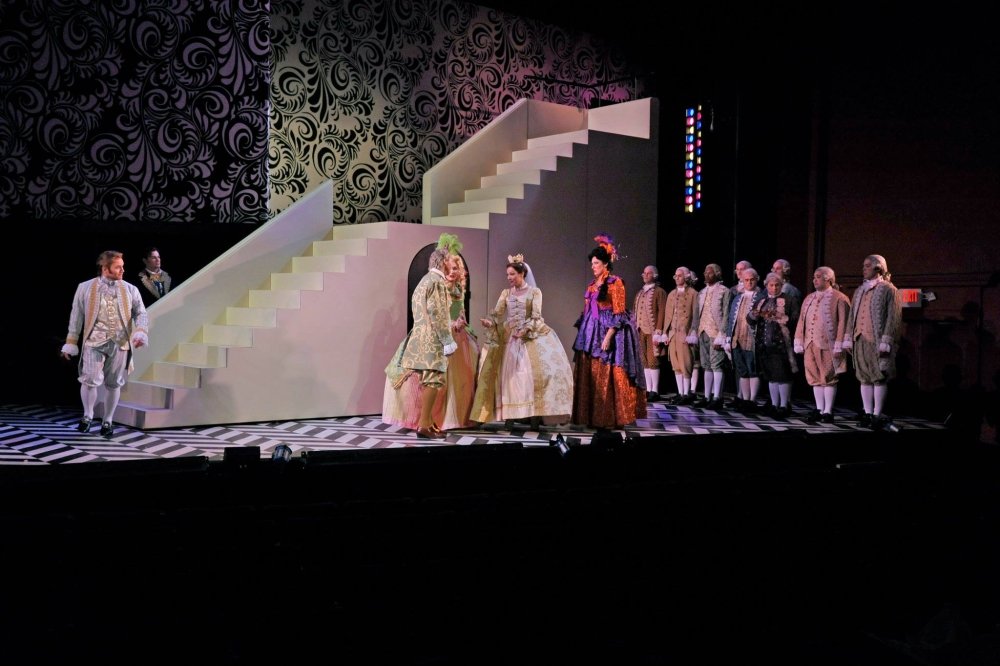 Opera producer Lawrence Edelson and composer/librettist Mark Adamo had been enjoying a pleasant enough summer in 2002 as they worked away on a production of Adamo's 1998 opera "Little Women" at Cooperstown, New York's Glimmerglass Opera. The production was going well and the weather in New York's Finger Lakes district had remained comfortable, if a bit wet at times. Still, breaks now and then were welcomed so, in need of an interlude in the mission of bringing an opera to the stage, they set off for drinks. Sometime later in this century, that particular cocktail hour may be remembered as recharting the course of American opera.
            As Edelson and Adamo settled in they began to chat about how so many programs existed to help the sorts of younger singers performing at Glimmerglass. Nevertheless, very little systematic support existed for mentoring those who wanted to write operas as Adamo had been doing to critical and audience acclaim.
            Neither Edelson nor Adamo were newcomers to the world of American opera. A native of Ottawa, Edelson had studied voice and musicology at the University of Ottawa before heading to New York to study dance at The Joffrey Ballet School. He performed with Boston ballet, Ballet West and BalletMet Columbus before moving to choreography for both opera and ballet companies. At the same time, he sang in opera, oratorio and musical theater.
            Adamo grew up in suburban Philadelphia before attending New York University, where he gained recognition for undergraduate achievement in playwriting. He graduated from The Catholic University in Washington with honors in music composition and was hired by New York City Opera to curate a contemporary opera workshop. Subsequently, he became the company's composer-in-residence.
             Adamo's first opera – "Little Women" – enjoyed instant success. Within a few years of its premier by Houston Grand Opera, the opera based on Louisa May Alcott's novel had been broadcast on National Public Radio and the Public Broadcasting System; had been performed by opera companies across the United States; and, had appeared on opera stages around the world. The opera quickly became a staple of American summer festivals, which is how Adamo found himself at Glimmerglass with Edelson.
            Having learned their way around the backstages of opera houses they understood that hiring young singers was an asset for many companies as they cost less than established singers. Taking a risk on a new opera, on the other hand, carried very real costs; especially as few companies had the resources necessary to nurture writing talent. Edelson decided to do something about this particular lacuna in the American opera enterprise.
            Both Edelson and Adamo were concerned about the seeming decline in American audiences for their beloved performing art. Edelson's master's thesis for the performing arts administration program at New York University was titled: "Opera: The Irrelevant Art: Uniting Marketing and Organizational Strategy to Combat the Depopularization of Opera in the United States."  He was concerned about the art's ability to attract and sustain new audiences with works that were removed from contemporary life. American opera faced numerous trials, including the need to develop new works which spoke to the present day. He established the American Lyric Theater (ALT) based in New York to collaborate with other companies to produce new operas.
            The challenges of producing new opera were numerous and complex. Many American companies already were doing so; yet they often achieved less than hoped. Edelson realized that great operas don't just happen; they begin with great music and great librettos. Recognizing the need to nurture new composers and librettists, he mobilized ALT's resources to launch the "Composer Librettist Development Program" (CLDP) in 2007.
            CLDP has become the country's first and only complete mentorship program for operatic writers. The program is designed to attract and nurture accomplished playwrights, poets, symphonic composers, lyricists and musical theater as well as opera professionals to become opera composers and lyricists. Predicated on opera being a storytelling form, CLDP favors narrative works setting writing for classically trained singers into pieces for the contemporary stage. 
            Working with prominent opera authorities, program participants are given the opportunity to learn opera dramaturgy, to hone their creative craft, to collaborate with others in developing new works and to learn how to move their ideas through the creative process to production. The program's first year favors collaborative partnerships among entering class members. Faculty commission works from the most promising contributors during the program's second year.
            CLDP alumni are presenting their works to growing acclaim across the country's opera stages, including the Chicago Lyric Opera, Houston Grand Opera, Opera Philadelphia, Fort Worth Opera, and Opera Saratoga, where Edelson has been Artistic and General Director since 2014. As important, opera companies around the country increasingly are investing in supporting librettists and composers through various initiatives including commissions, residencies and more limited mentorship programs. In just a decade, the U.S. opera enterprise has created a variety of initiatives supporting and promoting American-created opera.
            A little more than two centuries have passed since Lorenzo Da Ponte -- the librettist for Mozart's most famous Italian operas "The Marriage of Figaro," "Don Giovanni," and "Così fan tutte" – fled a swarm of European creditors for America along with his common law wife Nancy Grahl and their four children. Moving among several failed businesses -- including grocery and book stores in New York and Pennsylvania -- Da Ponte eventually gained an appointment as Columbia College's (later University's) first professor of Italian Literature. Seemingly settled in the New World, Da Ponte produced the first full performance of "Don Giovanni" in the United States in 1825, thus introducing New York and North America to opera. In 1833, when he was84, Da Ponte founded the short-lived New York Opera Company which eventually became the precursor to the New York Academy of Music and the New York Metropolitan Opera.
            Opera took hold in America and, by the time the bicentennial of Da Ponte's initial production arrives in 2025, the country will have dozens of opera companies and festivals. In no small measure because of the efforts of Edelson and his colleagues, the anniversary will be met as well with a robust repertoire of new American works speaking to the experiences of new American opera fans.
Artistic Visionaries and Community Creators
The power of the performing arts to nurture inclusive communities has been praised widely in recent years; so much so that "creative placemaking" is now seen as a powerful tool in community development. The supportive role of community in fostering artistic innovation is less acknowledged. This series highlights the work of visionaries for whom creating communities of students, protégés, audiences, and donors has become a strategic element in transforming their arts.
About the Author
Blair A. Ruble
Distinguished Fellow;
Former Wilson Center Vice President for Programs (2014-2017); Director of the Comparative Urban Studies Program/Urban Sustainability Laboratory (1992-2017); Director of the Kennan Institute for Advanced Russian Studies (1989-2012) and Director of the Program on Global Sustainability and Resilience (2012-2014)
Read More