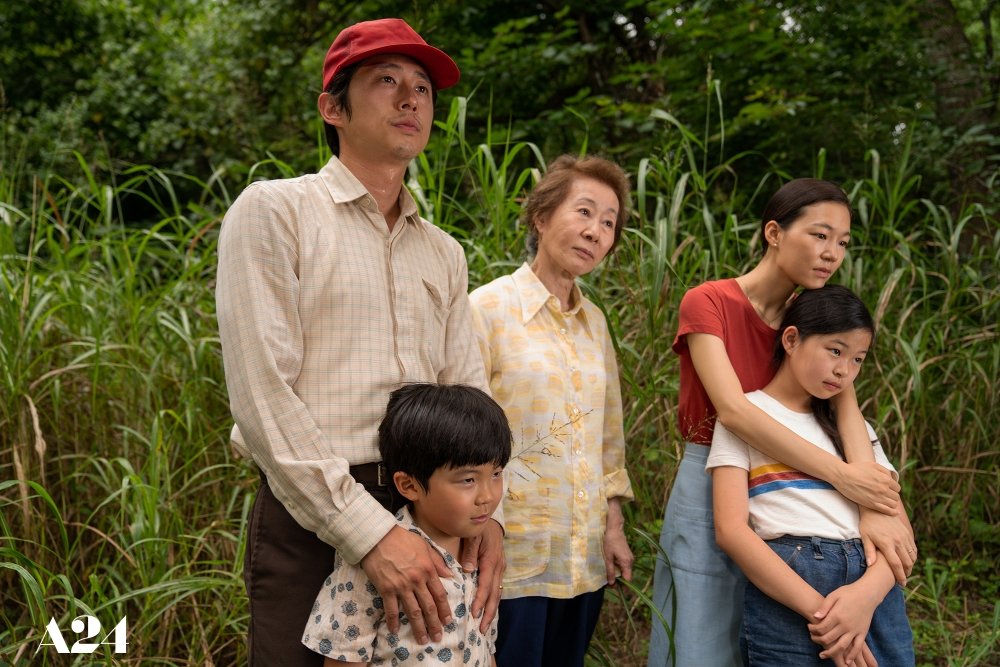 This year's pandemic edition of the Academy Awards, with only the nominees and none of the crowds angling for a glimpse of Hollywood glamour, may have lacked drama.
But thousands of us were transfixed. Because for the first time in Academy history, Asians and Asian Americans were among the nominees. Best director. Best actor. Best supporting actress. Best picture. Best original screenplay.
In a year of rising violence against Asian Americans — and as we question what it means to be American when we are perpetually treated as foreigners — we rejoiced at seeing Asian and Asian-American faces and names on the big screen. Steven Yeun. Yuh-Jung Youn, Yeri Han and the adorable Alan Kim.
We rejoiced at the industry's recognition of Asian Americans' contributions to the canon of American filmmaking with the sweeping wins for director Chloe Zhao's "Nomadland" and the historic nominations of director Lee Isaac Chung and producer Christina Oh for "Minari."
A year ago, before the pandemic brought the world to a standstill, we celebrated director Bong Joon-ho's masterpiece "Parasite," the first South Korean feature film to win Best Picture. The film was not just an achievement celebrating brilliant filmmaking. It also felt like proof that South Korea had truly evolved into a modern country gifted at innovating, not just emulating, and mature enough to turn a critical eye on its own jagged social development.
But in many ways, the success of "Minari" strikes closer to home.
I am the child of South Koreans immigrants who hold dual citizenship, and I have worked and studied in Seoul off and on for decades, as a student and as a foreign correspondent. And yet, I suspect I will never truly be accepted by South Koreans, who tend to be unforgiving in their assessment of overseas Koreans and have not yet truly embraced their own diaspora.
That can be a hard truth for us when we travel to South Korea, seeking a sense of belonging. And it can crystallize our identities as Americans, even as we often feel we don't belong here in the United States.
While we appreciate and celebrate "Parasite," what we crave is to see our own stories on the big screen. And I'm not sure I realized that so completely until "Minari."
"Minari" is a semi-autobiographical story based on Chung's own family tale of moving to Arkansas in the 1980s. There are two stories here: the story of the South Korean-born Jacob Yi (Yeun) and his wife, Monica (Han), seeking to build a new life in remote Arkansas. And then there is the story of their American-born children, Anne and the rascally David, played by the irrepressible 7-year-old Alan Kim.
With the parents at work, Monica brings her mother, Soonja, from South Korea to keep an eye on David. But she's nothing like a typical American grandma, or at least the ones you see on TV. This one, played by the twinkle-eyed Yuh-Jung Youn, "smells like Korea," smokes, has a penchant for gambling and is every bit as mischievous as her skeptical and resistant grandson.
"Tonight I think I'm just a little bit more luckier than you"

Congrats to Yuh-Jung Youn on her historical #Oscars win for best supporting actress in MINARI 🌱 pic.twitter.com/1F2VRK8yVg

— Elevation Pictures (@Elevation_Pics) April 26, 2021
Youn won a much-deserved historic Oscar for best supporting actress for her spirited portrayal (and gave a memorable acceptance speech).
The title of "Minari" comes from the Korean name for a tart, peppery herb common in South Korea but not so familiar to Americans. It's a bit like watercress. David's grandmother pulls a bag of minari seeds from her suitcase (along with a number of other mysterious items that have David's nose crinkling) and sprinkles them on a riverbed near their new Arkansas home.
I'm reminded of the children's book "Watercress," written by Andrea Wang and illustrated by Jason Chin, based on Wang's memory of being mortified by her immigrant parents who pull over to gather watercress by the side of the road in Ohio.
In "Minari," this strange vegetable carried across oceans from Asia to Arkansas ends up feeding them. The minari also serves a bridge, a symbol of growth, a connection between two worlds: the old world, the new world.
And in many ways, that is how we children of immigrants live in America: between two worlds, navigating two cultures, feeling that we never quite fit into either. We're expected to know and follow the social mores and rules of mainstream white America, at school and at work, though we weren't taught them at home and are sometimes punished for behavior that we learned from our parents. And what we learn about Korean mores at home is a mishmash of kitchen talk and tidbits of cultural history that our busy and harried parents try to squeeze in while also trying to teach us the traditions of this new country, like Halloween and Thanksgiving.
"Minari" doesn't touch on the most painful aspects of being Asian in America in the 1980s. But that's OK. Every film doesn't have to be everything, and what this film does in making one family's story an American story is an achievement. It doesn't have to stand for every single Asian American or immigrant story. And it creates space for us to tell so many more diverse American stories.
And I suspect many more Americans from immigrant families, no matter what country or culture, will spot and sense the small, intimate details that illustrate the generational and cultural gaps that we are constantly navigating at home, from the stinky teas that cause consternation to the struggle to communicate in a common language. The joy of discovery — Mountain Dew! — and the pain of shame as we seek to fit in and assimilate.
But what I love best about "Minari" is that there's no need to explain these elements. There's no need to provide any lessons about culture or race. By refusing to cater to the mainstream, Chung quietly and gracefully asks America to acknowledge that this story is as much a part of American storytelling as any other. Not foreign, not different, but American.
It is an important message to share at a time when we are struggling to feel safe and accepted in the country we were born and raised in.
---
Join us for events this May as part of Asian American Pacific Islander Heritage Month. Sign up to the Korea Center newsletter to receive updates.
Jean H. Lee is director of the Hyundai Motor-Korea Foundation Center for Korean History and Public Policy and a former AP bureau chief in Seoul and Pyongyang. Follow her on Twitter and Instagram @newsjean.
The views expressed are the author's alone, and do not represent the views of the U.S. Government or the Wilson Center. Copyright 2020, Asia Program. All rights reserved.
About the Author
---
Asia Program
The Asia Program promotes policy debate and intellectual discussions on U.S. interests in the Asia-Pacific as well as political, economic, security, and social issues relating to the world's most populous and economically dynamic region.  Read more
Hyundai Motor-Korea Foundation Center for Korean History and Public Policy
The Center for Korean History and Public Policy was established in 2015 with the generous support of the Hyundai Motor Company and the Korea Foundation to provide a coherent, long-term platform for improving historical understanding of Korea and informing the public policy debate on the Korean peninsula in the United States and beyond. Read more